West High Yield resources (WHY.V) is a company with the objective to bring into production one of the world's largest, greenest deposits of high-grade magnesium. The Record Ridge magnesium deposit is located 10 kilometers southwest of Rossland, British Columbia has approximately 10.6 million tonnes of contained magnesium based on an independently produced preliminary economic assessment technical report.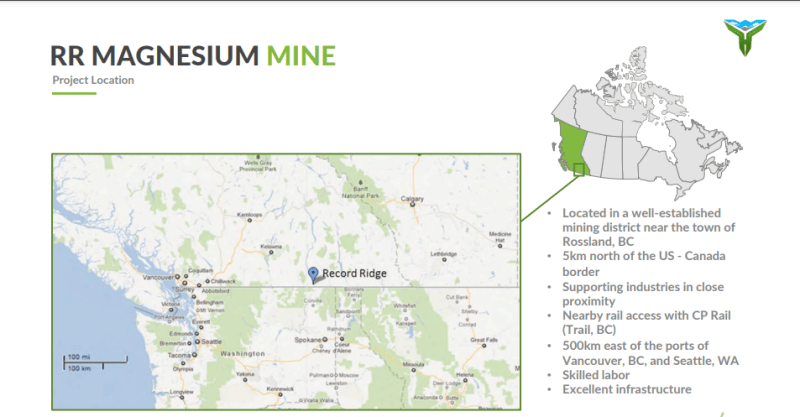 In 2019, West High Yield Resources completed an Environmental Assessment and Environmental Baseline study and also submitted its Mine Plan Permit Application. Micro-plant process testing was also conducted to evaluate alternative processing methods which have yielded positive results that will significantly reduce the capital project costs and therefore improve on the project economics.
This is a company with an advanced project which is quite de-risked and has economics to support it. It is all about getting the mine into production. Management will be key, but investors should understand the opportunity in magnesium.
Magnesium is a US strategic metal and North American magnesium compounds markets depend on imports which represent over 50% of the demand. According to West High Yield's latest corporate presentation, the current global annual market for all magnesium products exceeds 29M tonnes and demand is growing!
While the focus is on magnesium, it should not be forgotten that West High Yield also has a high gold mine rejects project. With a permit ready for over 200k metric tons grading at average 2.5 ppm Au for a total of >18k ounces of gold and > $30 million value. Over 225k metric tons of mine rejects have already been mined from many historic mines in the area.
The Rossland Gold Camp historically produced over 2.76 million ounces of recovered gold and 3.52 million ounces of recovered silver.
At the beginning of February 2023, West High Yield announced the confirmation of additional high-grade gold assays and provided an update from its 6,000 metre exploration drilling program initiated in 2022 at its Midnight gold claim located in Rossland, British Columbia. The 2022 drilling program has ended with a total of 6,191 metres completed.
Here are highlights from the program:
Additional high-grade gold assays including:

MN22-13 262.50-263.35 metres depth – 32.5 g/t Au over 0.85 metre
MN22-18 41.0-47.0 metres depth – 7.99 g/t Au over 6 metres
including MN22-18 45.5-47.0 metres depth – 13.55 g/t Au over 1.5 metres

41 holes completed and logged in 6,191 metre NQ2 diamond drilling program
Targets tested in historical Midnight, IXL and OK mining areas
24 drill holes sampled
2,865 sample assays including QAQC completed
693 samples in 17 holes marked for 2023 spring sampling program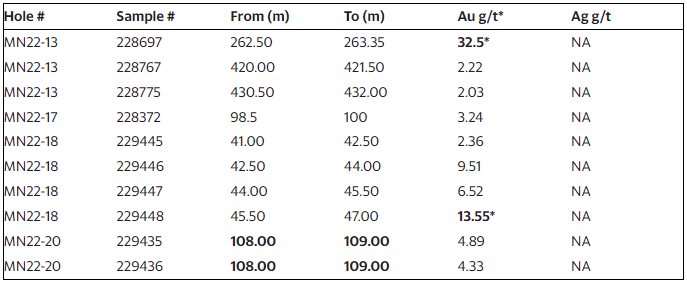 Assays received from 2,856 core and QA/QC samples are reported for twenty-three (23) completed holes and one partially sampled hole. Seventeen (17) holes, currently with 693 samples and QAQC insertions, await core cutting and sampling in the spring 2023 program.
I released my technical analysis on the stock on November 21st 2022. West High Yield Resources met the criteria for a trend reversal set up. Here is how the chart looked then:
Not only did we confirm a breakout of the range with a large green candle, but we also took out the first resistance zone at $0.30. Now, $0.30 becomes the new support or price floor. As long as the stock remains above this support, we can expect to see more highs.
I advised our readers that the stock was in a range and at multi decade support.
Well, the range(s) I outlined have all broken. These breakouts occurred with strong volume. Here is the current chart setup:
If readers entered on our range breakout recommendation, they would still be holding a double digit percentage gainer winner.
There was a recent flag pattern the stock was ranging in between December 1st 2022- January 5th 2023. We have broken out of that flag pattern which caused a rally back up to our major resistance zone at $0.50 for a second time. $0.50 is a major psychological resistance zone for sub $1.00 stocks.
As you can see, the stock has been unable to confirm a close above $0.50 in 10 trading days. Perhaps the third test will be the charm.
Currently, the stock sits at interim support at $0.44. I say this because if you look to the recent past, this level acted as resistance. If this zone breaks, then we would be looking at $0.375 for support.
I do want to highlight to readers that a NEW uptrend has been initiated and technically remains intact as long as the stock remains above $0.30. In terms of an uptrend, the stock needs to confirm a second higher low. This is confirmed with a close above $0.50.
If we can get this close down the road, the stock has some resistance at $0.70 and then major resistance near the $1.00 zone. What can get the stock going? Perhaps a bounce in magnesium price as it tests a major support. But more likely, some catalyst in the form of drill results or de-risking of the Record Ridge deposit.