West High Yield resources (WHY.V) is a company with the objective to bring into production one of the world's largest, greenest deposits of high-grade magnesium. The Record Ridge magnesium deposit is located 10 kilometers southwest of Rossland, British Columbia has approximately 10.6 million tonnes of contained magnesium based on an independently produced preliminary economic assessment technical report.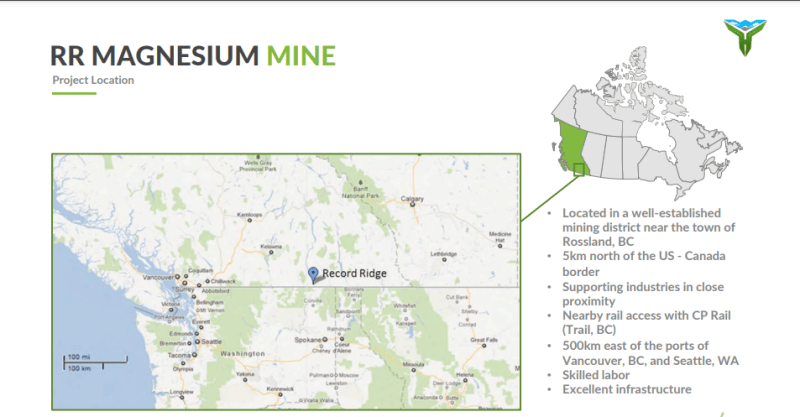 While the focus is on magnesium, it should not be forgotten that West High Yield also has a high gold mine rejects project. With a permit ready for over 200k metric tons grading at average 2.5 ppm Au for a total of >18k ounces of gold and > $30 million value. Over 225k metric tons of mine rejects have already been mined from many historic mines in the area.
The Rossland Gold Camp historically produced over 2.76 million ounces of recovered gold and 3.52 million ounces of recovered silver.
West High Yield today announced the confirmation of additional high-grade gold assays and provided an update from its 6,000 metre exploration drilling program initiated in 2022 at its Midnight gold claim located in Rossland, British Columbia. The 2022 drilling program has ended with a total of 6,191 metres completed.
Here are highlights from the program:
Additional high-grade gold assays including:

MN22-13 262.50-263.35 metres depth – 32.5 g/t Au over 0.85 metre
MN22-18 41.0-47.0 metres depth – 7.99 g/t Au over 6 metres
including MN22-18 45.5-47.0 metres depth – 13.55 g/t Au over 1.5 metres

41 holes completed and logged in 6,191 metre NQ2 diamond drilling program
Targets tested in historical Midnight, IXL and OK mining areas
24 drill holes sampled
2,865 sample assays including QAQC completed
693 samples in 17 holes marked for 2023 spring sampling program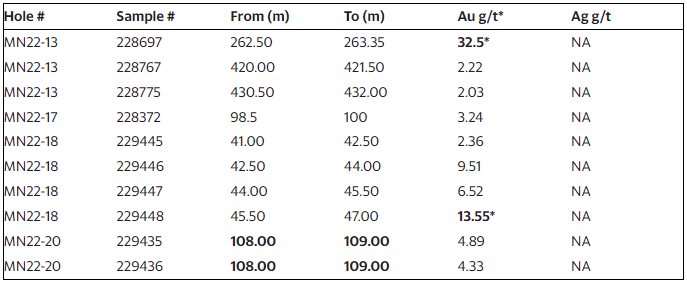 "We recently received the balance of the outstanding 2022 assay data which was focused specifically on the gold content. The Company intersected more structurally-controlled mineralization in high-grade assay intervals such as those in MN22-13 northwest and MN22-18 southwest of the central Midnight mineralization along the broad northeast trend of listwanite replacement and the high-grade Baker Vein. Assays using gravimetric protocols verified significant grades up to 32.5 g/t gold ("Au") in intervals from 85 cm and composite intervals to 6 metres (see Tables 1 and 2)," stated Greg Davison, P.Geo and the Company's internal qualified person for Midnight. "We look forward to completing the assay sampling of seventeen (17) remaining holes in the 2023 Midnight drilling program," Mr. Davison further noted.
Assays received from 2,856 core and QA/QC samples are reported for twenty-three (23) completed holes and one partially sampled hole. Seventeen (17) holes, currently with 693 samples and QAQC insertions, await core cutting and sampling in the spring 2023 program.
The 2022 Drilling Program was focused on identifying extensions to zones of known Midnight mineralization, areas with potential within and peripheral to the OK and IXL historical mines. The drilling under the 2022 Drilling Program initially collared around the Midnight mine workings on targets from surface to 200 metres depth located to the southeast, east and north of the historical high-grade Baker Vein.
I released my technical analysis on the stock on November 21st 2022. West High Yield Resources met the criteria for a trend reversal set up. Not only did we confirm a breakout of the range with a large green candle, but we also took out the first resistance zone at $0.30. Now, $0.30 becomes the new support or price floor. As long as the stock remains above this support, we can expect to see more highs.
Catalysts such as gold assays aid in continuing the momentum. There was a recent flag pattern the stock was ranging in between December 1st 2022- January 5th 2023. We have broken out of that flag pattern AND have even seen a retest of the trendline between January 23-25 2023. We saw buyers jump in as evident from the January 25th 2023 large green candle.
Momentum has continued, and the stock is now testing interim resistance at $0.435. If we can confirm a daily close above this, then the next resistance zone at $0.55 is the target. I would also keep an eye on the major $0.50 psychological important zone. A daily close above $0.50 did not happen the last time West High Yield popped up to $0.56.