In recent years, I have seen a trend at the Vancouver Resource Investment Conference. I come across a South American mining company that I have never heard of and am surprised that the markets do not know about this story. Last year, I came across a company that has multiple gold mines. This year, I learned about G Mining Ventures (GMIN.V), a mining company building Brazil's next gold mine.
Not just any old gold mine. Brazil's THIRD largest gold mine.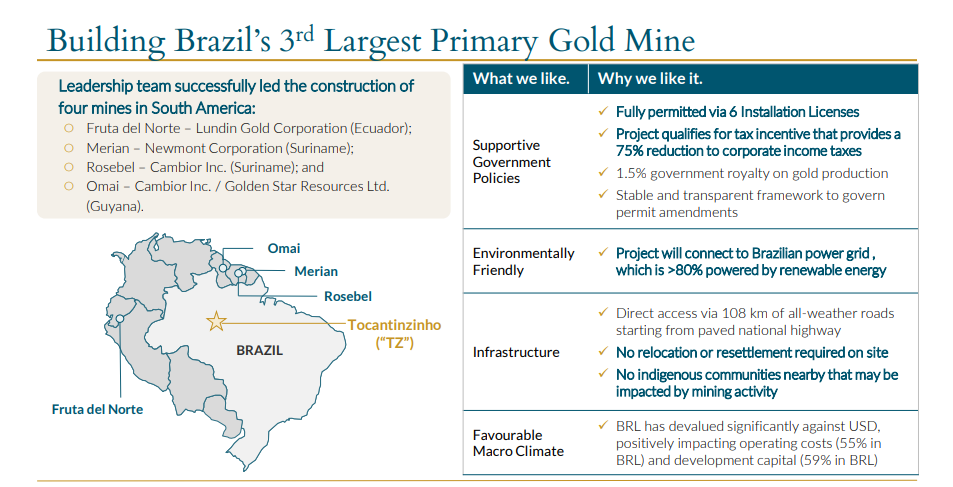 There is a common pattern from these South American VRIC surprises. They are family owned mines going back generations. The G Mining corporation was founded by the Gignac Family, who have a proven method of building mines on time and under budget.
Management is always important when it comes to mining. This team has had FOUR successful mine builds in South America, with the same technical team providing continuity.
As you can see from the slide above, the Tocantinzinho gold project has many positives going for it and is derisked. Tocantinzinho is a permitted, construction-ready, open-pit deposit containing 2 million ounces of gold reserves located in Para State, Brazil.
G Mining states their goal as "to build a leading intermediate gold producer using our 'self-perform' approach".
What does this mean? The "self-perform" approach used by G Mining Services has a perfect record delivering either on time, under budget, or both. This success has been a product of the belief that hiring trades as employees, rather than contractors, creates shared interests across the value chain. These experiences, relationships and philosophies have been brought forward to support the expansion of G Mining's capabilities into full lifecycle mine development.
Let's take a peek at the economics: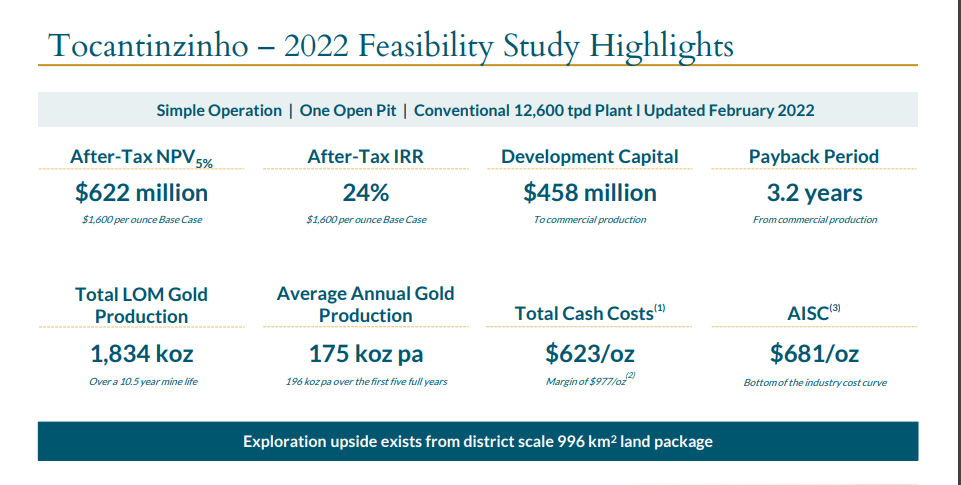 An average production of 175,000 ounces pa at an all in sustaining cost of $681 per ounce. A capex of $458 million with the resource having the potential to expand with exploration upside.
Pay attention retail crowd. I say this because big mining companies definitely are.
The Tocantinzinho project is fully funded and in the construction phase. Commissioning and commercial production are expected to begin in 2024: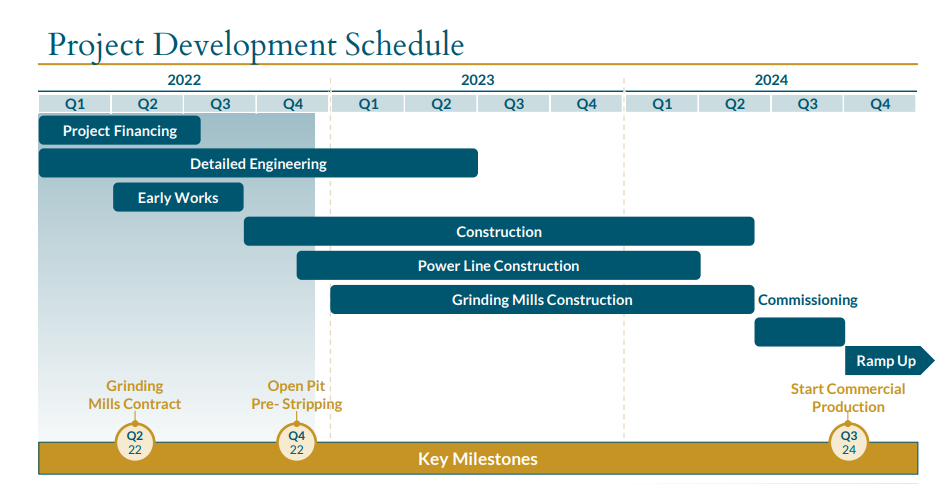 I am sure you have questions about the fully funded part.
Tocantinzinho is supported by multiple world class, long term financial institutions and leading mining sector behemoths. We are talking La Mancha (25% shareholder), Eldorado Gold (17.7% shareholder) and Franco-Nevada (9.9% shareholder).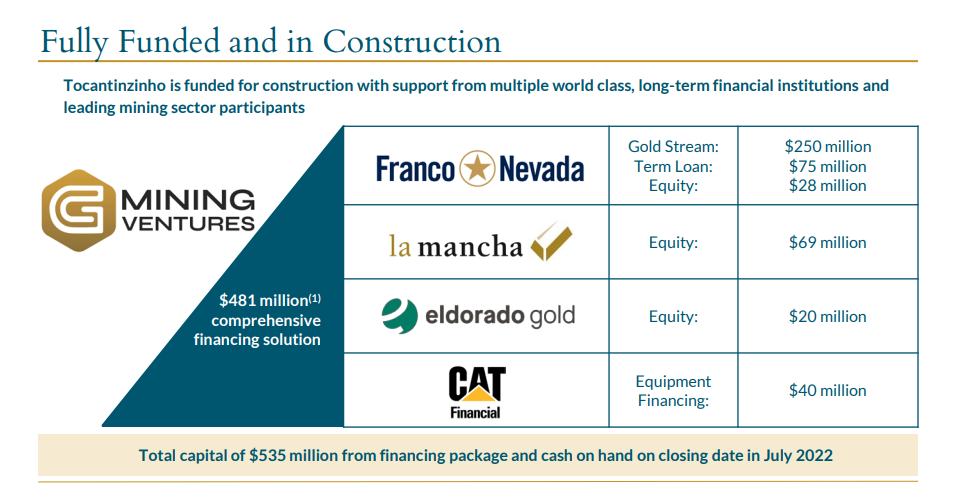 Franco-Nevada is what really got my ears perked. This is THE  blue chip royalty and streaming company you see in institutional portfolio's. If you follow the mining space, you have heard of Pierre Lassonde and Franco-Nevada. For them to have 'skin in the game' with financing is a strong statement. Their team of engineers and geologists have done their due diligence. And they like what they see. That is good enough for me.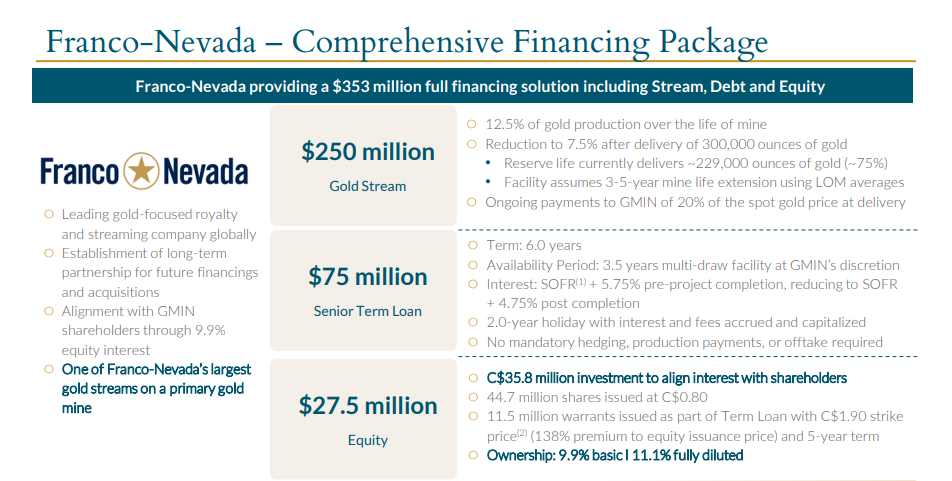 So what more is there to say? A project which is under construction by a team known for delivering on time and under budget, backed by major mining companies. If you like gold and want a growth stock in this space, you need to consider G Mining.
Of course there is still a long way to go before the first gold pour, so catalysts might be thin. However, if gold prices breakout this year, then G Mining will follow along.
Here are investment highlights: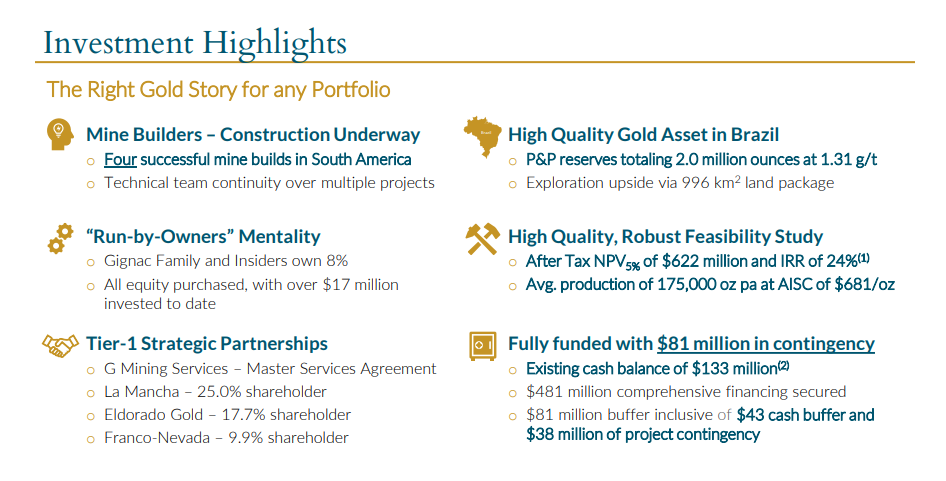 The technicals also look prime.
Throughout most of its trading history, the stock has traded between $0.60 to the downside and $1.50 to the upside. Investors know the project is under construction and will come on line later. The company won't be making money from gold until the first pour in 2024. This explains the stock range.
Recently, we had a breakout of a trendline. I have drawn it out for readers and you can see the multiple touches. The trendline was broken in January 2023. Not only this, but the stock broke out while basing at the major $0.60 support zone. High gold prices had a role to play.
With this breakout, we would be bullish above the $0.70 zone. I have also marked the $1.00 zone as it is a major psychological zone.