A Pain in the Behind
I don't fear a lot of things. Well, other than spiders, heights, and being stabbed. However, more than anything I have always been afraid of getting a colonoscopy. For those who don't know, a colonoscopy is an exam used to detect changes or abnormalities in the rectum and colon, hence the name. The exam is conducted by inserting a long flexible tube into the rectum. If that wasn't invasive enough, there is a tiny video camera at the tip of the tube.
According to the Centers for Disease Control and Prevention (CDC), regular screening for colorectal cancer (CRC) should begin at age 45. Ever since I first learned about colonoscopies, I have been counting down the days until that tube would come for me. At the same time, I have always known that I should be more afraid of CRC itself. After all, the lifetime risk of developing CRC is about 1 in 23 for men and 1 in 25 for women, or 4.3% and 4%, respectively.
In the United States (US), CRC is the third leading cause of cancer-related deaths in both men and women. The good news is that there are now over 1.5 million CRC survivors in the US, with the overall death rate continuing to drop. However, deaths from CRC among people under the age of 55 like myself have increased by 1% per year from 2008 to 2017. Let's take a look at a company offering an alternative to conventional CRC screening.
Guardant Health Inc.
$3.198B Market Capitalization
Guardant Health Inc. (GH.Q) is a leading precision oncology company focused on conquering cancer through its proprietary tests, data sets, and analytics. The Company's platform leverages capabilities to drive commercial adoption, improve patient outcomes, and lower healthcare costs across all stages of cancer treatment. To date, Guardant has commercially launched Guardant360, Guardant360 CDx, Guardant360 TissueNext, Guardant360 Response, and GuardantOMNI.
The aforementioned tests are intended for advanced-stage cancer patients, however, the Company has also developed Guardant Reveal for early-stage cancer patients. Guardant is also committed to screening for cancer. The Company's portfolio of screening tests includes Guardant Shield, which aims to address the needs of individuals eligible for cancer screening, including CRC screening.
According to Guardant Health, it is estimated that one in three adults have not completed the recommended set of screening tests for CRC. This includes a colonoscopy every 10 years and an annual stool-based test starting at age 45. Keep in mind that treatment for CRC is most effective if the disease is caught early. That being said, avoiding screening for CRC can be fatal. In fact, 75% of people who die from CRC were not up-to-date with their screening.
Colonoscopies are terrifying, but they are also time-consuming and inconvenient. With this in mind, Guardant has developed the Guardant Shield test, which is intended for adults over the age of 45 who have an average risk for CRC and show no symptoms. The best part is that this test requires a single blood draw. That means no invasive tubes! So, how does it work?
Latest News
On May 2, 2022, Guardant announced the availability of its Shield test for the detection of early-stage CRC. The test searches for signs of CRC from pieces of tumor DNA in the bloodstream. In a clinical study of roughly 300 samples, assays showed 91% sensitivity in detecting positive cases. This includes 90% for people with early Stage 1 cancers, 97% for Stage 2, and 86% for Stage 3. The test also demonstrated a low rate of false positives at just 8%.
"We have developed highly sensitive technology to detect early-stage cancers with a simple blood draw…Colorectal cancer screening is the start of this journey. We will soon expand into multi-cancer screening, including lung, pancreas, and others, where we believe cancer screening can save lives," said AmirAli Talasaz, Guardant Health co-CEO.
Later this year, Guardant intends to provide results from a larger clinical study utilizing samples from more than 12,750 US patients. The company will use these findings to pursue a premarket approval application from the US Food and Drug Administration (FDA). For the sake of me and my behind, I hope Guardant can obtain approval before I turn 45. Moving on, let's talk about some other companies making advancements in the field of oncology.
Guardant's Shield test is now available for eligible patients by prescription only through healthcare professionals. However, it is important to note that the Company's test is intended to be complementary to current CRC screening methods, not a replacement. As referenced by Mr. Talasaz, Guardant will pursue a multi-cancer version of the Shield test to screen for lung, pancreatic, and bladder tumors, to name just a few.
Guardant's share price opened at $28.06 on May 12, 2022, down from a previous close of $28.82. The Company's shares were up 6% and were trading at $30.55 as of 11:36 AM EST.
BioVaxys Technology Corp.
$10.749M Market Capitalization
BioVaxys Technology Corp. (BIOV.C) is a clinical-stage biopharmaceutical company developing anti-viral and anti-cancer vaccine platforms. Currently, the Company is evaluating a potential SARS-CoV-2 vaccine based on its haptenized viral protein technology. BioVaxys is also advancing a compassionate use trial in the EU to evaluate its haptenized cell vaccine for late-stage ovarian cancer.
In addition to BioVaxys' cell vaccines for ovarian cancer, the Company is also exploring other ways it can leverage its technology platform in the field of adoptive immunotherapy. For context, adoptive immunotherapy refers to the collection of T-cells from a patient that are then grown in a lab. This increases the number of T-cells that can be used to kill cancer cells.
Once cultivated, BioVaxys' objective is to use these T-cells to identify new antigens that can be used to create new, chemically-defined, patient-specific vaccines, for example. Regarding the Company's business structure, BioVaxys plans to explore partnerships with cell therapy companies to develop extensive new intellectual property (IP) for the Company.
Referring back to BioVaxys' vaccine platform, this platform utilizes haptenization to teach a patient's immune system to recognize and make target proteins more visible as foreign. This stimulates T-cell mediated immune responses, therefore, more effectively combating cancer. This is done by extracting a patient's cancer cells, chemically treating them with a hapten, and re-injecting them into the patient to induce an immune response.
A hapten is a small molecule that, when combined with a larger carrier such as a protein, can elicit the production of antibodies that bind specifically to it. Sounds crazy, but haptenization is actually a well-known and studied immunotherapeutic approach to cancer immunotherapy. In addition to ovarian cancer, BioVaxys plans to conduct an investigator-sponsored clinical study of its vaccine platform for CRC.
Latest News
Recently, on May 2, 2022, BioVaxys announced that it has expanded its patent coverage for its cancer vaccine platform. To be more specific, the Company has filed an international patent application through the Patent Cooperation Treaty (PCP) for broad geographic market coverage outside of the US for cervical cancer. To provide some background, the PCT is a patent treaty with more than 150 member countries.
The PCT provides a unified procedure for filing patent applications, making it possible to seek patent protection for an invention simultaneously in a large number of countries. This is referred to as an international patent, whereby a company may avoid the lengthy process of filing several separate national or regional patent applications.
With this in mind, BioVaxys currently has an agreement with Procare Health for the clinical co-development of the Company's autologous bihaptenized cervical cancer vaccine for the EU market. Moreover, the two are jointly conducting an upcoming EU Phase 1 clinical study of BVX-0918, the Company's lead haptenized tumor cell vaccine for ovarian cancer. BioVaxys intends to launch this clinical trial at some point later this year.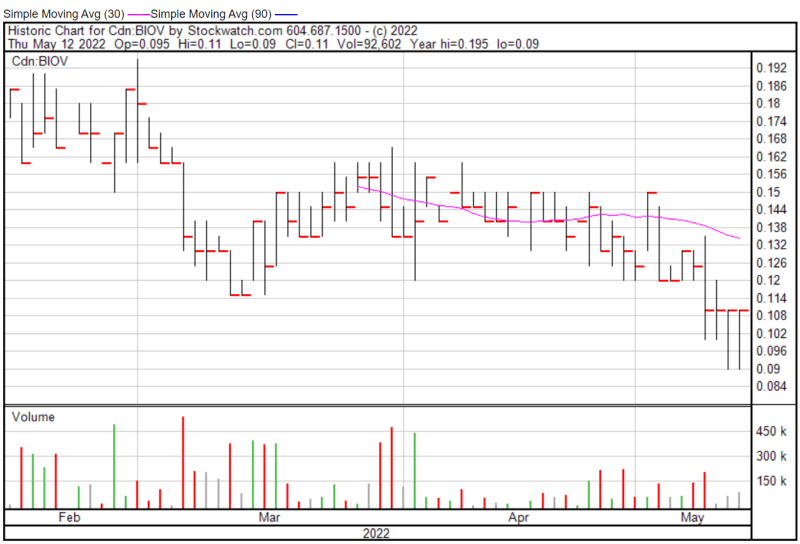 BioVaxys' share price opened at $0.095 on May 12, 2022, down from a previous close of $0.11. The Company's shares were trading at $0.11 as of 12:35 PM EST.
PharmaCyte Biotech Inc.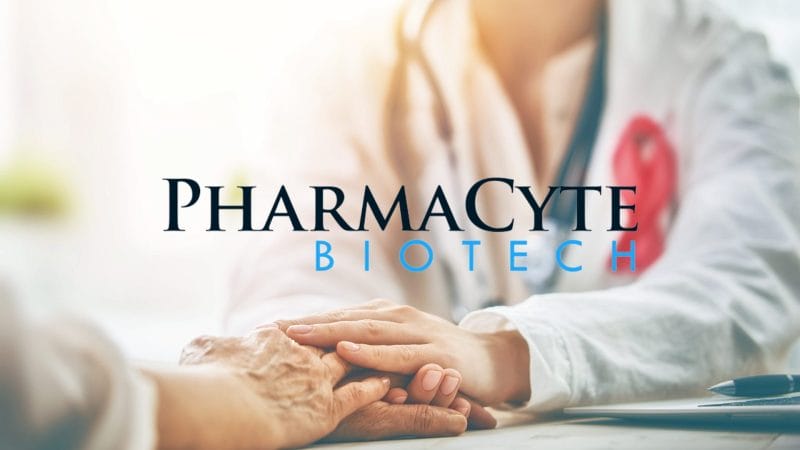 $41.856M Market Capitalization
PharmaCyte Biotech Inc. (PMCB.Q) is a biotechnology company developing cellular therapies for cancer and diabetes utilizing PharmaCyte's cellulose-based live-cell encapsulation technology known as "Cell-in-a-Box®." This technology is being used as a platform to develop therapies for various forms of cancer, Type 1 diabetes, and insulin-dependent Type 2 diabetes.
Cell-in-a-Box® works by encapsulating different types of genetically modified living cells depending on the disease being treated.  In the case of pancreatic cancer, these capsules are implanted into a patient's blood vessels leading to the pancreatic tumor. PharmaCyte's therapy for cancer involves encapsulating genetically engineered human cells that are capable of converting an inactive chemotherapy drug into its "cancer-killing" form.
Latest News
On April 19, 2022, PharmaCyte announced that the empty capsule material comprising the Company's pancreatic cancer clinical trial product candidate CypCaps does not cause systemic toxicity. Don't get it twisted, there were never any concerns or allegations implying it was toxic, however, PharmaCyte did its due diligence anyways via a study conducted by a third-party Contract Research Organization.
"This time the study evaluated the potential toxicity of the capsule component of our CypCaps™ clinical trial product candidate. We are pleased to announce that there was no evidence of toxicity in this animal study in any of the parameters examined and that the study confirms previous data that the capsule material is inert," said PharmaCyte's Chief Executive Officer, Kenneth L. Waggoner.
By injecting the capsule extract into mice, researchers were able to observe for clinical signs of toxicity at 30 to 40 minutes, 1 hour, 2 hours, and 4 hours post-dosing on day 1. At the end of the observation period spanning 14 days, it was revealed that none of the mice died or showed any clinical signs of toxicity or gross pathological changes. Similarly, in November 2021, the Company announced that the material that makes up its CypCaps does not cause irritation.
Additionally, on April 13, 2022, PharmaCyte announced that it has decided to accelerate preparations for the start of its Phase 2b clinical trial in locally advanced, inoperable pancreatic cancer (LAPC) using its CypCaps clinical trial product. So, what are CypCaps, anyways? CypCaps are genetically engineered human cells, specifically engineered to treat LAPC. These cells are encapsulated using PharmaCyte's Cell-in-a-Box technology.
Referring back to the Company's news, in order to begin enrolling patients, PharmaCyte will need to finalize the clinical trial protocol, pharmacy manual, investigator's brochure, angiography manual, informed consent, and drug product label. The Company will also need to reengage with Medpace, the Contract Research Organization selected to conduct the proposed clinical trial, and its subcontractors.
Unfortunately, these aren't the only hoops PharmaCyte will have to jump through before it can initiate its Phase 2b clinical trial. The Company will also need to reengage Catalent Pharma Solutions, the Company's supply chain vendor. As such, supply chain requirements will also need to be updated. Additionally, the final list of cancer centers and their associated contractors will need to be selected.
Lastly, PharmaCyte will need to select a lead interventional radiologist and develop a training film. Once selected, this radiologist will be responsible for training additional interventional radiologists. By now, you're probably wondering why you should care, so let me explain. Back in November 2020, PharmaCyte received a clinical hold letter from the FDA regarding the Company's New Drug Application (NDA).
Since then, PharmaCyte has genuinely put in the work to ensure that this clinical hold is lifted. If you don't believe me, check out this press release from the Company. To date, PharmaCyte has received Orphan Drug Designation for its LAPC treatment. With this in mind, the Company is confident the FDA will soon grant it Investigational New Drug (IND) status.
PharmaCyte's share price opened at $2.00 on May 12, 2022, down from a previous close of $2.06. The Company's shares were up 0.49% and were trading at $2.07 as of 4:00 PM EST.