A big day for central banks. We just had the Bank of Canada (BoC) and later on today, we will have the Federal Reserve. Expect some volatility especially with that Federal Reserve rate decision and Powell's press conference.
The Bank of Canada decided to keep interest rates unchanged at 0.25%, meeting analyst expectations. However, this rate decision had a lot of drama. Many analysts were saying, "mark my words, the Bank of Canada will hike 50 basis points in January". Some even said there would be a surprise rate hike of 25 basis points in January as a statement by the Bank of Canada to fight rising inflation. What people don't understand is that the central banks do not want to surprise markets. If the market is pricing in no hike, a hike would then lead to unnecessary market volatility. Keep this in mind with the Federal Reserve. The markets are expecting no rate hike, but want a confirmation that rates will be raised starting in March 2022.
Here is the summary provided heading into the Bank of Canada's rate decision:
The Bank of Canada is expected to leave rates unchanged at 0.25% although there is the risk for a hike with 7/31 surveyed analysts expecting a 25bp hike to 0.50% at the January meeting, ahead of the current BoC guidance for the middle quarters of 2022.
If the rate is left unchanged, attention turns to guidance to see whether this is bought forward to the end of Q1 (ie March).
Market pricing looks for rates to be left unchanged, although this has unwound heavily from last week which saw up to a 90% chance of a 25bp hike in January after the BoC survey and CPI data.
The MPR will also be released, analysts at TD securities see 2022 growth being revised lower, while inflation is expected to be revised 0.1% higher for 2022 but revised down by 0.1% in 2023.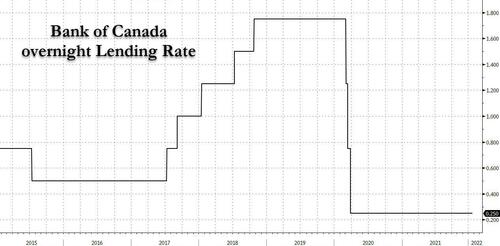 As I said, a drama element with some analysts expecting a surprise rate hike.
Rates remain unchanged in Canada, but the Bank of Canada was more hawkish, essentially confirming rate hikes beginning at the next rate decision on March 2nd 2022.
For those who want to read the full Bank of Canada report, here it is. I will summarize the important parts below before taking a look at the Canadian Loonie and the TSX.
Rates remain unchanged but with overall economic slack now absorbed, the Bank of Canada has removed its exceptional forward guidance on its policy interest rate. In terms of inflation, the Bank of Canada states that strong global demand for goods combined with supply bottlenecks that hinder production and transportation are pushing up inflation. Also add in rising oil prices to that mix.
The Bank of Canada expects global GDP growth to moderate from 6.75% in 2021 to about 3.50% in 2022 and 2023. In Canada, the Bank of Canada expects the economy to grow by 4% in 2022 and about 3.50% in 2023. This growth will be led by consumer spending on services, and supported by exports and business investments.
Inflation remains well above the Bank of Canada's target range, and inflation will persist close to 5% in the first half of 2022. Once again, due to the supply constraints for goods. Once these supply shortages diminish, inflation is expected to decline quickly to 3% by the end of the year, and ease towards the target 2%.
Now this is where things get hawkish, so I will quote the entire paragraph:
While COVID-19 continues to affect economic activity unevenly across sectors, the Governing Council judges that overall slack in the economy is absorbed, thus satisfying the condition outlined in the Bank's forward guidance on its policy interest rate. The Governing Council therefore decided to end its extraordinary commitment to hold its policy rate at the effective lower bound. Looking ahead, the Governing Council expects interest rates will need to increase, with the timing and pace of those increases guided by the Bank's commitment to achieving the 2% inflation target.
Expect a rate hike in March folks, unless things drastically change on the pandemic and geopolitical front.
Above is the daily chart of the USDCAD. The Canadian Loonie is looking to strengthen as we broke below a head and shoulders pattern, and are currently retesting the neckline at $1.2650. It gets complicated as we have rate decisions today that will affect both currencies. I would not go short just yet, but if I see a rejection here by the end of the day, and after the Fed, a short looks appealing.
The Loonie actually weakened after the Bank of Canada decision. Strange with oil also rising, and the Loonie being positively correlated with oil. However, we have the Federal Reserve coming up, and to be honest, technically, we just needed the retest of this neckline. A daily close above would mean the USD will strengthen going forward as the Loonie declines. But as things stand right now, I am looking for a USDCAD short if I get a nice red or indecision candle here at my neckline retest.
The TSX gapped up today and remains strong post Bank of Canada. In fact, even US stock markets and European stock markets are ripping pre Fed. The TSX held a major support zone, and relieved any downside pressures for now. Canadian markets held up well due to energy and commodities. The index is composed mainly of oil and gas companies and miners.
The range is being held still and I would just wait for a breakout above to confirm new record highs, and a continuation of the uptrend. If not, prices could remain in a range.
If you believe these stock markets have been propped up due to cheap money, then rate hikes would add pressure to stocks. My take is to watch the Fed and the US. The Fed is expected to be hawkish and confirm rate hikes beginning in March. Watch to see how the US stock markets react.