Nano One Materials is a clean technology company with a patented, scalable and low carbon intensity industrial process for the low-cost production of high-performance lithium-ion battery cathode materials. The technology is applicable to electric vehicles, energy storage, consumer electronic and next generation batteries in the global push for a zero-emission future. Nano One's One-Pot process, its coated nanocrystal materials and its Metal to Cathode Active Material (M2CAM) technologies address fundamental performance needs and supply chain constraints while reducing costs and carbon footprint. Nano One has received funding from various government programs and the current "Scaling of Advanced Battery Materials Project" is supported by Sustainable Development Technology Canada (SDTC) and the Innovative Clean Energy (ICE) Fund of the Province of British Columbia.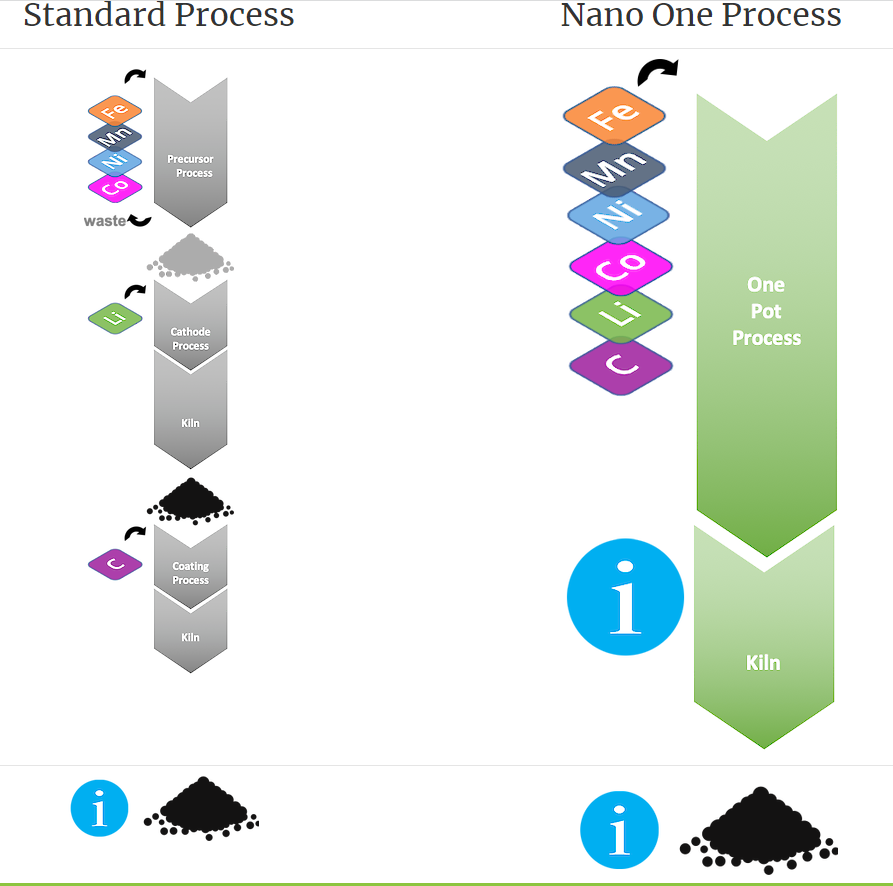 Nano One's patented manufacturing technology, the "One Pot Process" improves the cost and performance of cathode materials used in lithium ion batteries by streamlining the production process while enabling higher performance cathode materials.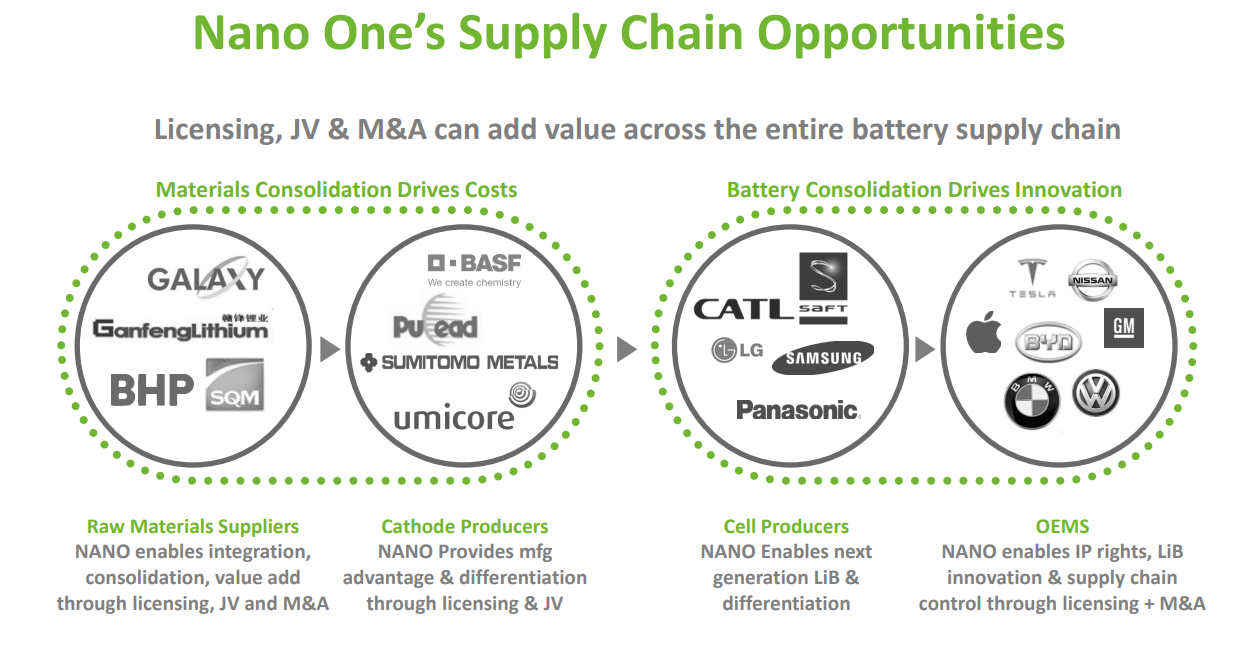 The market opportunity is huge, with the growth of cathode materials being driven by the adoption of electric vehicles, energy storage and consumer electronics. Market forecasts indicate an annual $23 Billion in cathode powders by 2025.
On the press release side of things, Nano One seems to be doing a corporate churn and is preparing for a big year ahead. Big names and experienced experts are joining the team. These include Mr. Denis Geoffrey who has 25 years of lithium-ion battery experience and a cathode production expert. Mr. Adam Johnson joins Nano One to lead external affairs with governments as the company continues to scale up and expand in North America. Dr. Yuan Gao, an expert in lithium production and innovator in lithium-ion batteries joins as a strategic advisor. Former US Assistant Secretary of State for Energy Resources Frank Fannon joins as a strategic advisor, with obvious experience in publishing policy but also business experience in energy and supply chains. The most recent press release regards Carla Matheson, a CPA with over ten years of experience in various industries, being appointed as an independent director.
With fresh faces, 20 patents in the US, Canada, Japan, South Korea, China and Taiwan with 35 plus patents pending, plus a cash position of $50 million plus…2022 is gearing up to be a big year for Nano One and shareholders.
Funnily enough, just yesterday I covered the technicals of an EV company known as Tesla. A major pop from support which took us to retest the $1000 zone. Nano One is looking to replicate the same pop from a major support level.
The stock ended 2020 at all time record highs at $6.50. In 2021, Nano One would not take those highs out. We ranged for the first three months, and then broke down and drifted downwards. I would say we are at an opportune area to buy technically.
$3.00 is a major support zone. We have bounced here twice. Once in 2020 which provided the stock the foundation to hit record highs. And then this year in 2021. In September, this $3.00 support zone created a bounce which moved the stock 50% plus up to $4.80. On December 3rd of 2021, it looked grim. That daily candle looked like we were going to break below support, but instead, buyers stepped in to force a close back above $3.00 crucially holding support. The same thing has happened a few times in the past weeks. Buyers are defending $3.00.
The stock needs some momentum here. For a new uptrend to begin, Nano One needs a push and a close above $3.50, the area I have marked with a black line. That would break this interim range we are in, and kick off a new uptrend. Consolidation before the year end, and hoping for a breakout come 2022.
If the $3.00 fails to hold as support and we break down, then $2.50 becomes the next support zone.
Taking you out to the weekly chart, You can see that $2.50 is a major flip zone (an area that has been both support and resistance in the past). It is a huge inflection point and would be the stocks make or break level if price does manage to trickle down to it. But so far, buyers remain steadfast at $3.00.