Markets open up Monday with some jitters. Inflation news still worrying investors, geopolitical tensions with the US and Canada sending warships through the Taiwan Strait, China's GDP missing expectations, oh and the cherry on top? Evergrande will formally enter default on October 23rd after missing three interest payments. The Chinese government wants to avoid a bailout, and will have to find some other way to penalize the company without creating a sector wide (maybe worldwide) panic. But don't worry, there is some good news too. Netflix and Tesla earnings this week kick off the tech earnings. Their performances could help push the overall earnings trajectory for the S&P 500 index higher, with early reports already pushing initial projections for 27.5% growth higher than 30% heading into the busiest week yet of earnings season. It's earnings season baby!
Last week, the banks delivered their earnings and they did not disappoint. JP Morgan, Bank of America, Goldman Sachs just to name a few, did well on their investment trading side of the business, rather than the traditional business of lending. But this isn't anything new. Since the pandemic, the banks have been making record profits. One can say the three things that drove markets higher last week were XLF (the banks), Energy and Tesla. More on Tesla in tomorrow's Market Moment as we prep for its earnings release on Wednesday.
Today's focus will be on Netflix (NFLX), which releases earnings tomorrow. High expectations. But as we shall see from the chart, it looks like good earnings is already baked into the price.
But here are some data points, and what investors are expecting tomorrow. The key number is Netflix's global paid streaming subscribers, since this is Netflix's primary source of revenue. Streaming has become competitive now that Disney Plus, Amazon Prime, Apple TV and HBO Max are in the mix.
Netflix reported Q2 FY 2021 earnings that missed analysts' expectations while revenue matched estimates. EPS rose 86.8% compared to the year-ago quarter, decelerating from the previous quarter's rapid pace. Revenue grew 19.4% year over year (YOY), its slowest pace out of any quarter in at least the past four years.5 Netflix said that its revenue growth was driven by increases in average paid streaming memberships and in average revenue per membership.

In Q1 FY 2021, Netflix beat analysts' consensus estimates on both earnings and revenue. EPS rose 138.9% YOY after declining 8.5% YOY in the previous quarter. Revenue grew 24.2% compared to the year-ago quarter, the fastest pace since the second quarter of FY 2020.5 Netflix said that its operating profit and operating margin both reached all-time highs during the quarter.

Analysts expect both EPS and revenue growth to rise at a robust pace in Q3 FY 2021. But that pace will be significantly slower than last year. EPS is expected to rise 46.9% while revenue is forecast to expand 16.3% compared to the year-ago quarter. That would be the slowest revenue growth Netflix has posted since at least the first quarter of FY 2017. For full-year FY 2021, analysts expect EPS to rise 71.3%, which would be the fastest pace since FY 2018. Annual revenue is forecast to grow 18.7%, which would be the slowest pace in at least the past eight years.
But let's face it folks, all the hype on Netflix right now is about this:
Squid game is introducing viewers to the glory that is K dramas. Some good stuff folks. The recent stuff I have watched on Netflix in the past year has mainly been Korean dramas…and some Japanese anime. Not only is Squid Game having a major impact for Korean TV and Film, but also for Netflix when factoring in international growth. South Korean and Spanish series (Money Heist) have done well, and Netflix will be investing more in foreign-language shows. Not only are they cheaper to produce, but they are bringing in the viewers and money.
The show is now Netflix's biggest series launch ever, topping 111 million viewers globally. But what about in cash numbers? Reportedly, Squid Game is expected to generate $900 million in value for Netflix. Not bad for a show that cost Netflix $21.4 million to produce. But the buck doesn't stop there. Some analysts expect the REAL gains to come in the final three months of the year (Q4) since the show was released at the tail end of the quarter.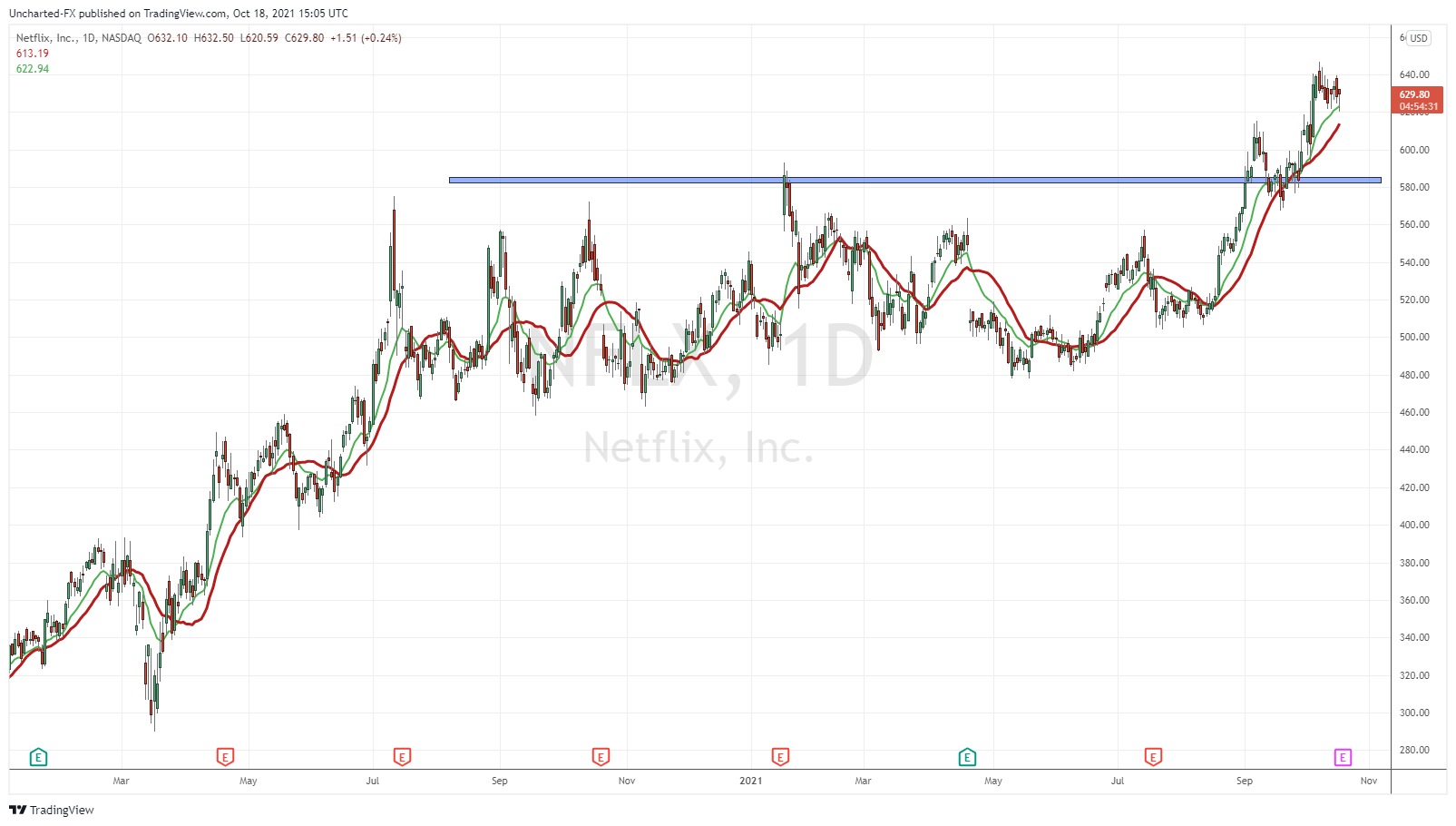 Year to date, the stock is up 16.57%. Honestly, we have just been ranging for the majority of the year. We started the year with a bang making record highs up to $580 after an earnings report. But then we began to range bouncing between $480 to the downside and $560 to the upside. This all changed early September, when Netflix finally broke out above $580 to make new record highs. As per typical breakout criteria, what was once resistance, becomes new support. $580 was retested as new support following the breakout. It looked a bit dangerous, and it seemed we were going to fakeout. But the bulls managed to hold, and caused another run up, hitting all time highs of $646.84 in early October. Investors and traders were likely pricing in the Squid Game gains and better than expected earnings, which means we could sell off tomorrow even with stellar earnings.
Since making record highs, we have pulled back but price is creating some support at the $620 level. Playing earnings will be easy for me, but hey, I don't play earnings in the first place. I wait for the news to hit and be absorbed by the market. If Netflix breaks above previous highs, then the uptrend continues. I have said this many times in the past, but if we see price movements like FB, AAPL, AMZN, NET and MSFT on the breakout, it is evidence that institutions are adding. On the opposite end of the spectrum, price falls and breaks below $620. That's okay. We will look to find some support at $610 and then our major zone at $580. The breakout and a further move higher remains valid above $580.
In summary, Netflix kicks off this earnings season. Not so much to say regarding forward guidance and supply chain issues for Netflix, but that will be a theme for other tech earnings coming up next week. The chart seems to have already priced in good earnings, so a sell off with good numbers wouldn't be surprising. For the longer term, it will be interesting to see the market begin pricing in Netflix's increase in foreign film and tv production.