Cognetivity Neuroscience (CGN.C) announced today that it has finalized a commercial agreement with Birmingham and Solihull Mental Health NHS Foundation Trust (BSMHFT) to deploy its Integrated Cognitive Assessment (ICA) across both primary and secondary care.
"This is wonderful news. We feel honored that the ICA is being deployed at one of the UK's best and biggest mental health Trusts, touching the lives of a very large number of patients. Of course, it is a very welcome announcement as we continue our commercial rollout throughout the UK and internationally…We're excited to continue making the most of our relationship and getting our revolutionary technology into patients' hands all over the world," commented Dr. Sina Habibi, Cognetivity's CEO.
It has been quite some time since I covered Cognetivity, so bear with me as I give myself a refresher. Cognetivity is a technology company credited for its cognitive testing platform, dubbed ICA. By utilizing ICA, the Company is able to help detect the earliest signs of cognitive impairment associated with diseases like Alzheimer's disease and dementia. Overall, the ICA is able to substantially increase efficiency gains in dementia assessment by utilizing its computerized approach to cognitive testing. This offers a wide array of advantages over pen-and-paper examinations, including shorter testing duration, automatic marking, and high classification accuracy. Furthermore, ICA's language independence ensures there is no cultural bias, making it well suited for testing diverse populations such as that of BSMHFT.
With this in mind, according to the Company's latest announcement, Cognetivity's ICA will be implemented to enhance multiple stages of BSMHFT's dementia care pathway. The deployment will cover secondary care, supporting the specialist diagnostic process and providing long-term monitoring capability, as well as primary care, enabling earlier detection and improved referral rates. To put things into perspective, BSMHFT is one of the leading health Trusts in the United Kingdom's (UK's) National Health Service (NHS), with an income of more than £240million and a workforce of around 4,000 staff. For context, NHS is the umbrella term used to refer to the publicly funded health systems of the UK. That being said, BSMHFT operates out of more than 40 sites and serves a population of more than 1.3 million patients. In particular, BSMHFT is recognized for its comprehensive and innovative approach to mental healthcare, delivering a collaborative system of services with neighboring NHS Trusts and metropolitan councils throughout the West Midlands.
"We're really excited by the ICA what it can do for our dementia assessment services…We always strive to deliver better value and improved outcomes for our patients, and I am confident that Cognetivity's technology will help us to do that in this area. I greatly look forward to seeing it at work in the hands of clinicians and patients," said Derek Tobin, Associate Director at BSMHFT.
Cognetivity's ICA will be introduced through its partnership with InterSystems, a world-leading data and interoperability platform provider. The Company entered into a partnership with InterSystems on May 4, 2021, whereby InterSystems will assist Cognetivity in the seamless integration of the ICA with electronic healthcare records (EHRs), enabling the efficient adoption of Cognetivity's technology in healthcare systems. Keep in mind, InterSystems boasts an impressive network of healthcare systems in the UK and the United States (US), including over 100 trusts and health boards in the UK and Ireland as well as thousands of hospitals in the US. As you probably could have guessed, InterSystems' network already supports BSMHFT's system of EHRs, which will facilitate the integration of Cognetivity's ICA, greatly reducing the https://e4njohordzs.exactdn.com/wp-content/uploads/2021/10/tnw8sVO3j-2.pngistrative workload of clinicians and empowering integrated care.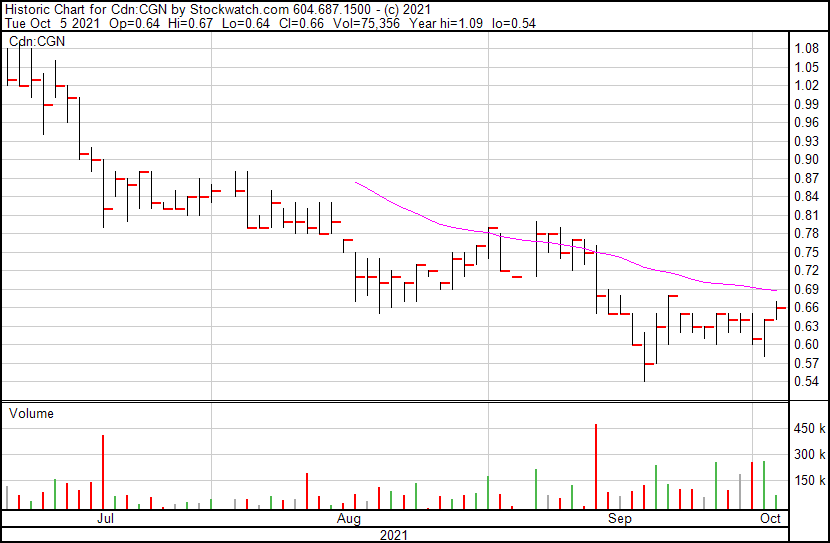 Cognetivity's share price opened at $0.64, up from a previous close of $0.63. The Company's shares are up 4.76% and were trading at $0.66 as of 9:47 AM ET.