Engine Media Holdings (GAME.V) announced today that a final short form base shelf prospectus, previously filed on March 25, 2021, and a corresponding shelf registration statement on Form F-10, have been deemed effective by the US Securities Exchange Commission (SEC).
"We are immensely proud to announce these significant milestones as we continue to grow and enhance Engine's profile within the U.S. capital markets, while attracting new investors and reinforcing our commitment to existing investors…Our U.S. shelf registration statement is now effective as well, which was one the steps that we have taken as part of our positioning to uplist on the Nasdaq," said Lou Schwartz, CEO of Engine Media.
Engine Media's prospectus and registration statement allows the Company to offer up to USD$150 million of common shares, preference shares, warrants, subscription receipts, debt securities, units, or any combination of securities during the 25-month period that the shelf prospectus is effective. For context, a prospectus is a legal document filed with the SEC to accompany a Company's securities or investment offerings for sale. It contains key facts and information pertaining to the offer, providing investors with insight towards the risks and rewards of an investment.
Moving on, a shelf prospectus refers to a prospectus offering that describes multiple securities offerings so that a company does not need to offer a prospectus for each. In addition to its shelf prospectus, Engine Media announced that it will begin trading on the NASDAQ on June 17, 2021, under the symbol GAME. Keep in mind, Engine Media will also retain its listing on the TSX.
"We are excited to become a publicly-traded company on the Nasdaq, introduce Nasdaq investors to the Engine Media story and solidify our position at the forefront of gaming technology, content and data solutions. We are also grateful for the Engine Shelf being deemed effective as we continue to offer unique experiences and solutions in the esports, news and gaming sectors," commented Tom Rogers, Executive Chairman.
Furthermore, on June 10, 2021, Engine Media, through its wholly-owned subsidiary UMG Gaming, revealed that it has arrange a two-part, $25,000 Warzone tournament series in partnership with Atlanta FaZe. Both events will involve two online qualifiers open to the public as well as a final invitational, each with a prize pool of $25,000. The first qualifier is planned for June 19, 2021, with the second set to be announced in Q3 2021. The event series will include a mixed bag of participants including community players, influencers, pros and content creators.
100 million players and counting.

Thank you all for dropping in. It wouldn't be #Warzone without you. pic.twitter.com/knanptnCMU

— Call of Duty (@CallofDuty) April 20, 2021
In April, the official Call of Duty Twitter account announced that Warzone, Activision's multiplayer battle royale, had achieved 100 million active players. According to Gamesight, Warzone currently has the highest Average Concurrent Viewership (ACV) out of all battle royale games currently streamed across Twitch and YouTube. In other words, there are a higher number of viewers watching Warzone content opposed to other popular battle royales like Fortnite, PlayerUnknown's Battlegrounds, and Apex Legends, just to name a few.
Keep in mind, FaZe is one of the most popular esports and entertainment organizations in the world. The FaZe Clan first made its debut on YouTube on May 30, 2010, and has since become one of the most renowned esports organizations. As such, Engine Media's upcoming Warzone tournament, planned in collaboration with FaZe Atlanta, is sure to generate serious buzz on social media and streaming platforms.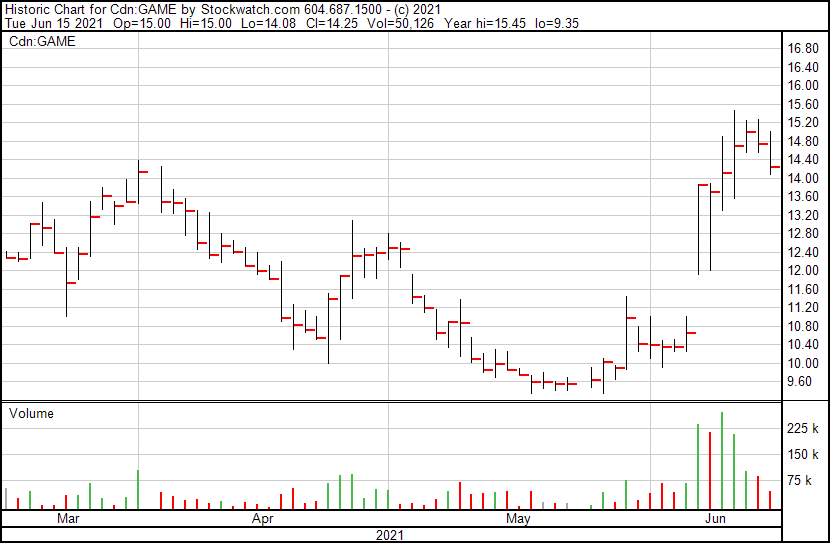 Engine Media's share price opened at $15.00, up from a previous close of $14.75. The Company's shares are down -3.05% and are currently trading at $14.30 as of 11:42AM ET. This indicates that there has been some noticeable change following the news.