Boomers
Element Nutritional Sciences (ELMT.C) has a very specific objective in mind – plant-based foods for boomers.
There a ton of new CPG health companies out there, most of which are targetting younger crowds. But targetting boomers actually makes more sense when you look at the numbers. Boomers typically spend more on health and medical products than any other demographic. According to Fonta International – even though 90% of marketing dollars are spent to target Millennials, Boomers are trend drivers and just as likely as Millennials to snack on healthy foods, seek organic or natural foods and fresh ingredients.
People are becoming much more conscious of where their food is coming from, which puts companies like Element at an advantage who are seeking more sustainable ways of feeding the human population. Whey protein (from cows) also triggers people's dairy allergy, causing meat-eaters to seek out vegan options. Documentaries like Game Changers and Cowspiracy, while incredibly biased are helping change the narrative around the food we eat.
Forecasters are saying the plant-based protein supplement industry will hit $9.57 billion USD annually.
Baby Boomers (33%) are more than twice as likely as Millennials (15%) to prioritize wanting product labels that provided information they can better understand as the top priority, while Millennials (17%) are nearly twice as likely as Baby Boomers (9%) to point to more organic food and product options as the most important change brands and retailers could make, according to Iconoculture.
According to Fona International, 49% of Boomers are more interested than Millennials in functional foods, such as fiber, carotenoids, probiotics, and vitamin fortification. Boomers are interested in foods associated with healthy aging, bone health, weight management, cardiovascular health, and digestive health. Boomers also eat ready-to-eat snack food 20% more often than Millennials.
Element has gotten to the boomer front lines with their highly coveted shelf space in major stores. In the US Element is a vendor for Walgreens, CVS, Walmart, and Meijer. Element is a vendor for Loblaws, Shoppers Drug Mart, and Rexall in Canada, and the company has a distribution and sales agreement with Natural Made Company Ltd in South Korea.
The company is in a growth stage and is looking to up production on their myriad of plant-based health products. This will involve scaling current operations, using new marketing strategies and creating new products.
Element plans on using the net proceeds of their recent $5.6 million CAD private placement. The planned marketing costs of $1,003,640 CAD are allocated to:
Increasing sales and distribution of the Rejuvenate Sachets within the United States and Canada.
launching new Organic plant-based protein beverage under the Rejuvenate brand.
Utilizing their marking partners to expand brand awareness and brand equity among theiir core consumers through direct-to-consumer marketing, digital marketing, and social media.
Building out ecom/Amazon stores.
Scaling up product distribution for major retailers
Brands & products
Rejuvenate is Element's flagship brand.
It started in 2019 as muscle health product designed to help slow and/or prevent muscle loss due to aging with the initial product being a single-serve powder taken 1-2 times per day.
Initial sales were through its website and Amazon. Retail sales commenced in the second half of the year at 6,000 CVS retail stores and 2,838 Walmart stores in the United States. Total sales for Rejuvenate for 2019 were $1,402,663 CAD.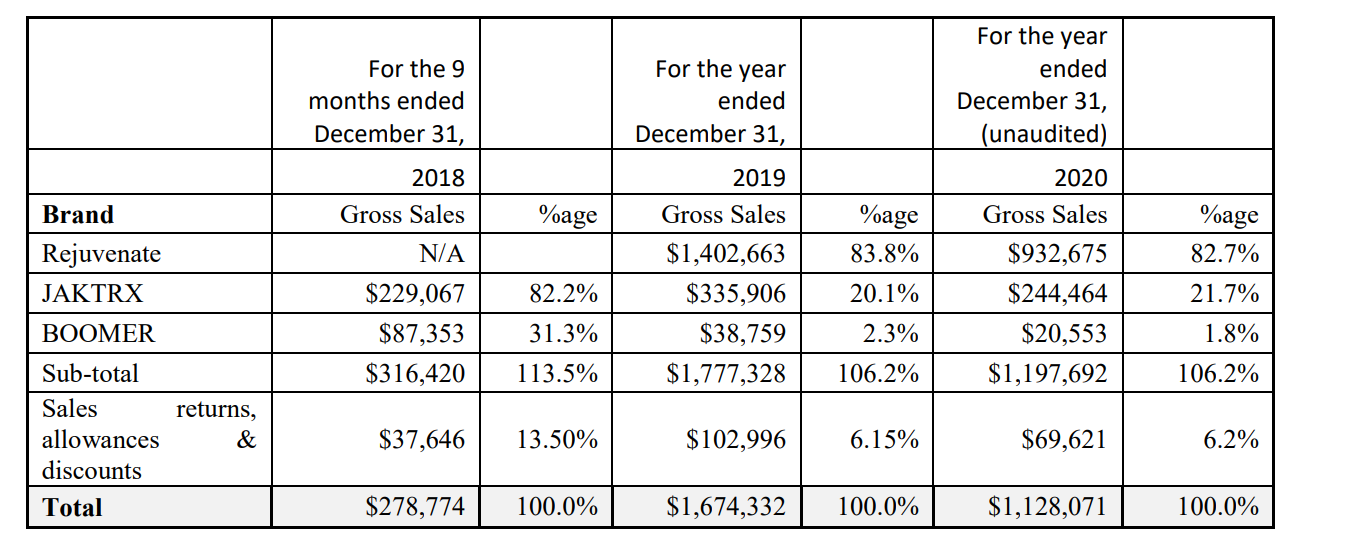 Earlier this year the company has now released a line of drinkable products. They are an organic plant-based, single-serve ready to drink beverage, in a 330 ml resealable Tetra Pak. The product comes in three flavor options for the consumer, chocolate, vanilla, and mocha.
The formulation is based on 17 years of clinical research with 25 peer-reviewed clinical studies supporting the formula and its efficacy which the company has patented.
Within the nutritional/dietary supplement CPG market there is a well-established cycle. The slower sales periods are generally in the summer months, June, July, August. There are two periods where the industry normally sees an increase in sales volume. These are after Labour Day and after New Year's Day. Sales are very consistent and stable outside of these three time periods.
Plant-Based
While I wouldn't fit Element's exact demo personally, I am behind the message.
I went plant-based in 2016, had a minor slip in 2019 but for the better part of the last 5 years, I have not consumed any red meat or
poultry. Since then I haven't shrunk to a skeleton and am still perfectly able to get out of bed in the morning. My calorie intake hasn't changed and I haven't lost any muscle.
The meat industry is a pretty wild place, I read a book by Howard Lyman called Mad Cowboy that talks about the ugly side of the cattle industry, common practices like selling euthanized animals from the SPCA to cattle farmers to use as feed. Regenerative agriculture at its absolute worst.
It's one of many cost-cutting initiatives used by cheaper farms. It's well known that good meat costs more, but for the cheaper meat, there is still a lot of people who don't realize they are eating little bits of golden retriever and tabby cat in their cheap-cut American steak. The big meat companies lobby the hell out of congress for extra protection, they get to hide behind a curtain that before the internet and cringey vegan documentaries barely anyone ever saw, or really thought about.
Lyman grew up on a farm and went to school for agriculture tech back in the '70s, cutting costs and increasing efficiency was the name of the game, which meant the animals suffered and the product was a lot worse. Companies couldn't keep up with the demand and any innovations were welcomed. Powerful companies like Monsanto control farming practices even down to the seeding process.
Plant-based foods are a growing trend as more people are learning about how the meat industry functions, as well as the health concerns that come from gorging red meat.
FULL DISCLOSURE: Element Nutrition is an Equity.Guru marketing client.
Tags: