NEXE Innovations (NEXE.V) announced today that it has installed its proprietary equipment for the assembly of its fully-compostable Nespresso-compatible pods.
"With our proprietary assembly line successfully installed, this will enable us to commercialize our Nespresso-compatible, compostable pods on schedule…We launched a fully compostable pod compatible with Keurig single-serve brewing systems earlier in 2021 with our in-house brand, XOMA Superfoods, and plan to expand our product offerings in Q3 with a Nespresso-compatible pod," said Ash Guglani, President of NEXE.
In 2018, the global capsule coffee machine market size was valued at USD$1,278.1 million according to Grand View Research. Since then, the market has grow substantially, with consumers switching from instant coffee to capsule machines like Keurig and Nespresso. In particular, 80% of the United State's population consumes coffee, 60% of which drink it daily. Similarly, 70% of U.S. consumers preferred home-brewed coffee, which would explain the rapid growth of the capsule coffee machine market. Moreover, the consumption of single-serve coffee pods is expected to grow at an estimated 8.5% per year.
With this in mind, more than 56 billion single-serve capsules are discarded to the landfill every year, which is equivalent to more than 400 pods per second. The launch of NEXE's compostable Nespresso pods is intended to provide a sustainable alternative to conventional single-serve pods. NEXE's pods are the culminations of the Company's two-year partnership with Innovative Solutions Canada, which awarded NEXE $1 million to support its development. In accordance with this partnership, NEXE has completed all of its required project milestones on time and in full.
"Developing a compostable Nespresso-style pod required innovation in materials design, composting performance, and high-speed automation. We're extremely excited to see this all come together with this upcoming product launch," said Zachary Hudson, Chief Scientific Officer at NEXE.
Having completed the installation of its proprietary equipment, NEXE's assembly line has passed its Site Acceptance Test (SAT) at the NEXE facility. As you could probably guess, the SAT is used to determine the functionality of equipment and test whether or not systems are meeting the required specifications. By passing its SAT, NEXE has acquired the final piece of highly customized equipment needed to launch its compostable Nespresso pods in early Q3 2021. This equipment will enable the Company to produce two leading single-serve formats including Keurig-compatible and Nespresso-compatible pods.
Although NEXE's stock performance has remained relatively stagnant, it would be wise to keep an eye on the Company leading up to the release of its quarterly financial results. With several products releases in 2021 so far, NEXE could potentially show some impressive sales numbers. Furthermore, NEXE expects to be selling its pods on Amazon sometime this month. With this in mind, NEXE could see considerable growth in the near future.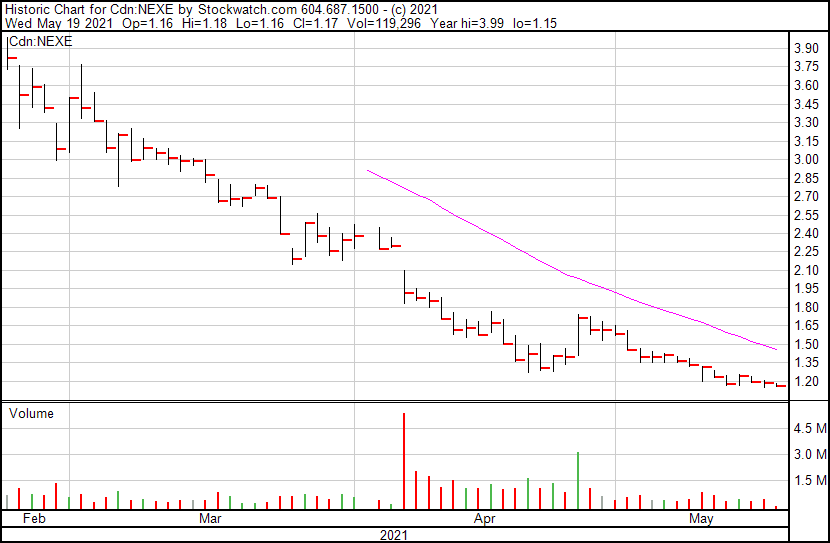 NEXE's share price opened at $1.16, down from a previous close of $1.19. The Company's shares are down -1.68% and are currently trading at $1.17 as of 10:26AM ET.