Mind Cure (MCUR.C), a leader in advanced proprietary technology for psychedelic therapy, has provided updates regarding its financial position, near-term revenue strategy, and a timeline for iSTRYM's market launch. Additionally, the Company has outlined its research plans and products for psychedelics and nootropics intended to accompany the use of psychedelic medicines.
"We are well-positioned financially to capitalize on opportunities in the short term while concurrently doubling down on our key strategic focuses which we have been sharing with the market over the past several months," said Kelsey Ramsden, MINDCURE President and CEO.
Following the closing of a $23 million bought deal offering in February, Mind Cure has made a series of partnerships and licensing deals to strengthen its iSTRYM platform, the Company's digital therapeutics platform. However, this flurry of expenditures raised some concerns for investors worried that Mind Cure was burning through its funds. Despite any skepticism, the Company believes it is well-positioned financially with a clear path to near-term revenues through its technology platform and nootropics product line.
Additionally, Mind Cure has provided a timeline regarding the commercial rollout of iSTRYM, which is sure to have investors breathing a sigh of relief. Although Mind Cure filed a provisional patent for iSTRYM on March 31, 2021, details surrounding the platform's supposed release have been vague. However, in its latest press release, Mind Cure announced that it expects iSTRYM to reach the commercial market by Q1 2022. The beta version of the platform is scheduled to launch this August and overall, the Company believes the development of iSTRYM is both on track and on budget.
"We are both pushing really fast and being very thoughtful with iSTRYM's build-out…We want to ensure that this platform will effectively serve the needs of the market, for both therapists and patients, and researchers as well. This is why we have selected best-in-class partners and integrations across the spectrum of mental health treatments, and brought in people such as Ty Tashiro and Daniel Herrera to the team," continued Mrs. Ramsden.
On March 1, 2021, Mind Cure completed a strategic investment into ATMA Journey Centers, Canada's first commercial provider of psychedelic therapy. In doing so, the Company is now able to deploy its iSTRYM platform to an expansive network of therapists and patients. With this in mind, Mind Cure seems to be covering all its bases to ensure the successful launch of its iSTRYM digital therapeutics technology.
In order to support its near-term revenue generation strategy, the Company is also developing pre and post-therapy nootropics to add to its existing product line. Moreover, Mind Cure's science team is focused on the synthetic production of pharmaceutical grade ibogaine, a psychoactive substance naturally found in some species of plant. The Company intends for its synthetic ibogaine to assist in treating traumatic brain injuries (TBIs) through psychedelic-assisted therapies.
Whew. In a single press release, Mind Cure has managed provide investors with a clear outlook for the Company's future. With iSTRYM, synthetic ibogaine, and additional nootropics all on the horizon, Mind Cure is pulling out all of the stops to become a leader in the mental health and wellness sector as well as the psychedelics market. As the summer fast approaches, it may be worth keeping an eye on Mind Cure leading up to the beta launch of its iSTRYM platform in August. Keep in mind, a successful beta launch of iSTRYM could reap huge benefits for the Company and attract the attention of investors.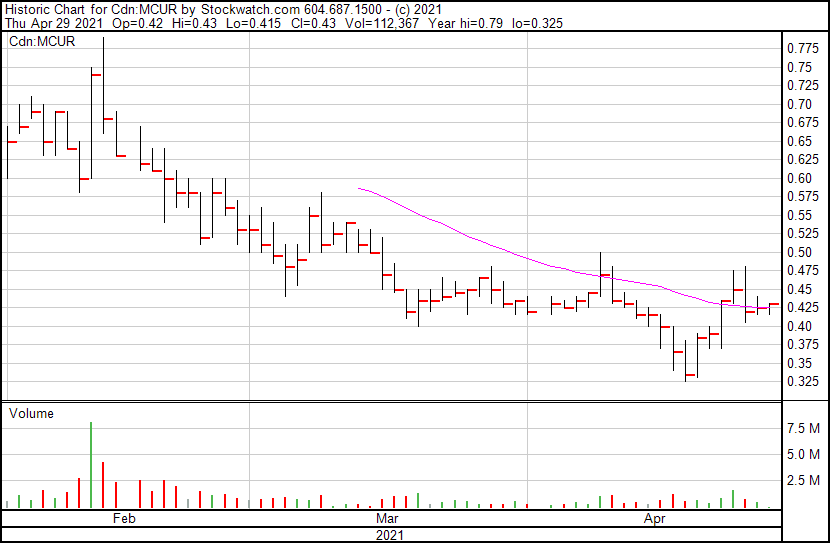 Mind Cure's share price opened at $0.42 today and is currently trading at $0.425 as of 10:35AM ET. This indicates that there has been no significant change following the news.