Mind Cure Health Inc. has completed its initial strategic equity investment. The investment equates to approximately 13-per-cent ownership in ATMA Journey Centers Inc. in accordance with the terms specified in the letter of intent (LOI). The non-binding LOI was announced on January 12, 2021. Since then, the terms of the definitive agreement have been decided and Mind Cure Inc. has completed their initial investment of $500,000 in ATMA.
"Our partnership with ATMA represents a huge step forward for healing today in Canada and around the world. By accelerating the development of our research and technology platform, iSTRYM, we're closer to minimizing the gaps that exist in health care, all the way from research to the deployment of care. It's an amazing opportunity to innovate with pioneers of the psychedelic therapy industry by creating proprietary research, identifying commonalities and driving real transformative results for individuals using psychedelic medicines," said Kelsey Ramsden, president and chief executive officer, Mind Cure
Mind Cure Inc.'s initial investment signifies a positive relationship between the two companies. We can expect this relationship to strengthen as Mind Cure Inc.'s partnership with ATMA develops further. ATMA has provided psychedelic-assisted therapy using psilocybin to patients with Section 56 exemptions. The Controlled Drugs and Substance Act (CDSA) prohibits activities related to controlled substances, however, the Minster of Health can provide exemptions to a specified person or class of persons.
Mind Cure Inc. aims to secure a network of clinics in partnership with ATMA. In doing so, the company hopes to test their iSTRYM platform. With access to a broad array of clinics, the platform can amass a diverse spectrum of patient data. The intent behind the iSTRYM platform is to lead to better diagnoses, treatments and personalized care. With access to complex data, iSTRYM can assist in optimizing treatment for ATMA patients.
"As the first commercial company in Canada to announce legally treating a palliative patient with psychedelic-assisted therapy using psilocybin, we're optimistic about the progression to better care options for Canadians. By partnering with Mind Cure, we're enforcing consistency in terms of protocols, as well as the ability to automate patterns in our patients' conditions. Over all, this will lead to better patient care, and a stronger foundation for this innovative and leading-edge industry," said Greg Habstritt, president of ATMA Journey Centers
Mind Cure Health Inc.'s partnership with ATMA seeks to improve patient experiences while also normalizing psychedelic therapy. The company's iSTRYM system is designed to provide close to real-time data regarding patient care, procedures and protocols. Ultimately, this will give access to much needed resources for therapists, clinicians, and patients with mental health concerns.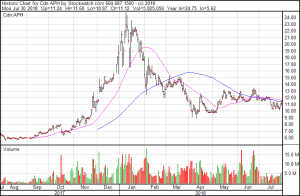 Mind Cure Health Inc.'s stock price increased to $0.56 and closed at $0.51 today.