Heritage Cannabis' (CANN.C) subsidiary, CannaCure, has been granted an amended sales license by Heath Canada, effective April 12, 2021. This license will permit Heritage to sell dried cannabis products directly to the provincial and territorial cannabis boards.
"Having the CannaCure sales license amended by Health Canada to sell dried cannabis is another accomplishment for the Heritage team and allows us to enter a high volume product category and deliver our newly developed SKUs to consumers across Canada through the provincial and territorial boards, as well as select on-line consumer platforms…Our company continues to deliver innovative and sought-after products. This development is at the core of the Heritage story, and an expanded sales license offers us the flexibility to offer a breadth of high-quality, well-priced products that consumers are seeking across multiple product categories," stated Clint Sharples, CEO of Heritage.
If you haven't figured it out by now, I am talking explicitly about Heritage's amended sales license to sell dried cannabis. With that out of the way, the Company will now have the ability to create revenue streams into the dried cannabis scene which represents the largest category in the cannabis market. Beginning in May 2021, Heritage will be adding dried cannabis products to its diverse portfolio of extract and extract derivative products. Heritage's dried products will be introduced under the Company's popular RAD brand.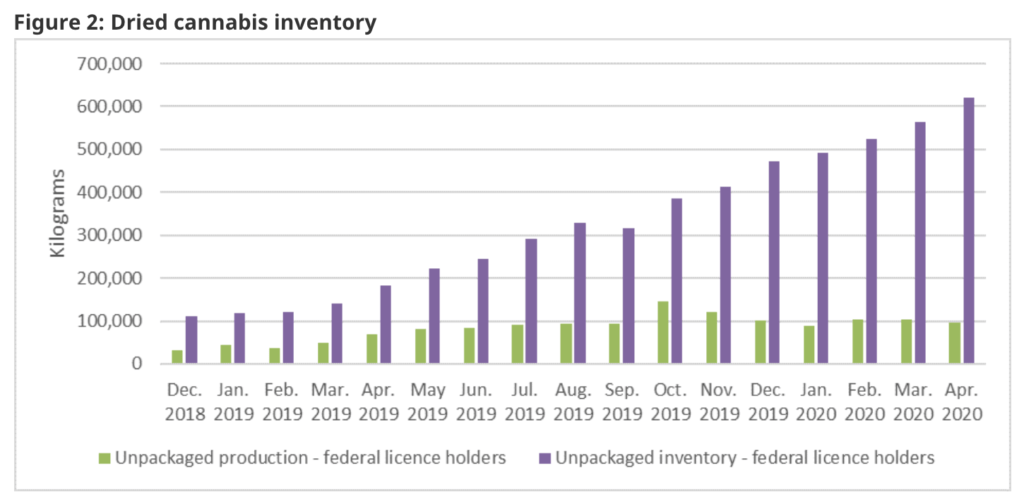 According to Health Canada, dried cannabis sales continue to dominate the cannabis market, representing 73% of total sales. In contrast, cannabis extracts represent a measly 14% of total sales while the inventory of dried cannabis rapidly continues to increase. However, the dried cannabis market is severely oversaturated with low quality flower which creates a market of high volume and low profit margins for companies. With this in mind, dried cannabis sales may represent the majority of cannabis sales, however, this does not mean Heritage will reap the benefits of the market just by entering it.
Prior to legalization, the unweighted price per gram of dried cannabis was $6.85 in 2018 according to Statistics Canada. Once cannabis was legalized, the average price per gram increased 17.3% to $8.04. Ouch. To rub salt in the wound, consumers who purchased dried cannabis from an in-store government licensed retailer paid $10.73 per gram making it the most expensive source for cannabis. Needless to say, consumers are more likely to turn to illegal methods of purchasing cannabis if prices are more affordable. Keep in mind, the underground market represented about 80% of cannabis sales in Ontario between 2019 and 2020. I discuss this in a previous article written for Equity Guru covering Jushi Holdings (JUSH.C).
With that information overload finished, Heritage's success in the dried cannabis category will largely depend on how the Company approaches the market. The Company has a variety of successful brands under its belt and has made several developments across Canada. Heritage is certainly capable of producing premium quality brands, however, the Company will be competing in a highly saturated market. Heritage plans on launching its dried cannabis products in May of this year so it may be worth keeping an eye on Heritage as we approach the summer.
Heritage's share price opened at $0.13 today and currently sits at $0.125.
Disclaimer: Heritage is a client of Equity Guru.