Khiron Life Sciences (KHRN.V) has opened two additional satellite Zerenia clinics in Colombia following the success of its initial small format clinic in Medellin.
"We are off to a great start in 2021 and the Zerenia satellite clinic model is proving to be an exceptional platform for reaching new patients. The rapid expansion of clinics is helping Khiron reach more patients in more places, more conveniently, in these cities. With the opening of two new satellite clinics in Cali and Bucaramanga, Khiron has taken another step toward increasing patient access to medical cannabis, with the objective of improving the quality of life for thousands of people in Colombia. Our unique and proven business model will support our goal of reaching 1,000,000 patients by 2024 in a sustainable manner," comments Alvaro Torres, Khiron CEO and Director
Unfortunately, satellite clinics don't provide anything as cool as outer space medical care, however, they do provide diagnosis and treatment for outpatients. Zerenia is one of Khiron's integrated health care service providers and is part of the Company's Zerenia Expansion Program. The program focuses on improving access to Khiron's clinic services and medical cannabis products for patients across the country. The Company recently announced the opening of two new clinics in Cali and Bucaramanga, both located in high-traffic medical-hub neighborhoods, at the start of March, 2021. Combined, Cali and Bucaramanga account for 2.5 million of Columbia's population representing a huge, reachable demographic for Khiron.
With the opening of two additional clinics, Khiron's total health center and clinic count is now six. Moreover, the Zerenia Expansion Program has proven effective on multiple accounts. For example, the Company's paid prescriptions in the first 2.5 months of this year exceeded the total amount of prescriptions during 2020 in Colombia. This demonstrates the program's effectiveness in acquiring new paying patients via Khiron's satellite clinics.
Moreover, patients located in Cali and Bucaramanga are now able to connect in person with medical specialists trained in ethical, safe, and responsible prescription of cannabis-based medications. Additionally, patients can connect with specialists via Khiron's Doctor Zerenia telemedicine platform.
Taking into consideration the positive physician and patient feedback generated from initial satellite clinics, Khiron now plans to expand its clinic presence in Colombia even further. This will include opening three additional satellite clinics located in major metropolitan areas that will focus on treating pathologies. Furthermore, the Company plans on expanding their Zerenia Expansion Program into Mexico, a country with a cannabis market on the verge of exploding. With this in mind, Khiron shows incredible potential for growth. As cannabis legislation continues to move towards legalization in Mexico, Khiron has positioned itself well in the market.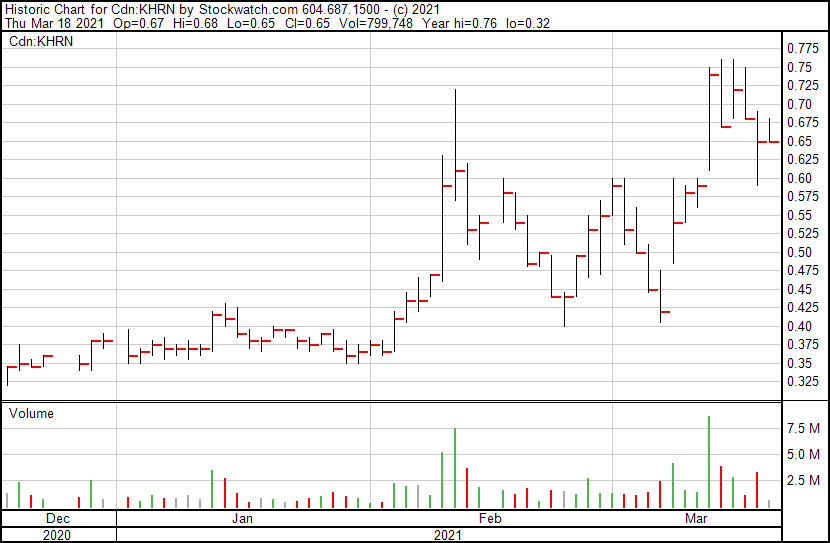 Khiron's stock price opened at $0.67 and currently sits at $0.66.