On January 7, 2021 Baru Gold (BARU.V) announced that the 2021 Work Plan & Budget for Sangihe has been formally approved by the Ministry of Energy and Mineral Resources in Indonesia.
The January 7, 2021 news isn't the share-price catalyst (production green-light) investors are focused on, but it's an obligatory stepping stone to that catalyst.
This news is welcome in the same way that the delivery of bag of flour is welcome if you are craving pancakes.
With a little patience, you may soon be licking maple syrup from your chin.
BARU's current focus is on its Sangihe Gold project with Indicated & Inferred Resources of >219,700 ounces of gold (NI 43-101, 2017) at Bawone and Binebase, located on Sangihe Island, North Sulawesi.
"Importantly, for investors seeking a cash-flowing asset, Sangihe is being fast-tracked to production," wrote Equity Guru's Greg Nolan on November 23, 2020.
Baru is so confident in the economics of its gold resource, it's not bothering to spend years (sometimes decades) de-risking the project using traditional geological protocols.
This is not a dirty secret.
Baru's been screaming it from the tree tops.
"Baru cautions that any production decision made will not be based on a NI 43-101 feasibility study of mineral reserves that demonstrates economic and technical viability", declares Baru, "and as such, there may be increased uncertainty and various technological and economic risks."
An edited summary of the risks includes "interpretation of drill results" "grade and continuity of mineral deposits" "financing" "recovery rates" "refinery costs" etc.
In fact, after absorbing all the "declared risks" – it may seem that there is nothing but risk.
But a 2019 Indonesian Feasibility study suggests that the Sangihe Opex is low enough to counter-balance this risk.
The price of gold is CND $2,425 today.
"The RKAB includes planning and proposed expenditures for construction, mining, production, community programs, environmental rehabilitation, and geological and geotechnical investigations for 2021," states BARU.
"The RKAB is a formal annual requirement for all mining concessions in Indonesia, whether in the exploration or production phase, and the approval is a prerequisite to any activities being carried out in that particular year".
Indonesia is made up of 18,307 islands. With an astonishing population of 270 million, it is home to the man-eating Komodo Dragon. The country is 11% Christian and 86% Islamic. Local drug laws are strict. Executions are performed by firing squad. Importing meth should defz not be on your Indonesia bucket list.
How does Indonesia rank as location to develop resources?
Better than you think.
Indonesia Mining Jurisdiction Highlights:
Stable multi-party democracy
World-class gold deposits
Grasberg the world's largest gold deposit with 67.4 million ounces
Improving climate for gold mining
renewed exploration activity and investment
In 2016 Martabe Mine in Sumatra bought for US$775 million from G-Resources
The Fraser Institute's 2019 Mining Survey Best Practices Mineral Potential Index ranks the jurisdictions based on which region's geology "encourages exploration investment" or is "not a deterrent to investment."
Indonesia sits #3 in that category.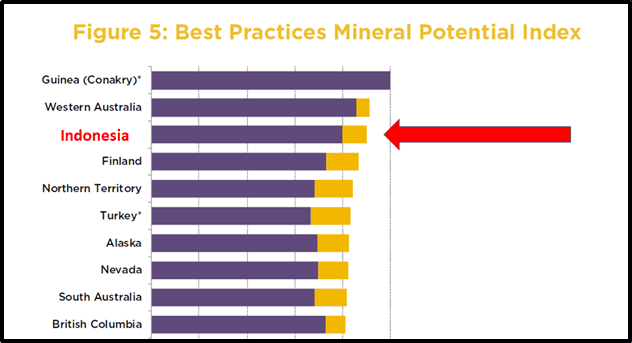 Indonesia is not a country where you want to be flying solo – without local knowledge, expertise and connections.
According to Baru corporate literature, 30% of the project is "held by three Indonesian corporations".
"I am supported by our Indonesia country managers and local residents, Mr. Todotua Pasaribu and Mr. Garry Kielenstyn, who both manage the day to day operations and deliverables on the Indonesian subsidiary Tambang Mas Sangihe, which holds the Company's 70% interest in the Sangihe project." stated Baru Gold CEO, Terry Filbert in a 2020 year-end address to shareholders.
"At the time of writing [December 2020] Baru has over $5 million in cash and is anxious to get to work on constructing the Sangihe gold 100,000 ton heap leach pad," added Filbert.
Three weeks ago, Baru appointed Mr Fatchil Amal as the Mine Technical Manager for the Sangihe gold project.
Approved by the Indonesian government, Amal's duties are "to ensure compliance with all legislation related to safety, health, environmental impact, and conservation of mineral resources".
"While the Company awaits the upgrade of our licence to production status, this approval demonstrates strong support and commitment to the development of the project by the Indonesian government," stated Filbert on January 7, 2021.
Today, BARU moved down one penny to .185 on 793,000 shares traded.
Full Disclosure: BARU is an Equity Guru marketing client