The outlook on Oil has changed a lot since I spoke about it last regarding the US election.
If readers recall, Oil was looking to breakdown a few days before the election. Oil has been in a range between 35-44 since it recovered from the drop to 0, and we were testing the bottom limits of support. The thinking was that Oil would break down if the market expected and received a Biden/Democrat victory. Biden's genius economic recovery plan that he mentioned during a debate, was to shut the economy down for a few months before opening it again…makes you wonder where he received his economic lessons from.
If the US went under a second lockdown, Oil could have repeated what occurred back in April. We would have seen supply gluts and storage facilities packed to the brim, bringing down the price of Oil. Hence why when Oil did NOT break down a day before the election, many assumed the market had priced in a Trump victory.
There are two counter arguments against this. Firstly, back in April, the whole world was essentially locked down. This time China would remain open since they have had a vaccine (since July), and seem to have handled the spread of Covid. Their economy has already made up the losses of this year and are set to finish with a positive GDP for the year. China has a large demand for Oil, so if they remained open, we would not see storage facilities packed to the rim like before.
Secondly, Biden does not become President until mid January. Hence, Oil will react to the potential of a second lockdown the closer we get to the transition of power. If he does implement a lockdown, Oil would plunge, but we would not see the repeat down to 0 because China, and even Europe would be open. Many European nations are doing a second lockdown or lockdown lite currently, and you would think they would be open come January.
Dynamics have changed in the past two weeks. We received news about the Pfizer vaccine, and also the Moderna vaccine. Countries are now set to be rolling out vaccinations within two weeks! What does this mean? Perhaps lockdowns are no longer necessary even when Biden becomes President. We can begin to re-open smoothly. And look at how Oil reacted: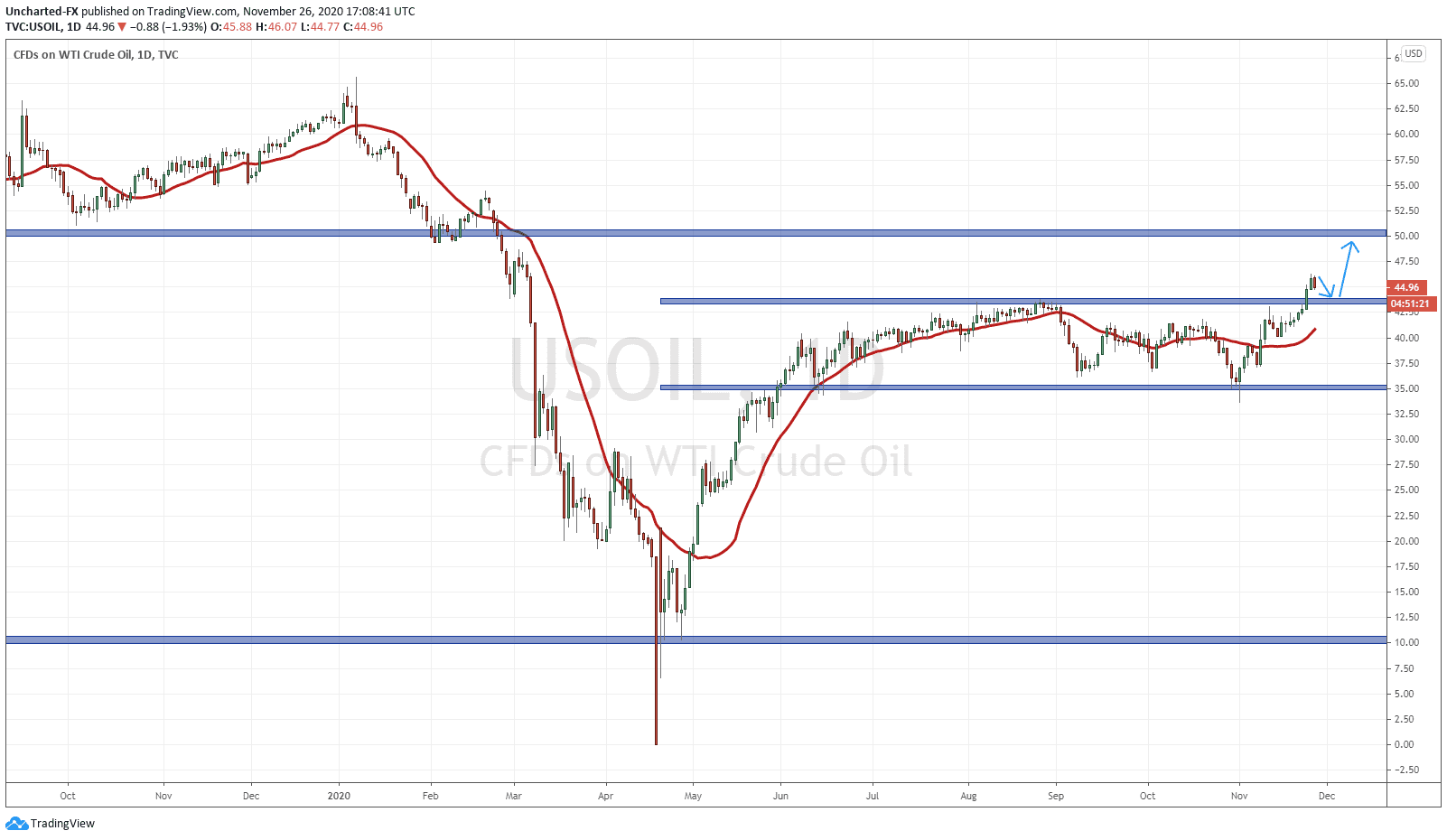 On the news that nations have made deals for hundreds of millions of doses of vaccines, and that inoculation will begin within two weeks, Oil broke out above resistance (price ceiling). Yesterday we continued the rally, and now today, price is retracing. Perfectly normal. Oil is pricing in an economic recovery or rather, no second lockdown. Oh, and take a look at Copper too if you have the chance.
We have less liquidity today since US markets are closed for Thanksgiving, so I am hoping to see Oil pullback even more, back down to retest our previous resistance zone now as support (price floor). My readers know that this is normal price action. We expect to see breakouts retest their breakout zones before continuing higher.
I expect to see buyers step in at the $43.50-$44.00 zone. From there, price will continue its uptrend and the next target comes in at the all important psychological zone of $50.00.
My plan will be to await for that pullback, and see signs of buyers stepping in before entering a long position. Hopefully this is a wick or a large green candle indicating buyers stepping in and defending this zone. Alternatively, if today becomes a pullback day and then price reverses and breaks out higher without testing the breakout zone, I would enter on that break. This would mean a break and close above $46.00.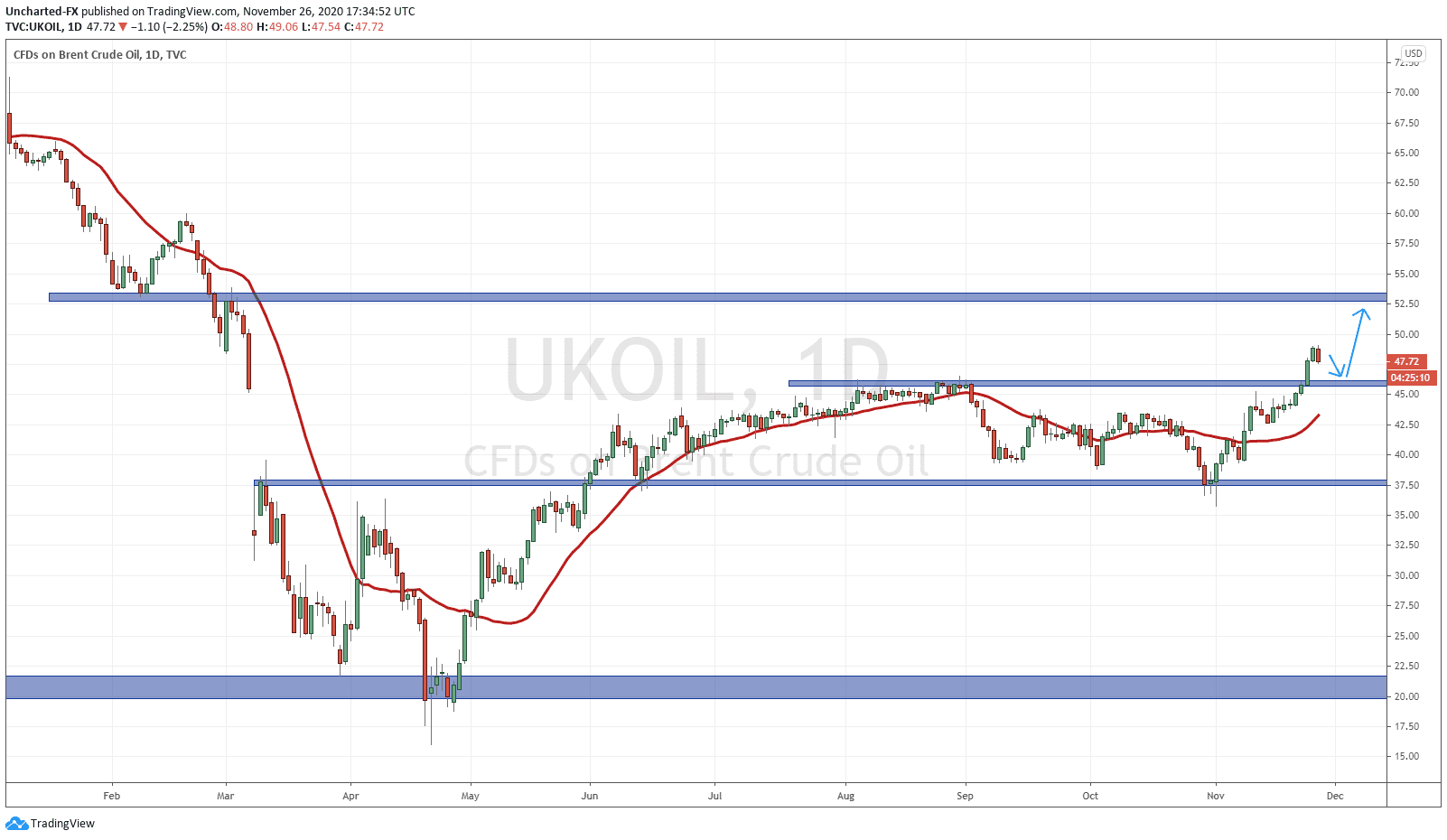 By the way, the same set up can be applied to UK/Brent Crude. Maybe you prefer one over the other, or perhaps you want to double dip. Both charts are looking good.