The markets are buttering! Over on our Equity Guru Discord Trading Room, we discussed this possibility. In fact, I spoke about this in yesterday's Market Moment post. Heading into an election, you would prefer to hold bonds and then allocate cash once the elections are over. A risk off environment as money leaves stocks and heads for the safety of bonds. Money flows like this is important to track because most money managers follow the asset allocation model: a split between stocks and bonds. Remember, as a money manager you are not paid to remain in cash for a very long time. This is why money still flows into bonds even if they yield nothing and are seen as places you do not want to be by people like Ray Dalio. Our trades that we called out on the equity markets, oil, gold, silver and certain individual stocks are all playing out. One other trade that is going in our favour is Draftkings (DKNG).
Last week, I highlighted the reversal pattern: the head and shoulders on Draftkings. This is the quintessential reversal pattern. My strategy is all about market structure, meaning that ALL markets move in three ways: uptrend, range, and downtrend. My job as a trader/investor is to break these trends down into their components. Finally, knowing that no markets move up or down forever, I look for exhausting patterns indicating a new trend, or a trend shift is about to begin. This all occurred on Draftkings, which continued to make higher lows into all time record highs…only to finally print a head and shoulders pattern.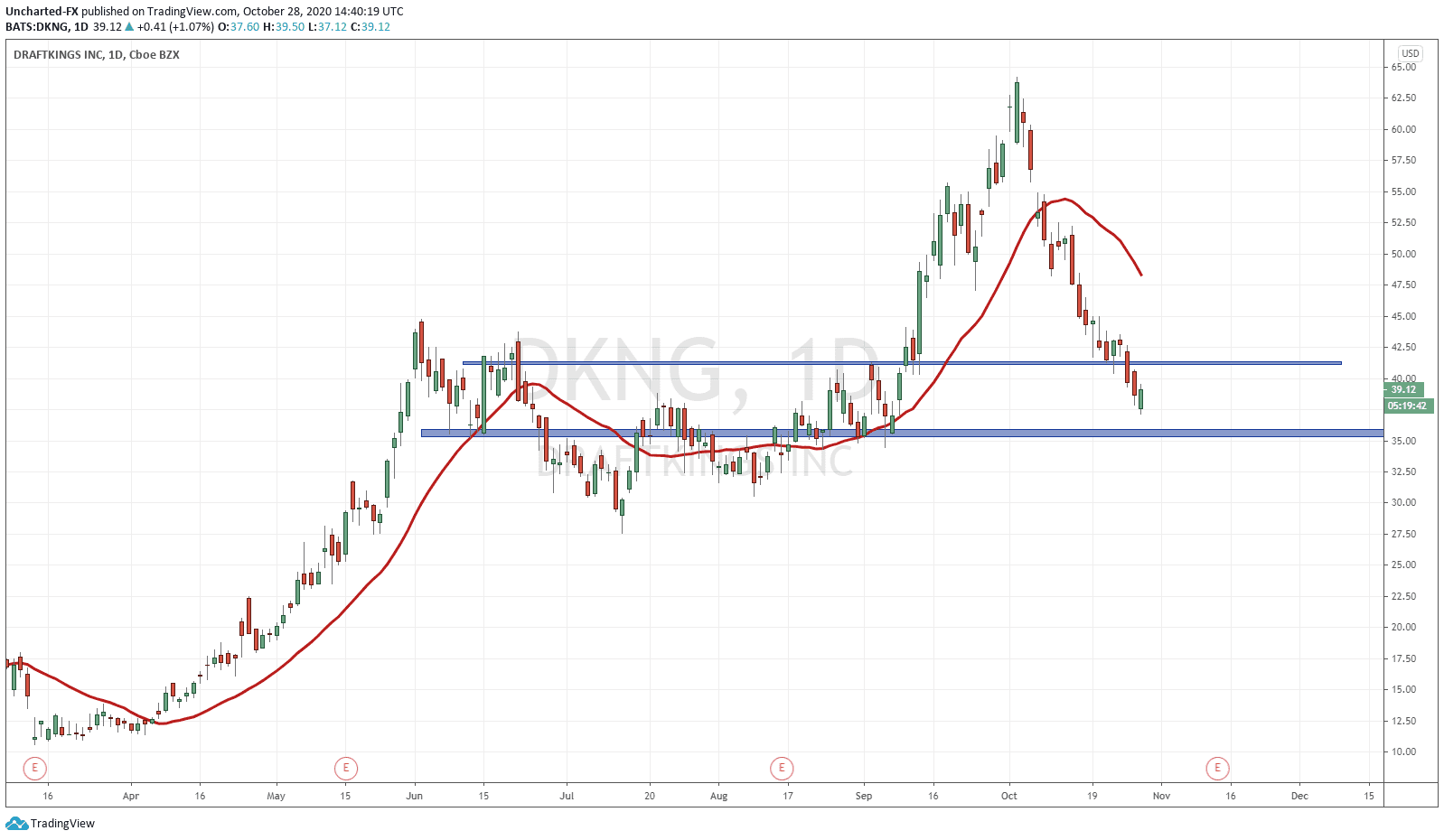 As you can see, with the breakdown of the head and shoulders neckline at $48, we continued lower to our first target support zone at around the $42 zone. In fact, we have now buttered through that zone. A trader who took our call on the breakdown would have gained a nice 4% gainer within four trading days.
Now it is up to the individual trader on how they want to approach this. The first target zone gave our trade a great risk vs reward, so once it was hit, our profits were taken. However, downtrends move in waves, or lower highs. So we should be ready to see price drop, then pullback a little, before continuing lower once again. One could enter again to ride the next wave, but my approach is a little different.
What I like to do is open multiple positions. One or more positions will target the second take profit level, while the another position will target the first take profit level. This allows me to lock in positions, while assessing the chart candle by candle on whether I want to continue holding my remaining positions to the second take profit level. Remember, these support and resistance zones that we target act like magnets. Price is attracted naturally to these zones and this is where they show signs of a reversal.
As you can see from the chart above, the next support and take profit level on Draftking's chart comes in at around the $35.50 zone. The $41 zone now is acting as resistance (price ceiling). It is possible to see the stock pullback to $41, before continuing another leg down lower. However, with the weakness in overall markets, sellers would be looking to put some pressure on stocks which seem to be lagging and not following the overall market trend. Down. As I type this out, we are beginning to see some sellers adding pressure onto Draftkings.
Once we hit our second support zone at $35.50, the chance of a reversal becomes much more likely. We would have had two lower high swings in a downtrend, and would be at a major support zone. One thing to note is that Draftking's earnings are due out on November 13th. Perhaps this data will be the catalyst for our reversal.
So far so good, and we just need to stick with out patterns and market structure. Technicals come in handy as the charts display cycles and human emotions of fear and greed.
Finally, as I mentioned in yesterday's post: be careful. Expect volatility heading into the election, and stocks will get beat up. Be ready to deploy your cash post election. A relief rally is setting up, but before that, the market wants to put the election uncertainty aside.