Bad news for Boeing
2 fatal plane crashes and 346 lives. That's what it took for Boeing to admit that things weren't going so well after all. The firm announced on Monday that it would suspend production of its 737 Max Jetliner. The firm will halt production in January.
Boeing plays a major role in the US economy. Not only is it the largest US manufacturing exporter, but also one of the nations' top private employers. To add, the MAX is the firm's best-selling plane.
The firm employes over 12,000 workers across the country, and the production process impacts over 600 suppliers in the supply chain. Despite news of halting production, the hasn't announced layoffs or furloughs yet.
This means that the pause in production is cause for concern when it comes to Boeing financials. The firm is burning cash at a rapid rate, given that 400 of its aircraft are still in inventory before they clear regulatory checks.
Boeing is in the manufacturing space, and any halts mean that recovery will become more difficult with time. If it decides to layoff staff to conserve cash, then it might save itself some short term troubles. This will be a double-edged sword because if regulatory approvals come in, then the firm will have a hard time ramping up production immediately.
By halting production, Boeing may have bought itself some time in the short run, but there remains a growing cause for concern regarding the firm's long term projection.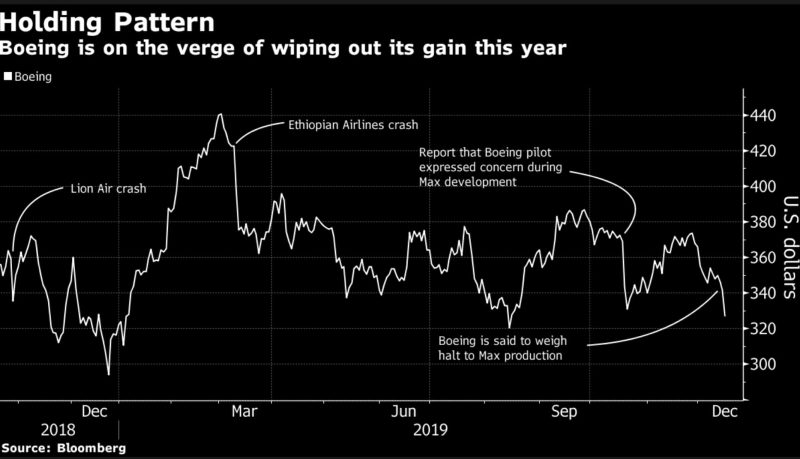 The stock closed at $324.10, down 4.29%
---
Breakups are hard
Well, if you've ever been in a long term relationship that didn't turn out well, you know that breakups are hard. So seems to be the case for Amazon who announced that third party merchants can no longer use FedEx's delivery network during the holiday season. The reason: it's too slow.
The alternative for merchants selling via Amazon is to either use Amazon's delivery network or opt for UPS. FedEx has thus reached the first stage of grief: denial.
The firm put out a statement suggesting that "the decision affects a very small number of shippers, it limits the options for those small businesses on some of the highest demand shipping days in history and may compromise their ability to meet customer demands and manage their businesses."
More than 50% of the stuff that is sold on Amazon is via third-party merchants, who pay the firm a commission on each sale. [And if you're a social media influencer endorsing a product, you get a commission on each of those sales.]
When selling on Amazon, merchants often opt to outsource a lot of their services to Amazon such as logistics, warehousing, and delivery. All of which are directly in competition with anyone operating in the package delivery space.
First, Amazon broke off its partnership with FedEx for the products that it sells on its own, and now it's breaking that partnership for third party merchants as well. Amazon made FedEx over $900 million in revenue, and all of that's gone now that Amazon has taken matters into its own hands. *Talk about a messy divorce*
FedEx was down 2%, closing at $162.29
---
Free Money
The Federal Reserve added $86.4 billion in liquidity to financial markets. Two operations were carried on Monday, worth $36.4, and $50 billion. In a not-so-surprising turn of events, the Fed's balance sheet has grown from $3.8 trillion to $4.1 trillion.
What's more, you ask? Well, the amount of repo operations could be well in excess of half a trillion dollars (by mid-2020) if all the banks decide to tap into the liquidity that the Fed is giving away for free. As we all know, this is "NOT QE" because the Fed claims that the operations aren't "designed" to be a form of fiscal stimulus.
Okay (boomer). Then why is the balance sheet expanding so quickly? Not like the Fed bailed out a bank in the past 6 months? Or that we had a recession? Or that the economy had slowed down so much that people were hoarding up cash?
But wait. There's more. For the 32-day term repo operation maturing on Jan 17, primary dealers (banks) submitted $54.25 billion bids for a $50 billion offered. The offering was oversubscribed.
Reminds of a famous dialogue from The Big Short, when Michael Burry is in the Goldman office asking them to build a Credit Default Swap that pays off if people default on their debt. The firm responds by saying, "This is wall street, Dr. Burry, if you offer us free money, we are going to take it."
Today's offering had a limit of $120 billion, which means that the repo operations were undersubscribed. Tax selling season is upon us, so let's see how December unfolds in this decade-long bull market run.
Tags: