62% in a day? Must be some really big news behind UMG Gaming (ESPT.C) to warrant that kind of rise on a Monday in the summer, huh?
Well.. Maybe not.
A few esports tickers went on a bit of a jog Monday, and they all ended up better than they started, but I couldn't find much to support that green day when I looked for the fuel behind it all.
UMG says of itself, on its investor deck, that it engages in:
Online Contests
Creation and Broadcast of Original Content
Live Tournaments
To me, this isn't where e-sports will hit its richest vein, but the market is growing impatient and is thus rewarding 'close enough'.
UMG has made moves. This, a week back:
UMG Media Ltd. has entered into an agreement to acquire Activate Entertainment LLC. Activate is a creative management and production services company that specializes in e-sports events and activations.

Highlights:

In 2019, Activate has produced a number of major esports events, including the "Esports Experience" at the National Advertising Broadcaster (NAB) Show in Las Vegas, and the "Panasonic Esports Arena" at InfoComm in Orlando
Activate works with hospitality brands such as Marriott International and Caesars Entertainment on their esports initiatives
This deal cost $700k in stock. It's not a world changer. An event management company that does e-sports programming? This is hardly the stuff billion dollar enterprises are made of.
So I looked further back.
UMG Media Ltd. and Keemstar have brought back the largest influencer series ever, Friday Fortnite. Millions of viewers each week tune in to watch the UMG casters cover the world's most popular streamers and pro players as they face off in teams of two to claim the top prize. Names like Ninja, DrDisRespect, TimTheTatMan and more have shown support of the series by participating.
This isn't terrible. I've spent plenty of time watching Friday Night Fortnite content this year, and those influencers represent audience numbers that aren't insignificant.
But the dough is what I care about, and the dough UMG can make running this, or any other tournament, is small, despite Friday Fortnite having managed to build name recognition among players and audiences, and despite some big name sponsors joining in.
The series has attracted sponsors like GFuel, HyperX, Pink City and more, bringing in over $150,000 (U.S.) in sponsorship revenue over the course of six weeks. The series has had more than 30 million live views when combining all the streams that are highlighted. UMG's own Twitch channel has been averaging almost 20,000 concurrent viewers.
But the big fish in UGM's pool is its tournament platform. Having created a website (www.umggaming.com) that allows gamers to participate in real tourneys to win real money, playing online against friends and strangers, I see UGM as offering tools that the average gamer needs.
Frankly, if you're not in school, and thus surrounded by buddies playing Fortnite for 14 hours a night, it can be tough to gather enough folks together to run an actual team.
UMG makes that possible.
One thing, however… it's not exactly being hotly used.
Here's a list of games on offer while I was writing this. The only one that looks like it might get enough people to launch is the 'free entry', telling me a lot of users on this system don't have cash, at least not cash to waste.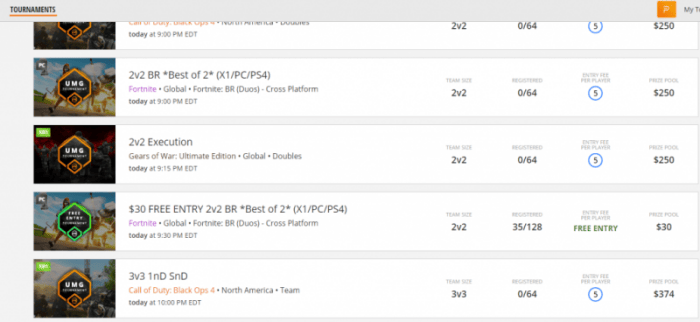 That's not great for UMG's business model. Also not great, when I took a look at the current tourneys actually running, I found even less activity: Just five active games, with four of them bring free entry and four of them being Fortnite.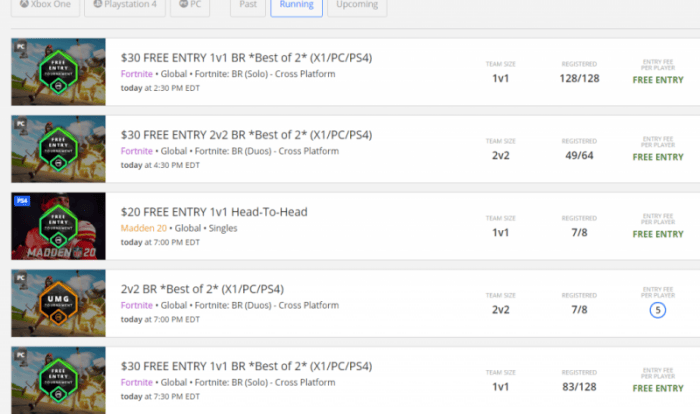 The UMG deck boasts of ramping up user numbers and doubling of website visits every month but I'm not seeing evidence that it's sticking here.
2017 and 2018 revenues barely budged from $2.35 million, streaming viewers are fine but if they can't be monetized, there's a problem inherent.
Yes, UMG appears able to infiltrate boardrooms of big advertisers and potential partners, and yes, e-sports will draw a lot of heat to them, even if they're not big enough to warrant it.
But, after all that:
The investor deck has all the requisite "e-sports will be this huge, to the max billions!" graphs and a nice lineup of respectable enough directors and execs,
But it's missing the fan belt.
On a $14 million market cap currently, there are definitely worse things out there, and they're in exactly the right sector to get stock interest. A lack of understanding as to where the money in e-sports will actually come from won't hurt companies like this from going on a run or two going forward but, like with cannabis, they may come with a requisite fall when actual economics kick in.
But what yanks me back is, I've had a few people ask what I think of this deal, and my answer isn't satisfying; "I think they're early, I think their business concept isn't where the dough is, I think they'll generate news and big partners, and maybe they can buy their way into something real but, for the most part, meh."
That said, today I chased and bought some.
And that, my dears, is how they REALLY get you. Sector immaturity, and straight up FOMO.
Take a look for yourself.
[pdf-embedder url="https://e4njohordzs.exactdn.com/wp-content/uploads/2019/08/UMGInvestorPresentationJuly2019.pdf"]
— Chris Parry
FULL DISCLOSURE: No dog in this fight.