August is shaping up to be a big month for Yield Growth (BOSS.C) and its special anti-aging serum Urban Juve. On Monday, the vertically-integrated cannabis company announced Urban Juve will spearhead a new campaign to conquer the luxury spa market.
North America's reawakening to the ancient wisdom of cannabis is quickly spreading to the luxury spa economy, and Urban Juve plans to capitalize with a new CBD-infused Urban Juve Spa Treatment line. The new line will join 11 other luxury unisex skincare products that have made Urban Juve a leader in the cannabis-infused health market.
Yield Growth plans to launch the new luxury spa line in late 2019.
Foreseeing demand
It hasn't taken the luxury spa market very long to recognize the potential of CBD-infused products. Just last week, Cronos Group Inc. (TSE:CRON) announced a $300 million acquisition of four subsidiaries operated by Redwood Holding Group, a CBD-infused skincare distributor.
Sandi Lesueur, president of Urban Juve, says her brand is well positioned to meet growing demand for cannabis-infused cosmetics.
"As the demand for luxury cannabis-infused cosmetics continues to grow, the high-end spa market represents a new opportunity to access our customer base and increase our revenues," she said in the official press release.
Yield Growth believes CBD offers a natural alternative to the harmful chemical compounds found in most skincare products. The high-end spa market is a good (and lucrative place) to start.
"Our customers can feel confident knowing that our products contain none of the reported 88 chemicals like parabens, fragrances, formaldehyde, sodium lauryl sulfate that have been linked to cancer, birth defects or reproductive harm in the more than 73,000 skin care products presently found on store shelves." – Bhavna Solecki, director of product development
Luxury spa industry: A growth phenomenon
The global spa industry generated USD$99 billion in revenue in 2015, a figure that has and will continue to grow in the coming years, according to First Research Inc. Of that total, $16 billion came from the United States.
The market has five key segments and at least four major trends spearheading its growth. Marketresearch.com lays those out below: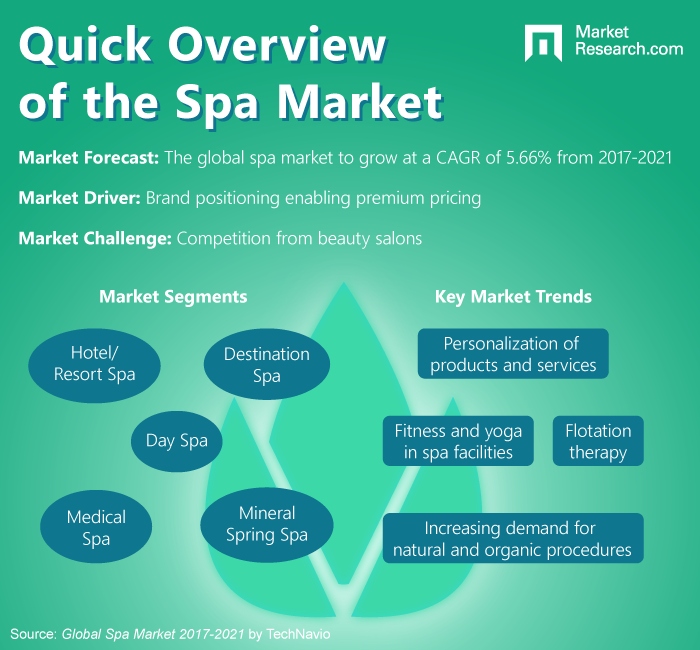 The spa market feeds into a much larger wellness industry that is said to be worth $4.2 trillion. As we reported a few weeks ago, Urban Juve's addressable market is more than a quarter of that total.
According to the Global Wellness Institute, the global market for personal care, beauty and anti-aging products was $1.083 trillion in 2017. The "spa economy" was valued at $119 billion.
Try to keep up
In less than a week, Yield Growth has made three important announcements all geared toward expansion and marketing.
Just last week, the company said it has entered a new agreement to license eight formulas for a new men's line. Through Antler Retail Inc., Yield will launch a men's line that features hair pomade, beard oil, shaving cream, deodorant and colognes.
And who can forget Urban Juve's full feature in British Vogue magazine, which has more than 1.1 million print readers and 3 million website users.
The September issue of Vogue was released on Friday and features Urban Juve in its "Beauty Highlights" section.
Read: Urban Juve by Yield Growth (BOSS.C) to be featured in iconic British Vogue magazine
Yield clearly has its sights set on mass adoption and will rely on Urban Juve to do a lot of the heavy lifting. Last month, Urban Juve added 130 retail carriers across the U.S. and Canada. That's in addition to the nearly 100 retail locations that already carried the skincare product.
–Sam Bourgi
Full disclosure: Yield Growth is an equity.guru marketing client.