C21 Investments (CXX.C) is capitalizing on North America's rapidly expanding cannabis market.
On Tuesday, the vertically integrated cannabis corporation reported record customer transactions for the month of May, building off a stellar first quarter for its retail dispensary business.
$103,000 per day
In an official press release, C21 Investments reported unaudited revenue of US$3.2 million in May, which is equivalent to $103,000 per day. At the current pace, C21 is on track to exceed its Q1 revenue results where it generated US$7.7 million, or $86,500 per day, in the period ended April 30, 2019.
The figures are even more impressive when we consider that they only include seven days of activity for Swell Companies, a dispensary that was formally acquired on May 24. The 41-employee strong Oregon-based cannabis producer was scooped up by C21 last month in a multi-million-dollar deal.
Swell is the fifth American company C21 has purchased. The acquisitions have C21 direct access to some of America's fastest-growing cannabis markets in Oregon and Nevada.
Robert Cheney, C21's president and CEO, said the May results reflect the company's vertically-integrated approach to business strategy:
"Our operations continue to provide strong growth and C21 Investments is reaping the rewards of our vertically integrated strategy."
He added:
"We look forward to continuing to increase shareholder value as our operations expand and grow."
C21's retail dispensaries recorded 53,120 customer transactions in May, a nearly 40% increase over year-ago levels.
A swell acquisition
C21's acquisition of Swell Companies is already paying dividends. Through its Silver State retail platform, C21 has launched Swell's "Hood Oil" vape line in the state of Nevada.
Just four days after hitting the shelves, Hood Oil accounted for 13.5% of Silver State's total unaudited gross sales, according to the press release on Tuesday.
Hood Oil is already one of the biggest extract brands in Oregon. According to Swell's chief marketing officer Sky Pinnick, there's good reason to believe that demand in Nevada will be just as strong as back home.
From the press release, Pinnick said:
"With the same strategy of providing maximum value at a competitive price, Hood Oil vapes address increased demand for oil-based cannabis products in Nevada."
The acquisition of Swell not only gives C21 additional cultivation space, it provides a branded gateway into the consumer packaged goods segment.
Nevada cannabis is big business
The state of Nevada has been one of C21's biggest target markets. That Silver State company we talked about earlier – it was purchased by C21 for a whopping US$39 million in cash and common shares last year.
The price tag is equivalent to what Silver State will generate for C21 in terms of annual sales.
Nevada's legal cannabis market, which includes recreational and medical use, hit $580 million in 2018, according to the state's Department of Taxation. That's a pretty big number for the first full year of legal recreational cannabis.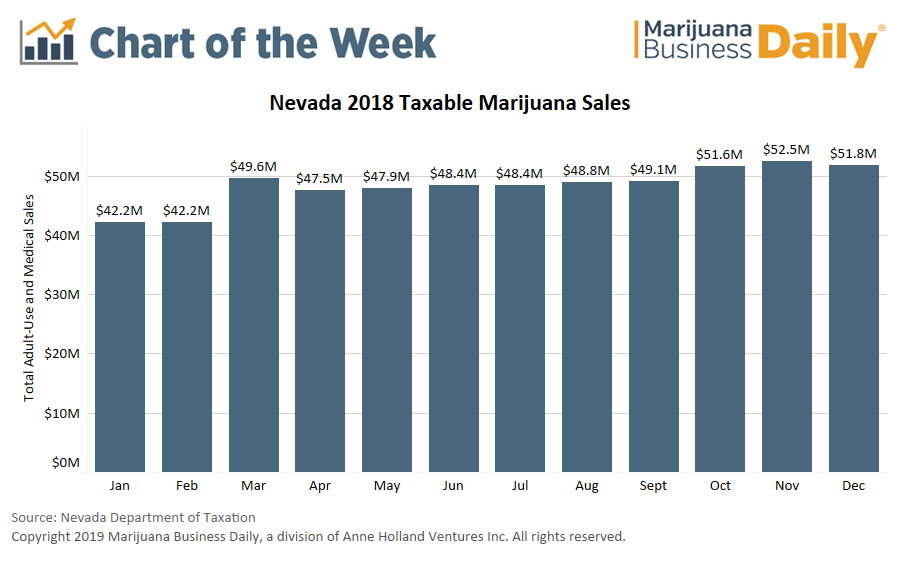 Although sales have somewhat moderated, Nevada did issue 61 provisional retail licenses in December. Just like that, brick-and-mortar stores serving the legal cannabis market will double.
Silver State already has two active locations in the state at Sparks & Reno and Fernley.
Although not everyone is convinced that more retail locations will lead to higher sales, it's hard to imagine a scenario where revenues don't go up in the long term.
For starters, take a look at Nevada's population growth:
People living in Nevada are only one segment of the legal cannabis market. Consider that a staggering 56 million people visited the state in 2018, according to the Nevada Division of Tourism. Non-gaming revenue alone reached $27.1 billion.
C21 clearly has its sights set on the right markets.
And who knows, if more people get high and go gambling, Nevada could see its gaming revenue grow leaps and bounds from last year's $11.6 billion haul. But that's a separate discussion.
Full Disclosure: C21 Investments is an Equity Guru marketing client, and we own the stock.