According to a recent Forbes article, "Every thought-leader and hotshot CEO who made it big did so by embracing their niche."
"If you recognize the trends you are good at in X, Y, and Z," states the article, "but your immediate competition only serves X and Y – you can make the Z your own."
For Yield Growth Corp (BOSS.C) CEO Penny Green:
X = cannabis (≈ $20 billion)
Y = wellness industry (≈ $4.2 trillion)
Z = cannabis cosmetics (≈ ???)
Ms. Green is a Vancouver, Yaletown lawyer and self-described "serial entrepreneur", who has developed a portfolio of "wellness formulas" – under the Urban Juve brand – with a dedicated range of skin and body care formulations.
If you are thinking "mascara", "foundation" and "blush" – you are in the right ballpark, but not on base. (A telegraph machine and a Samsung S9 are both communication devices – but hardly equivalent).
The Urban Juve product line is updated, modernised and hip.
"Cannabis will require an entirely new way of branding," stated Green in a recent Georgia Straight interview. "Cannabis lifestyle brands could be disruptive to several sectors, including the wellness industry, makeup, and leisure."
"Sativa-dominant strains often increase arousal, creativity, and passion," Green told the Straight, while Indica-dominant strains can be relaxing and increase sensitivity to touch."
Yield Growth has developed a sexual lubricant, which includes "Ashwagandha oil, hemp root oil, and THC". The company has filed a provisional patent on these ingredients designed "to improve orgasmic activity for women."
A recent "Sexual Lubricant Market Report" states that 2018 annual sales are "expected to reach $1.4 billion, growing at a CAGR of 6% per year."
According to the AARP, "31% of couples over-50 have sex several times a week; 28% of couples have sex a couple of times a month."
The topic (the sex lives of mature women) is trending.
Example: Amy Schumer's extremely funny comedy sketch: "Last Fuckable Day".
To be clear, Yield Growth is not a one-trick pony: Urban Juve Provisions offers a suite of hand-crafted, daily use cosmetic and therapeutic products made of Cannabis Sativa hemp root oil, high quality essential oils and all-natural ingredients.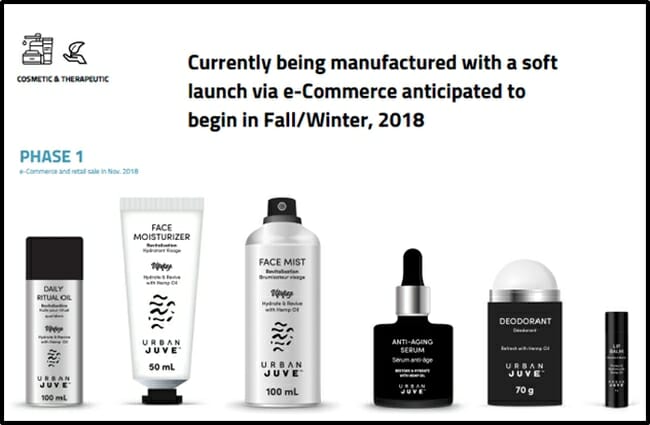 In fact, Urban Juve has 50 products set to enter the market in late 2018 and into 2019. The company has also submitted 26 products to Health Canada for approval. It completed 26 Health Canada registrations, and has already filed for 11 U.S. patent applications.
Yield Growth started trading five days ago at .23 – fell to .16 on Wednesday – and rose to .20 on Thursday. It has a current market cap of $15.6 million.
On December 20, 2018, Yield Growth announced that its new subsidiary UJ Topicals signed a deal with Nova Paths who are approved and licensed by the Oregon Liquor Control Commission to manufacture and distribute cannabis products in that state.
The company has already established a network of over 400 stores in Oregon – selling edibles, topicals, vape pens, capsules, and dried leaf.
New Frontier Data projects that by 2020, Oregon's total cannabis sales will reach $1.4 billion – $856 million recreational, $187 million medical.
"We are excited to bring our high-quality, Ayurveda-inspired products infused with THC and CBD to Oregon," stated Green, "We will now look to finding licensing partners to launch our THC infused line of topicals in other legal states such as California and Washington."
This week, Yield Growth appointed Mr. Thomas Bond to the Board of Directors of Juve Provisions.
Mr. Bond held high-level executive positions with cosmetics and apparel companies including M.A.C Cosmetics, Cover FX Skin Care and Tridel.
While Bond was at M.A.C, annual revenues grew from $12 million to over $300 million – as the company expanded into the U.K., France, Italy and Hong Kong. M.A.C is part of the Estée Lauder Companies which reported 2018 net sales of $13.68 billion.
A 5-day-old company, rolling out innovative products into a frontier industry – is not everyone's cup of tea.
"You can't be all things to all people," confirms Entrepreneur.com, "your niche should have the ability to be expanded into a variety of products that act as profit centers."
Ms. Green and her team have found their niche.
Access to 400 Oregon stores is a good start. Urban Juve has the Z-factor. If these sexy wellness products move off the shelf, it's game on.
The Yield Growth Corporation is a potential acquisition target for larger companies," stated MarijuanaStox, "including Estee Lauder, and Procter & Gamble."
FULL DISCLOSURE: Yield Growth is a new Equity Guru marketing client, and we own the stock.