I've not written about any other non-client company as much as I've written about YDreams (YD.V). The formerly Brazilian-based immersive tech developer/seller has a long list of A-list clients (in South America), a thick catalogue of developed and ready to monetize tech, and a multi-player virtual reality arcade game system that is generating big money and interest in South America right now.
At the Cambridge House Extraordinary Future investor conference in Vancouver last week, YDreams had the 'Arkave' system set up and it was a hit with everyone who tried it.
Here's Quadron Cannatech (QCC.V) CEO Rosy Mondin letting fly with two guns blazing just across from the Equity.Guru booth.
The @YDreamsGlobal $YD Arkave multiplayer VR game system is a hit at #XFuture2018. That's Quadron Cannatech $QCC CEO @rosymondin having her second go. pic.twitter.com/9Xyg6ts0Hv

— Chris Parry ™ (@ChrisParry) September 20, 2018
For two days, the lineup at Arkave began as soon as the doors opened. Most people I suggested should try it told me "I already have, it's amazing."
And that's not teenagers, that's grey haired investors, people in suits, women in heels.
YDreams' plan is to open one of these in a location in Gastown, Vancouver, so people go all the time, not just during conference season. In Brazil, they're already in operation and selling franchises.
And YDreams is leaning into that by, for the first time, not trying to do all the work themselves. They have actual IR guys now, and are putting out press releases written by people who write press releases.
They're doing all the right things, and right at the time when e-Sports has picked up a wave of interest in the investor scene.
During the conference, YDreams stock rose from $0.07 to $0.15.
Since then it's sold back down to $0.095.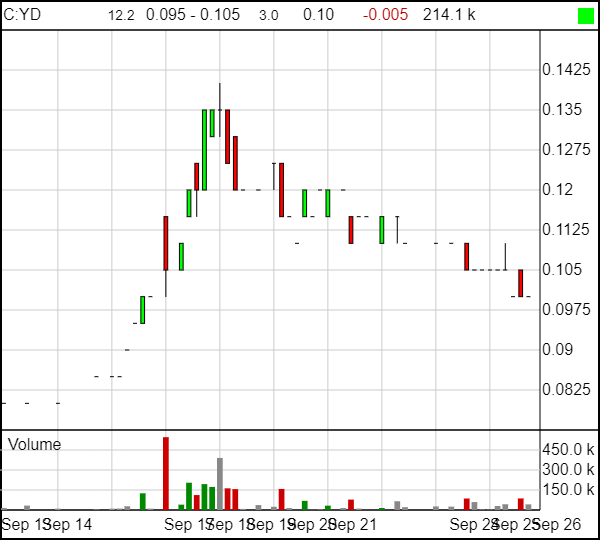 WHY?
So the reason is, as it has always been with YDreams, that there are people who hold the stock who are underwater and want out. This has been their problem for two years now.
Late last year, when YDreams held court at another investor conference, a Canaccord broker got into the concept and quickly raised them $2m at $0.15 a share – like, within a few days. The stock went on a run to the mid-$0.20's, but that run was quickly sold into and the stock went back to where it started.
Before that, when YDreams was running around $0.35 near the date it RTOed, every time they put out big news, the same thing happened. A moment of buying and the potential to grow, and then serious selling bringing it back.
There's nothing nefarious about that, early investors will always sell eventually, especially if they've been in the red for a while and suddenly see green, but it means the thing needs to be cleaned up before it can truly grow, and that investors in it now need to churn from 'early guys making a loss' to 'new guys buying in cheap'. That happens a lot.
The issue here is, there's always been a lot of YDreams paper left to churn through, and the last round of 'guys buying in cheap', who were buying into something they expected to be red hot, have instead watched that cheap level be halved again.
When Canaccord got interested, they figured they could do a little cleanup and get YD back to a reset from where they could move forward and build the company that it's always promised to be.
But that took a little long and, to be fair, the company didn't execute the Americanization of it's South American client list so, before you knew it, that new money had become the next round of churn to be overcome by future buyers.
And here we are, with this amazing tech company, with tens of millions of dollars worth of technology developed and a hot sector worth billions and a product everyone loves, and they have a…
..no, that can't be right..
…$8 million market cap?
Jesus, I could announce I was going to sell plastic bottles of old bong water to illegal dispensaries in Albania, and take that to market with a higher market cap.
SO WHEN IS THE TIME TO BUY YDREAMS IF NOT NOW?
Look, I'm buying now. Frankly, if you buy into an immersive tech company like this, which is at no risk of falling over due to lack of funds and has done work like this for big name clients, I just don't care if some idiot wants to cash out now and buy his girlfriend a steak dinner, I'm buying it because it'll be worth more in a year, or three.
The YDreams client list, and project list, is epic. GO LOOK.
This is how YDreams developed a new retail banking strategy for one of South America's largest banks. It includes robots.
Here's the Coca Cola House fan experience they did during the Brazil World Cup.
And to get a sense of what it's like in true multi-player virtual reality, here's Arkave's "Last Squad" game.
And if that's not enough, Arkave arenas are also playing host to standard virtual reality games, with the twist of being able to turn them into multi-player experiences. Here's A Lost Room:
Look, if a company wants to sell you stock on the premise that they're into 'cutting edge VR', chances are they're full of crap, or they're in the early stages of something that will cost many tens of millions to flesh out, many more to start monetizing, and in a VR world where nobody right now is making any money because not enough people have VR units at home.
But YDreams is actually making real world solutions to these problems, in creating places where people will come to experience that VR vibe without having to buy a $600 headset.
In Brazil, you can play in actual Arkaves right now. North America: Coming soon.
So yeah, I'm buying YD stock and I don't care if someone else will sell theirs after I make it go up. VR/AR is what's next, especially with e-sports heating up, and YD is the first basecamp in that journey.
— Chris Parry
FULL DISCLOSURE: YDreams is not an Equity.Guru marketing client, but we have advised the company on occasion, for no fee, to help them make their way.