The recent trading activity in a number of BC's Golden Triangle stocks has captured the attention and imagination of investors and speculators alike. Price action has been constructive. Trading volumes have been off-the-charts. These trading volumes speak, ahhh… volumes to this humble observer.
This heightened level of activity demonstrates excitement, expectation, and accumulation. Behind this accumulation may lurk a number of Smart Money types.
The line of intrigue – The Kyba 'Red Line':
The Golden Triangle has been active for decades. The Premier Mine, one of the more storied of the regions historical mines, began production early in the last century. The geological genesis of the Triangle's porphyry and intrusion-related copper and gold deposits have been wrapped in mystery since those early days.
A few years back, Jeff Kyba and Joanne Nelson from the B.C. Geological Survey embarked on a quest to identify the geological / topographical markers responsible the Triangle's impressive orebodies – the identity of which they hoped would help shed light on the extremely rich (and pervasive) subsurface mineralization of the region.
What they discovered changed the way geologists now view this uber-rich gold and copper district.
Jeff Kyba hypothesized that the geologic contact between the regions Triassic age Stuhini rocks and Jurassic age Hazelton rocks plays host to many of the world-class copper-gold deposits in the Triangle. Curiously, Kyba's research revealed that the majority of these deposits lie within two kilometers of this regional stratigraphic contact point.
Two kilometers from this regional stratigraphic contact – the Kyba Red Line – is the Golden Triangle's sweet spot.
An appreciation and understanding of this Red Line now allows companies actively exploring the region to more effectively hone in on undiscovered mineralized potential.
Cool beans… ya'll.
You can find Jeff Kyba's report here – Exploration and mining in the Skeena Region, British Columbia.
The map below highlights these Red Line contact points (in red).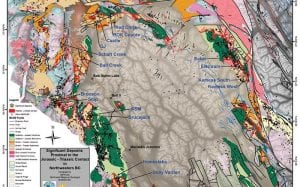 Some of the more notable deposits formed along the Kyba Red Line include:
Eskay Creek – 3.3 million ounces of gold and 160 million ounces of silver mined at average grades of 45 g/t Au and 2,224 g/t Ag from 1994 to 2008.
Brucejack – a relatively new GT mine sporting uber high-grade reserves of 8.7 million ounces of gold.
KSM – one of the worlds largest undeveloped gold deposits boasting 98.1 million ounces of gold in the measured, indicated and inferred categories (KSM also contains massive copper and silver values).
Red Chris – sporting measured and indicated resources of 13 million ounces of gold, 5 million ounces of silver, and 9 billion pounds of copper.
Schaft Creek – proven and probable reserves of 5.6 billion pounds of copper, 5.8 million ounces of gold, 363.5 million pounds of molybdenum and 51.7 million ounces of silver.
The above is not a complete list of the major deposits formed along this important geological contact point, not by a mile.
The companies…
Aben Resources (ABN.V) has received extensive coverage here at Equity Guru in recent days. Insights into the company's new Forrest Kerr discovery can be found here and here.
It all started on August 9th with the following headline…
Aben's First Drill Hole Discovers Multiple High-Grade Zones Including 62.4 g/t Gold over 6.0m within 38.7 g/t Gold over 10.0m at Forrest Kerr Project in BC's Golden Triangle
This is the hole – Hole FK18-10 – which lit things up around these parts, triggering the upward share price trajectory and volume-swells mention above.
Commenting on an 'included' section of drill hole FK18-10 during a recent Equity Guru conference call, Aben CEO, Jim Pettit, posited:
… within that 10-meter interval was six meters of 62.4 grams, which may be the best hole drilled in western Canada in decades.
The presence of multiple mineralized zones along this single drill hole is significant. The mineralized veins are mesothermal in nature which opens the door a potentially significant high-grade, structurally controlled deposit – a deposit with good vertical extent.
The company could conceivably end up with a substantial gold resource at their North Boundary zone, one with a modest footprint.
With regards to the Kyba 'Red Line', it's interesting to note Forrest Kerr's proximity to this important structural feature. Note the red hatched line, representing the Stuhini-Hazelton stratigraphic contact, in the map below…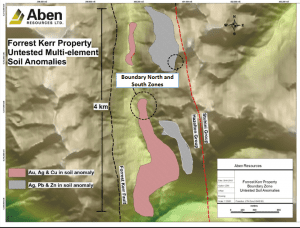 The underlying geology at Forrest Kerr, like many deposits scattered across the region, is rather complex. It's going to require significant drilling to dial into the projects ultimate tonnage potential.
Results thus far…
35 metres northwest of Hole FK18-10 were last seasons discovery holes – FK17-04, 05 and 06, which included 6.7 g/t gold, 6.4 g/t  silver and 0.9% copper over 10.0 metres
230 meters south of FK18-10 lies a historic high-grade drill hole – .5 meters of 326 g/t Au – drilled by Noranda in 1991.
Establishing a relationship – continuity – between these previous holes, and the multiple uber-rich intervals in FK18-10, will be a priority.
Aben has seven additional holes on deck, more drill core on the way to the lab, and at least 2 months steady of drilling ahead of it.
It's interesting to note…
Aside from the immediate area of interest along the North Boundary zone, there's an unexplained (gold and copper) soil geochemical anomaly which extends 2 kilometers further to the south.
Unexplained anomalies… that adds an element of intrigue.
Smart Money?
I suggested at the top of this piece that 'Smart Money' types may be at work attempting to establish a foothold in this extremely prospective play. This next headline, released one week ago, adds validity to this hunch…
These are exciting times to be an Aben shareholder.
Another Red Line discovery…
Further to the north of Aben's Forrest Kerr project, Golden Ridge Resources (GLDN.V) made what appears to be a significant new alkalic copper-gold porphyry discovery at its Williams Zone prospect, located on the Company's Hank project.
Golden Ridge Drills a New Porphyry Cu-Au Discovery at Williams Zone; Hole HNK-18-001 Intersects 327 Meters Grading 0.31% Cu, 0.35 g/t Au, 1.94 g/t Ag; Additional Holes Drilled Along Strike Intersected Similar Mineralization, Additional Assays Pending
Highlights:
New alkalic porphyry discovery has been intersected in multiple holes along a 200 meter strike length to a depth of 585 meters below surface; open along strike and at depth.
0.31% Cu, 0.35 g/t Au, 1.94 g/t Ag over 327.00 metres, from 72.00 to 399.00 metres in hole HNK-18-001…
Including 0.45% Cu, 0.54 g/t Au, 3.33 g/t Ag over 75.10 metres from 105.00 to 180.10 metres.
Including 0.45% Cu, 0.60 g/t Au, 2.90 g/t Ag over 62.50 meters from 259.50 to 322.00 meters.
Including 0.70% Cu, 0.90 g/t Au, 4.88 g/t Ag over 20 meters from 302.00 to 322.00 meters.
Potassic altered and mineralized monzonite has been intersected in the first four drills holes on the Williams Zone, for which assays are pending for holes HNK-18-002, 005 and 007.
The Williams Zone remains open along strike and at depth.
Like Aben's recent discovery, Gldn's HNK-18-001 discovery hole has sparked considerable excitement in the auction arena.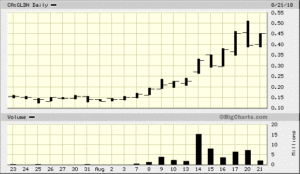 Two drills are currently active on the Hank project. One drill rig is dedicated to this new Williams zone porphyry discovery, the other is probing the high-grade potential – a porphyry related altered intrusive – intersected last season at the company's Kaip Zone.
Last season, the company tagged 21.62 meters of 6.26g/t gold and 52.1g/t silver in hole HNK-17-009 at Kaip. That's a nice hit too.
After the company drills approximately 1,500 meters at the Kaip zone, the drill will move to the Boiling Zone target which consists of a 500-meter diameter gold-in-soil anomaly (up to 10 g/t Au) that has never been tested with the drill bit.
Below we can see Golden Ridge's close proximity to the Kyba Red Line…
The talk around Aben and Golden Ridge…
Online discussion boards have also been lit up by these recent discoveries. Both the ABN and GLDN channels on ceo.ca have been active as a diverse cast of characters – amateurs and pros alike – attempt to explicate the significance of these two discoveries.
One of the closer area players…
Wedged between Aben's Forrest Kerr and Golden Ridge's Hank discoveries lies International Samuel (ISS.V) with its expansive LGM Project (beautiful Golden Triangle map there Conrad!):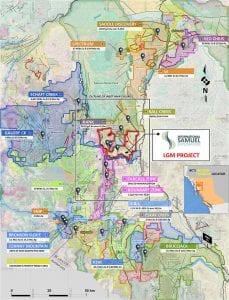 This is an early stage project, but the company currently has boots on the ground and a fair amount of prospective terrain to explore.
Regarding ISS's prospectivity in relation to the Kyba Red Line, a July 23rd press release states the following…
This Red Line contact is identified on the significantly underexplored areas on the LGM in two distinct, parallel zones; these two zones are each approximately 2 km apart and 5 km long. The LGM Red Line contact zones trend northwest-southeast and span across claim boundaries. Additionally, government geophysical data displays airborne geophysical magnetic highs associated with both LGM Red Line contact zones.

Conrad Swanson, President and Chief Executive Officer of International Samuel Exploration Corp, stated: "The presence of two of the celebrated Red Line contact zones with associated geophysical signatures on the LGM Property enhances its exploration potential immensely".
A modest drilling campaign is scheduled for the property later this summer.
Further to the north…
I'd be remiss not to include GT Gold (GTT.V) with their aggressive 18,000 meters drill program on their Saddle (South and North) zones. The company is following up discoveries made last season… discoveries which include vein hosted and porphyry style mineralization.
The first batch of 2018 holes at Saddle South were released 2 weeks ago:
GT Gold Extends Saddle South to East, West and to Depth; Intersects 32.65 g/t Au Over 2.82 Metres (Within 40.02 Metres of 4.67 g/t Au)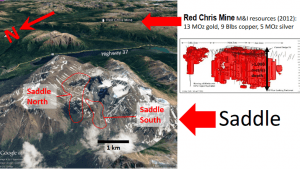 The Saddle zones close proximity to the right kind of regional geology, infrastructure, not to mention the Red Chris Mine (measured and indicated resources of 13 million ounces of gold, 5 million ounces of silver, and 9 billion pounds of copper) make this a highly prospective project. Newsflow should be steady as the company plans to keep the drills turning right on through November.
Final Thoughts:
Assay results are beginning to flow out of the Golden Triangle. The newsflow should prove significant. According to Aben's CEO, Jim Pettit, twenty drill rigs are currently turning in the vicinity (and to the south) of his Forrest Kerr project. There's another half-dozen or so further to the north.
So far this year, the drilling news has been exceptional, highlighted by Aben's high-grade discovery hole at Forrest Kerr.
Aben's news was immediately followed by Golden Ridge's porphyry hit at the Hank project where two drills are currently active.
From these two companies alone, newsflow promises to be steady and substantial.
GT Gold's 18K program will also be making headlines. I'm looking forward to see what the truth machine has to say about their Saddle North zone.
Developments along this area of the Golden Triangle are worth watching closely in the days/weeks/months to come. Strategic purchases in one or more of the stocks mentioned above could deliver a large measure of joy for those bold enough to lay their speculative dollars down.
END
~ ~ Dirk Diggler
FULL DISCLOSURE: Aben Resources is an Equity Guru client. We own the stock. Golden Ridge, International Samuel, and GT Gold are not Equity Guru clients. The author owns shares in Golden Ridge.