NioCorp Developments (NB.TO) is developing the Elk Creek Critical Minerals Project in Southeast Nebraska. This mine will produce strategic/critical minerals such as niobium, scandium and titanium. Several rare earths will also be produced from this mine. In fact, Elk Creek is the second largest indicated-or-better rare earth resource in the US.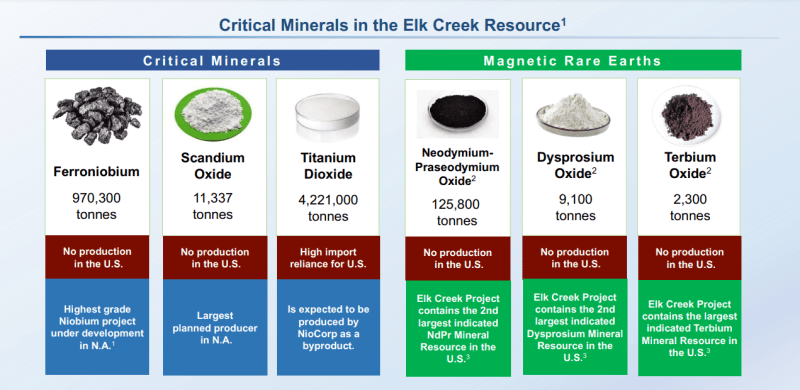 One of the biggest catalysts coming for NioCorp is the listing on the US Nasdaq by acquiring SPAC GX Acquisition Corp II (GXII). This will give US investors access to easily invest in the company, and also provide NioCorp with access to as much as US $285 million with a proposed enterprise value of $313.5 million. NioCorp would use these proceeds to advance its Elk Creek Project and move it into commercial production.
Today, NioCorp announced that its board of directors has resolved to effect a share consolidation (reverse stock split) of its issued and outstanding common shares on the basis of one (1) post-Consolidation Common Share for every ten (10) pre-Consolidation Common Shares, contingent on the completion of the relevant portions of the previously announced business combination between NioCorp and GX Acquisition Corp. II pursuant to the Business Combination Agreement, dated September 25, 2022 among NioCorp, GXII and Big Red Merger Sub Ltd.
This Business Combination Agreement is expected to occur on March 17th 2023 subject to any applicable requirements of the Toronto Stock Exchange and the Nasdaq Stock Exchange.
Had the Consolidation occurred as of March 14, 2023, the Consolidation would have reduced the number of Common Shares issued and outstanding from approximately 282,466,201 Common Shares to approximately 28,246,620 Common Shares.
The Common Shares are expected to commence trading on the TSX and on the Nasdaq on a post-Consolidation basis on or about the opening of trading on March 21, 2023.
The technicals are something I have covered here on Equity Guru plenty of times. I told readers that we had a false breakdown below $1.00 which is very bullish. My major resistance zone was $1.10. We have now closed above this zone triggering a double bottom reversal pattern.
This has played out and the stock has hit an important resistance zone at $1.50. The next major technical trigger would be a strong daily green candle above $1.50. This would set us up for a move to $1.75 and higher.