Skyharbour Resources (SYH.V) announced today that its partner company, Basin Uranium Corp., intersected significant uranium mineralization from the three-hole phase 2 drill program at its Mann Lake project which is located 25 km southwest of the McArthur River Mine and 15 km to the northeast along strike of Cameco's Millennium uranium deposit. A total of 6,279 metres of drilling was completed on the Mann Lake Property in the 2022 season.
The Mann Lake project is also adjacent to the Mann Lake Joint Venture operated by Cameco (52.5%) with partners Denison Mines (30%) and Orano (17.5%).
The phase 2 program consisted of 2,776 metres of drilling over four holes. The first hole MN22-006 was wedged and re-started at 572 metres serving as a follow up hole to MN22-002 which was drilled during Phase 1 and hosted prospective uranium mineralization. The following two holes MN22-007 and MN22-008, targeted the southeastern portion of the tenure which had previously been untested.
Hole MN22-0007 intersected the unconformity at 671.8 metres and returned anomalous boron (dravite) and uranium mineralization at and above the unconformity. Dravite is a boron rich clay mineral, often found in association with uranium mineralization and is considered an important pathfinder in uranium exploration.
Significant polymetallic mineralization was intersected below the unconformity of hole MN22-007 including 884 ppm Cu from 679.2 – 679.7 metres (0.5 metres) and 158 ppm Zn from 676.0 – 683.75 metres (17.75 metres).
Some notable intercepts include 1,060 ppm B from 669.3 – 669.8 metres (0.5 metres), 931 ppm B from 668.8 – 669.3 metres (0.5 metres), and 614 ppm boron (B) from 668.8 – 671.8 metres (2.5 metres) in conjunction with 41 ppm U3O8 from 671.8 – 672.3 metres (0.5 metres).
Significant boron mineralization was also encountered in hole MN22-008 which intersected the unconformity at 649.02 metres and returned 386 ppm B from 646.02 – 648.52 metres (2.5 metres).
The stock is at a significant support level.
Skyharbour kicked off the year strong with the stock moving over 40% from the first trading day of the year to the highs printed at $0.52 on February 2nd 2023. Much of those gains have been given up given the hit commodities took in February.
Yet, the stock remains above a major support zone at the $0.40 zone. As long as it does, another swing higher is possible. And guess what zone we are testing currently? The important $0.40 zone. Bulls want to see evidence of buying, ideally a nice strong green body candle, or a large wick candle.
Currently, we are seeing the stock consolidate between two trendlines. We have 3 or more touches on both which is what validates these lines as significant technical levels. A wedge has formed and the stock awaits a breakout in either direction.
Bulls want to see this: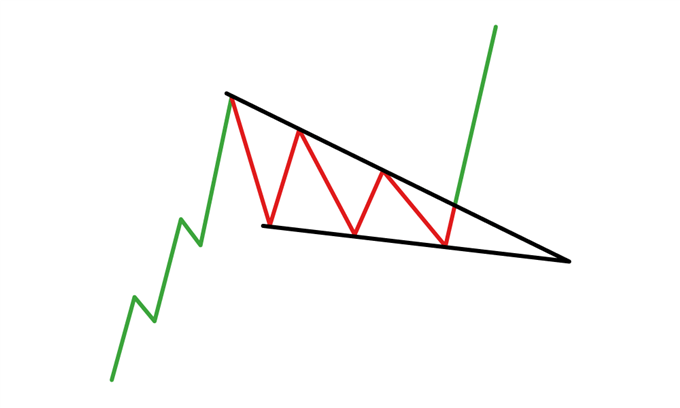 Above is the bullish falling wedge. A pattern which appears after an uptrend and then sees price consolidate. Just like we are seeing with Skyharbour Resources. The break is needed and the stock is currently contained above support and between this wedge.
To the upside, I would watch the $0.50 zone which is a major psychological zone AND is the recent 2023 highs for the stock. If we can get a daily close above this, then the $0.60 resistance zone comes next.