The global stock market sell off continues as markets shift to the inflation narrative. The recession narrative was quickly put to the side after Jerome Powell warned of "some pain" to the US economy as the Fed would continue to raise interest rates and keep them higher for longer to tame inflation.
The markets have sold off hard, and last week we saw equity markets once again drop below our major weekly support zones. This means the recent breakout pre-Jerome Powell was a fake out. The S&P 500 and the Dow Jones are on the verge of re-entering a bear market following the criteria of a 20% decline from the highs.
Here is the current intraday price action on markets:

And here is a heat map of the S&P 500:
Healthcare and biotech are the top performing sector today. Everything else is red.
And here is what is hot and what's not. The VIX is the top performer for the day: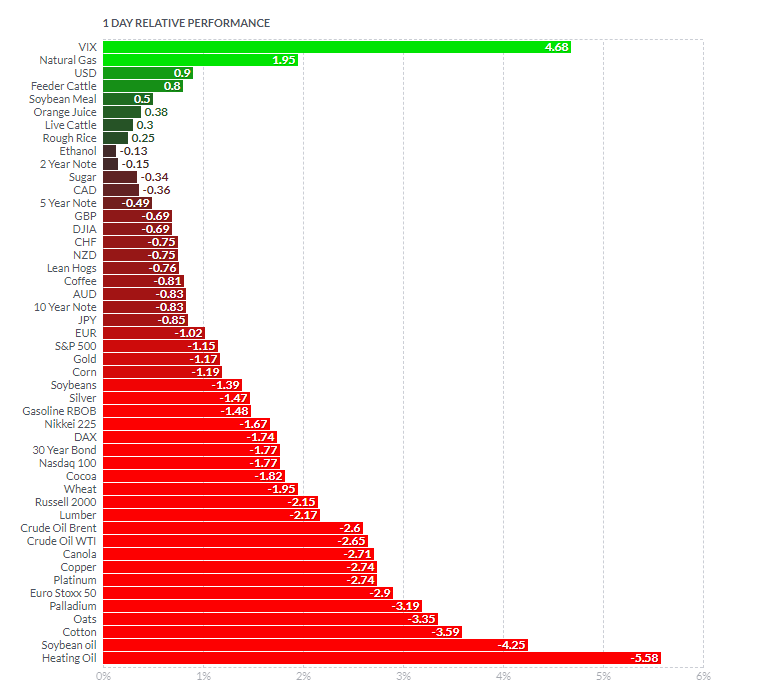 News
Here are the major headlines of the day:
US jobless claims fell to their lowest level since late June showing signs that the labor market remains resilient amid a slowing economy. Fed watchers may recall Jerome Powell saying the labor market is strong and the data does not point to a recession even with two consecutive declining GDP quarters. Claims totaled a seasonally adjusted 232,000 for the week ended Aug. 27, a decline of 5,000 from the previous period and the lowest since June 25. Economists surveyed by Dow Jones had been looking for 245,000.
Twitter is finally allowing users to edit tweets. Twitter is testing a new feature that will allow users to fix text and add tags to a tweet within 30 minutes after a tweet's initial publication. The edited tweet will have a label, icon and timestamp indicating it has been modified. The rollout will first be available to Twitter Blue subscribers later this month, which means you will need to pay the service's monthly subscription of $4.99 US per month.
Nvidia and other semiconductor stocks fell hard on the news that the US government is hitting chip makers with export rules. US officials have ordered Nvidia and AMD to halt sales of top AI chips to China. Nvidia has warned that new China restrictions may hurt sales.
Sticking with China, Covid continues to hit China. Chengdu, one of China's biggest cities announced a lockdown of its 21.2 million residents as it launched four days of citywide Covid testing. All residents in Chengdu, the capital of Sichuan province, were ordered to stay largely at home from 6 p.m. on Thursday, with households allowed to send one person per day to shop for necessities.
Taiwan has shot down a drone for the first time ever off of the Chinese coast as the Taiwanese government vowed to take tough measures to deal with Chinese intrusions. The defence command for Kinmen, a group of Taiwan-controlled islands opposite China's Xiamen and Quanzhou cities, said in a statement released by Taiwan's defence ministry that the drone entered restricted air space over Lion Islet just after midday.
Canadian Stock News
Aston Bay (BAY.V) announced first assay results from drilling at its high-grade Storm Copper project on Somerset Island in Nunavut. Highlights include 41 metres of 4.18% copper intersected:
Drill hole ST22-05 from the 2750N Zone has intersected:

41m* @ 4.18% Cu from 38m downhole, including;
15m* @ 10.05% Cu from 47m downhole, and including;
5m* @ 24.28% Cu from 48m downhole.
More assays for Storm are expected in coming days. The stock is currently up 33% with over 4 million shares traded.
Rio Tinto Group has agreed to buy out Turquoise Hill Resources (TRQ.TO) in a deal valued at about $3.3 billion. Rio will now own 66% of Turquoise Hill's Oyu Tolgoi asset in Mongolia, which is expected to be the world's 4th largest copper mine once underground expansion is completed. The Mongolian government will hold the remaining 34%. The deal requires two thirds of shareholders, including Rio Tinto, to vote in support. On top of that, more than 50% of minority shareholders must vote in favor. Rio said it hoped a vote would take place "as early as possible in the fourth quarter of 2022."
The stock is up 13% with 1,554,702 shares traded.
Recharge Resources (RR.CN) announced it has commenced planning for a phase 1 exploration program at its 100% owned Georgia Lake North and West Lithium Properties contiguous to Rock Tech Lithium Inc.'s. On August 23rd, 2022, Rock Tech announced a strategic partnership with Mercedes-Benz. Rock Tech and Mercedes-Benz AG jointly announced that the companies are about to enter into an agreement which provides for a strategic partnership to produce high-quality lithium hydroxide for the automaker and its battery suppliers. The stock is up 18% with volume of 107,745 shares traded.
WonderFi (WNDR.TO) announced an agreement to acquire Blockchain Foundry. Blockchain Foundry is a leading North American blockchain development firm. The stock is up over 11% with volume of 171,006 shares traded.
Infinity Stone Ventures (GEMS.CN) has entered into an option agreement to acquire a 100% interest in and to the Taiga Lithium project which is adjacent to Patriot Battery Metals' Corvette lithium discovery in Quebec. The stock is up 11% with volume of 652,951 shares traded.
Algernon Pharmaceuticals (AGN.CN) reported positive results from the full data set of its Phase 2a Study evaluating NP-120 ("Ifenprodil") for the potential treatment of idiopathic pulmonary fibrosis ("IPF") and chronic cough. All of the data showed positive results, including statistically significant improvements in measures of cough. The stock is up 8.5% with volume of 20,070 shares traded.
Chart of the Day
It is difficult to choose between the Ten Year Yield (TNX) or the US Dollar (DXY) but I went with bonds. We have been telling readers and followers that this is the most important chart to be watching. As the ten year yield rises, equities will drop. Markets are now pricing in more interest rate hikes from the Federal Reserve. They were pricing in recession and a Fed pivot. It isn't happening anymore unless we get some major demand killing event like lockdowns.
From a technical perspective, we had hints of this move when the TNX broke back above 2.7%. It invalidated a reversal pattern known as the head and shoulders. It appeared as if rates were heading lower. But instead, we got the fake out, which was telling traders that the bond market was heading higher. We are now breaking above 3.20% and I will be watching how this rises. If we see yields continue to pop in an uncontrollable fashion, it would be really bad.
Bond yields are rising globally. I would also keep an eye on those Italian bond yields given the predicament the European Central Bank is in.