Revive Therapeutics (RVV.C) is an interesting play. You like cannabis and its health benefits? Revive Therapeutics is one to add on your list. Maybe you are more bullish Psychedelics? No worries, Revive has got you covered. Maybe you aren't a fan of either, but want a Covid play. Boom, Revive Therapeutics enters your watch list.
Revive Therapeutics is a life science company focusing on the research and development of therapeutics for rare disorders and infectious diseases. I summarized it above, but here are some notes from their website worth mentioning:
The Company was granted FDA orphan drug status designation for the use of CBD to treat auto-immune hepatitis (liver disease) and FDA orphan drug status designation for the use of CBD to treat ischemia and reperfusion injury from organ transplantation.

With its recent acquisition of Psilocin Pharma Corp., Revive will advance Psilocybin-based therapeutics in various diseases and disorders and will prioritize development efforts to take advantage of several regulatory incentives awarded by the FDA such as Orphan Drug, Fast Track, Breakthrough Therapy and Rare Pediatric Disease designations.
The acquisition of Psilocin Pharma was big, and the market considers the company a psychedelic play. Revive Therapeutics was recently added to AdvisorShares newly launched Psychedelic ETF. The ticker is PSIL…and it isn't looking too good right now: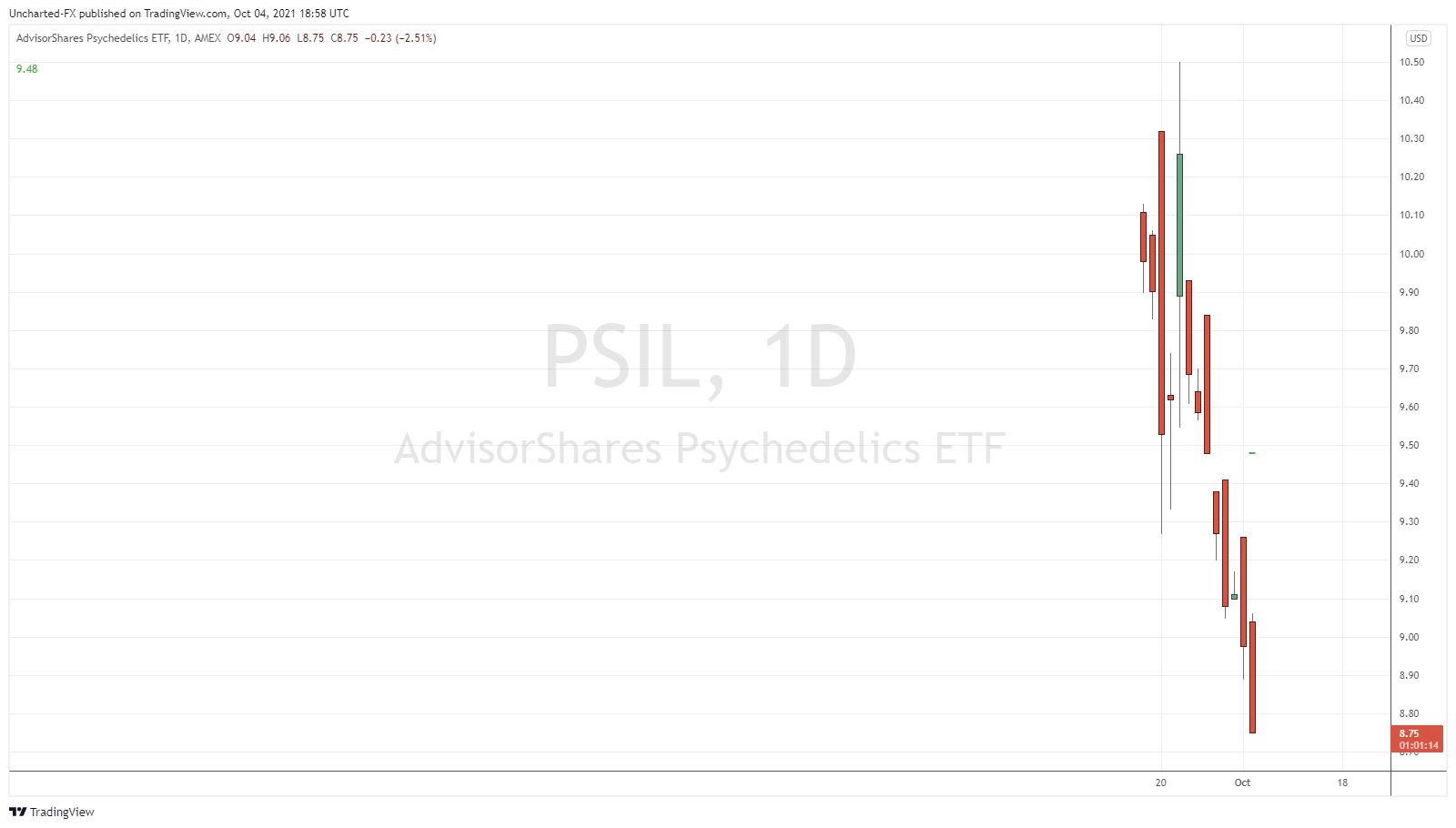 I am approaching this stock as a Covid play. Why? Because they have gotten good results on their study of Bucillamine for the treatment of Covid. When I mean good, I am talking FDA approved phase 3 type good. Actually, the Covid treatment is the most advanced product in their pipeline.
At a time when cases and deaths are rising in some countries, treatment other than the vaccine is still going to be big business, and illicit great market response. Just a few days back, Merck came out with news regarding a Covid pill which can be taken for 5 days and reduces the worst effects of Covid. Here is how the stock reacted, while the vaccine companies (Pfizer, Astrazeneca, Moderna etc) dumped:
Exciting stuff, and I think the market will be more responsive to positive Covid news from Revive rather than Cannabis and Psychedelics, but that's just me.
Now, let's take a look at the chart: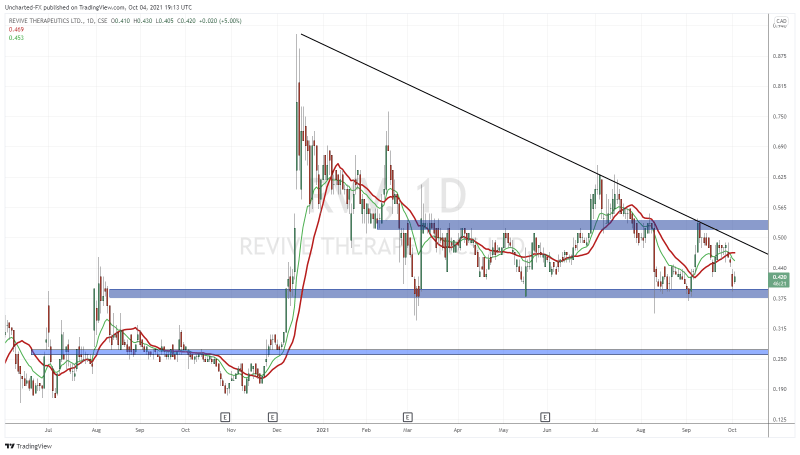 Clean and crisp. The levels are well laid out and obvious. Where we currently are is an opportunity to enter. A major support zone, and I mean major. Look at how this support zone of $0.375 has held in the past. When we tested here multiple times, bulls never let it close below $0.40. If price dips below, one can place an order to pick up shares as every time price has been bid back up.
But you all know me, I prefer awaiting the candle closes. What I want to see is a sign that buyers are entering here. This could be a nice large green engulfing candle, or some sort of wick fake out like we have seen in the past.
If price does close below $0.375, then we are looking for a drop to $0.25. Alternatively, for more momentum to the upside, we need to clear the $0.54 resistance. This would also take out the downtrend line I have drawn for readers. Let's get above this range and trendline for a run up to $0.625 and then $0.75.
Really liking the technicals on this one, especially the very important support zone. I am expecting it to hold but price action will confirm this. A close below would be bearish given how many times this level has held. Bulls may get spooked and decide to sell their shares if the breakdown is confirmed.