This might not be the best ESG investing tip, but for those wanting to find value, and see growth in their portfolio's, I highly recommend military/defense stocks. Although to be fair, the company I am going to talk about today, KWESST Micro Systems (KWE.V) has a focus on non-lethal systems for law enforcement and personal defence, so it's not like you're investing in the companies that build the missiles and weapons if that's not your thing.
As Chris Parry says in our KWESST Investor Roundtable: Do you play Call of Duty? See all that crazy tech the soldiers are using? That's what KWESST Micro Systems are doing.
I have a watchlist of military companies I watch on the Canadian markets, mostly the big boys (CAE, SNC Lavalin, Heroux-Devtek, and Magellan Aerospace) but I am adding KWESST to the list.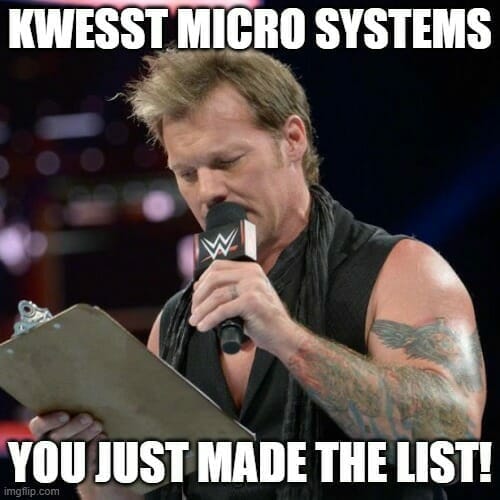 One of my favorite pastimes is reading and predicting future events and trends. Geopolitics more simply. As someone who predominantly trades Forex, commodities and world wide indices, it is helpful (but not necessary!) to be up to date with future trends. Some of the biggest topics now a days have to do with the US and China. Russia too, but mainly China and the Thucydides trap.
I don't want to be a doom and gloom guy, but it is likely some sort of conflict may occur. Ray Dalio says both nations are in a currency war, a technology war, a financial war, a trade war…a shooting war would be next. We have other hotspots such as the India-China border, Russia-Ukraine, North Korea-South Korea, and Taiwan-China. The world seems to be destabilizing. Military expenditures will be increasing…especially if the US wants to maintain hegemony.
Take a look at what is happening in Afghanistan right now. Without getting too much into the politics, geopolitically, China and Russia sees this as US weakness.
The future of warfare is what is debatable. I'm not someone who thinks wars will be about occupying lands. The next major wars will be cyberattacks shutting down power grids and then assaults. Well actually I take that back. Cyber warfare is not the future, it is already happening! KWESST knows this, and has a focus on modernized digitization and counter measures against drones.
Space is the next frontier. A lot was said about President Trump's Space Force. What people do not understand is that those US military satellites is what allows the Americans to hit targets with pinpoint accuracy. If China creates missiles or weapons which can take those satellites down, the US military is effectively blind. The US now wants to maintain space superiority in order to take down future Chinese space weapons. Whatever way you look at it, military expenditures and defense budgets are likely to balloon going forward.
For more info on KWESST, I recommend checking out our big today's idea piece for the fundamental and earnings details. My focus is on the charts, and entry. But before we do, I should say that KWESST having deals and contracts with suppliers for the US military is an accomplishment by itself. It is difficult to break into those circles as Chris Parry mentions in our KWESST Investor Roundtable video.
Technical Tactics
According to MarketWatch, KWESST has a micro cap of $86.33 Million, is up 47.73% year to date, and has revenues of $1.15 Million.
But look at that beautiful chart. Those who are regular readers of my Market Moment, or are members of our Discord channel, would have jumped in on the breakout above $0.80. That downtrend and then basing breakout back in July, are the type of setups we take as they meet our market structure criteria.
Beauty of a move, and the stock pumped before a press release of KWESST holding a live demo of their non-lethal low energy cartridge system. Don't sweat. Our Joseph Morton has got you covered, and you can check out his coverage of this news here.
So let's take a look at the chart right now. We found some resistance not at previous record highs, but a bit lower, at $2.25. Price action ranged here, and could not penetrate with over a week of trading. Sellers were jumping in, and people were taking profits. In the future, a break and close above $2.25 will be huge, and sets us up for a test of previous record highs.
But just looking at the chart, it seems we may pullback a bit further. I would be patient as long as price stays below my moving averages. Interim support comes in at $1.70, if this breaks, we can head lower to around the $1.40 zone.
With Afghanistan making headlines, investors are beginning to look at military stocks again. As I have said, I do expect future conflicts on the geopolitical stage. In terms of law enforcement and personal defence… it is looking likely we will see more demonstrations on the street if the wealth inequality continues as the Fed keeps cheap money policy going. Which means more 'militarized' law enforcement. It might not be something people morally like, but it is an investing idea with strong fundamentals going forward.