Aditxt Inc. (ADTX.Q) announced today that it has signed a letter of intent (LOI) to acquire a biopharmaceutical company commercializing COVID-19 antiviral oral therapy. The target company is currently selling its products under emergency and compassionate use, standard of care, and full approval in multiple countries internationally outside of the U.S. and Canada.
"We have been eager to grow the global footprint of Aditxt's immune therapeutic and monitoring platforms. We are also excited about this potential transaction, which, if completed, would be a complementary strategic fit with our company," said Amro Albanna, Co-founder and Chief Executive Officer of Aditxt.
Trying to identify the target company would be like playing an extremely tedious game of Guess Who? given the number of clinical trials of COVID-19 therapies currently taking place. Instead, let's talk about Aditxt, a life sciences company developing technologies specifically focused on improving the health of the immune system through immune reprogramming and monitoring. Aditxt is credited for developing its reprogramming technology titled Apoptotic DNA Immunotherapy™ (ADi™), which is designed to retrain the immune system to induce tolerance with an objective of addressing rejection of transplanted organs, autoimmune diseases, and allergies. Currently, ADi™ is at the preclinical stage.
In addition to ADi™, Aditxt is also developing AditxtScore™. AditxtScore™ is a technology platform which provides a personalized comprehensive profile of the immune system. More specifically, it is intended to be informative for individual immune responses to viruses, bacterial antigens, peptides, drugs, bone marrow and solid organ transplants, and cancer. In the future, the Company plans to utilize AditxtScore™ in its upcoming clinical trial to monitor subjects' immune response before, during and after drug https://e4njohordzs.exactdn.com/wp-content/uploads/2021/10/tnw8sVO3j-2.pngistration. Furthermore, AditxtScore™ has already demonstrated tremendous speed and accuracy in determining if an individual has been exposed to COVID-19 and generated an immune response to neutralize it.
With this in mind, signing an LOI to acquire a biopharmaceutical company commercializing COVID-19 antiviral oral therapy makes sense. Paired with AditxtScore™ technology, the Company would be able to identify whether or not an oral therapy is necessary based off of an individual's immune response. Getting back to the news at hand, the acquisition of the targeted company is subject to the satisfaction of numerous conditions, including satisfactory due diligence, the negotiation and execution of definitive agreements and other closing conditions. These conditions include board and shareholder approval and approval by Nasdaq of the listing of shares proposed to be issued in the transaction. The parties have agreed to an exclusivity period until September 30, 2021, with the hopes of settling a definitive agreement.
Some of the key terms of the proposed transaction as cited in the LOI include the completion of a proposed $6.5 million secured loan from Aditxt to the target company by August 31, 2021, as well as Aditxt issuing such number of shares of common stock that yields 50% of the number of the Company's outstanding shares post-closing of the transaction.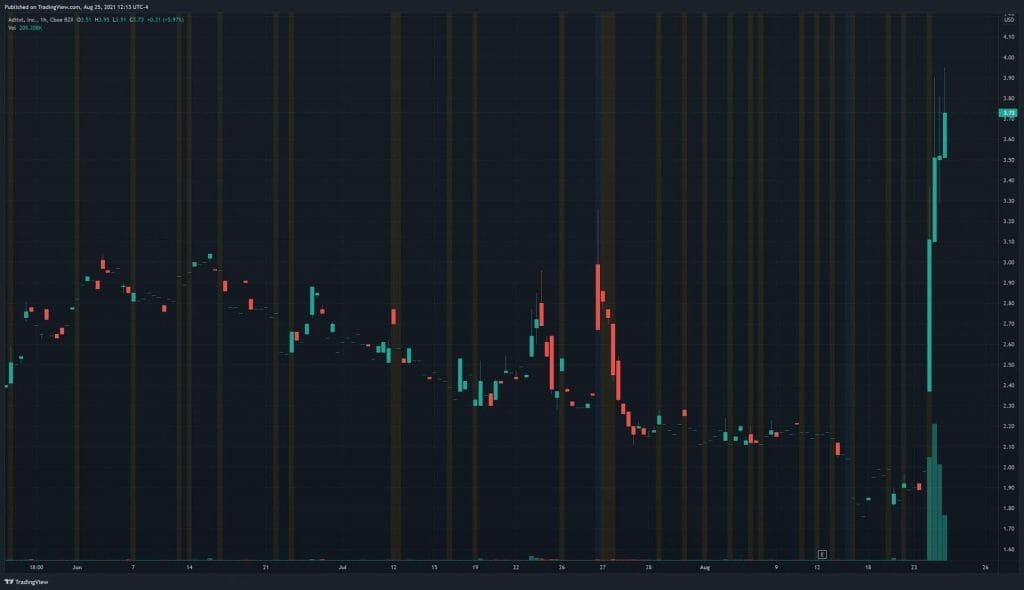 Aditxt's share price opened at $2.78, up from a previous close of $1.98. The Company's shares are up 88% and are currently trading at $3.72 as of 12:14PM ET.