It's no secret that I am bullish agriculture. When I meet up friends for dinner and beers, the questions I am always asked are, "where should I put my money?", "what stock(s) should I buy?", "What should I invest in?". I first tell people to invest in things they enjoy, because it makes the research fun. That's an answer not many people like. So I tell them to track where they spend their money on a weekly-monthly basis, and then buy stocks of those companies (ie: Starbucks, Loblaws, Best Buy etc). That usually doesn't cut it too. People like to be given direction. Finally, I tell them something very unsexy in investing, "invest in sectors that are cheap, and that nobody is paying attention to". That's when they get curious, because now they know they will be first in this sector and beat the crowd. Some people may think this sector right now is mining. A good case can be made yes. But agriculture right now is the most unappreciative and undervalued sector.
When I said it's no secret that I am bullish agriculture, I really meant it. At the end of June, I wrote a piece explaining why I am going all in on agricultural stocks. Food, farming and agriculture make up a pretty large portion of my portfolio. In that article I mention I am bullish agriculture because of Jim Rogers (although I forgot to mention that even Bill Gates expects something as he is now the largest private owner of US Farmland), the unpredictable weather, supply chains issues, and clean/green energy. Read that article for more details.
One thing I also mentioned is the soil. Due to all the pesticides that we have been using, the soil just doesn't get replenished. This affects the crop yield, but also impacts how much vitamins and minerals are in the crop. This is just me personally, but I think this is why many people are unhealthy now a days…and why I am also big on organic food and supplement investments for the future. Healthy eating and organic food will be a trend going forward. It's already starting. Many of my close friends are all about investing in GOOD agriculture land. They are looking at places in Central America, but a case can be made to replenish soil here. Enter EarthRenew (ERTH).
The first statement you see on the EarthRenew website is, "Growing for a better tomorrow". Fantastic, given what I just said about agriculture in general, and issues going forward. The company produces organic fertilizer production through their patented thermal processing technology transforming livestock manure into the good stuff for plant growth and restoring soil health. This organic fertilizer also offers 20% to 40% higher yields than the equivalent chemical fertilizer! And it's good for the environment! $70 million has been invested into both the development and commercialization of this technology.
Note the last part as well: electricity produced earlier can be sold. Another revenue stream!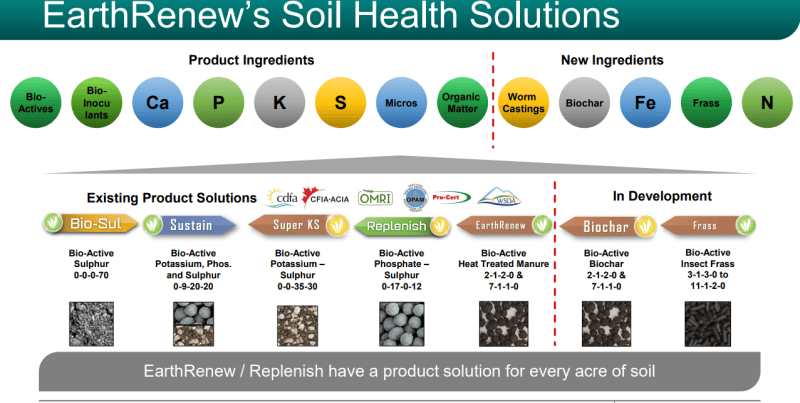 Now you have come here to see the technical charts, but first we must look at some recent catalysts.
The most recent news, which came out on August 3rd 2021, announced first 6 months of revenue. The revenue came from EarthRenew's wholly owned subsidiary Replenish Nutrients Ltd which was acquired on May 1st 2021.
EarthRenew Inc. (CSE: ERTH; OTCQB: VVIVF; Frankfurt:WIMN)  today announced that its wholly owned subsidiary, Replenish Nutrients Ltd. ("Replenish"), which was acquired by EarthRenew on May 1, 2021, is reporting revenue for the period of January to June 30 2021 of $4.3 million. Replenish is also reporting revenue for the 12 month period July 2020 to June 2021 of $9 million. Since the closing of the acquisition, Replenish Nutrients reports $1.4 million in revenue.

EarthRenew is also reporting power generation revenue for the first 6 months of 2021 totalling $0.65 million.
On July 28th 2021, EarthRenew announced a new senior debt facility for Replenish Nutrients totaling $3.2 Million for supporting expansion efforts. Good stuff to create shareholder value, but now it is all about management delivering. For more info on Earth Renew, take a look at their investment deck here, and be sure to check out all the other EarthRenew analysis here on Equity Guru.
Technical Tactics
What you all came for! The chart!
EarthRenew has a market cap of $13 million, and is down -3.85% year to date, and down -26.47% in the recent 3 months according to marketwatch.
The stock is approaching a major support zone, and really, this might be make or break for EarthRenew. This $0.20 zone might attract buyers like it has in the past in September and December of 2020. If this price floor holds, we can build a base for a reversal. If it breaks, we head lower to $0.15 and then all time lows.
Speaking about reversals, you probably notice my trendline and moving averages (MA) in red and green. We can use these tools to determine when the trend has shifted. It is obvious the stock has been in a long downtrend. The slope of the drawn trendline connecting what we call lower highs in technical terms, is downwards. If price can climb back across, things start to get interesting.
I mentioned the moving averages (MA). Currently price is testing them. The way MA is used is simple: if price is above then we are in an uptrend, if price is below then we are in a downtrend. If we can get a cross over the MA and the trendline it will be significant.
If I were to enter, I would either await for a break and close above $0.27, just to ensure we are breaking above the MA and trendline comfortably. Alternatively, see if price can range (move within a rectangle) around the $0.20 support zone. It would be a good sign that buyers are stepping in and defending. Targets to the upside? The $0.40 cents zone is a resistance area (price ceiling), and then recent 52 week highs just above $0.50.
For further upside we need that catalyst to help drive prices forward. The chart has potential if it begins to base here. The stock has been bleeding lower, and basing would be an indication that the downside is over and a new trend is about to begin. I love the sector, and I believe in the need for replenishing soil for better crop yield and nutrients. Now it is all about management delivering what they promised!