+326% wtf?
PharmaTher (PHRM.C), the Vancouver-based psychedelics company is on an impressive run. In the last month, the stock has rocketed from $0.19 CAD up to $0.81 CAD, a 326% increase.  The company has been active on their newsflow, dropping 6 press releases over the past 30 days, but nothing that warrants a price jump like that, with no (publicly available) insider activity.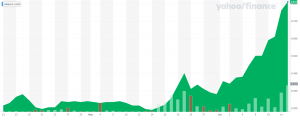 The price jump is likely something behind the scenes that us retails will be the last to know about. This obviously does not look sustainable, it's reminiscent of the early cannabis days where companies would shoot up out of the blue, followed by the 'we don't know why this is happening' press release. It's rare in the psychedelics space for a company to go on a run like this so randomly, especially during the last couple of quarters where most companies have either dipped or remained stagnant. A correction is clearly coming here. Hopefully not too many people buy at the top. PharmaTher's CEO recently tweeted a not-so-cryptic message about the Nasdaq recently, maybe that got some excitement. There are of course minimum requirements (like share price) that the company doesn't come close to unless they want to do a fat rollback as a last-ditch effort.
Again, probably not responsible for a 326% jump, but interesting nonetheless.
#Nasdaq is the best stock exchange for biotech companies to aspire to list its securities on #oneday$PHRRF $PHRM $PHRM.C@Pharmather_Inc

— Fabio Chianelli (@FabioChianelli) June 12, 2021
PharmaTher's product pipeline targets the use of ketamine to treat Parkinson's disease, depression, Amyotrophic lateral sclerosis ( ALS, AKA –  Lou Gehrig's disease), and chronic pain.
Disrupting the current health care landscape isn't going to be too difficult in this modern era with an onslaught of studies, funding, and attention. These drugs and their potential have sat on the shelf while other less effective and more addictive drugs have been sold like hotcakes. Through unlocking the power of psychedelics, PharmaTher is out to build a better mousetrap, and they are putting a big emphasis on technology as a means for achieving that.
KETABET
PharmaTher is not a household name in the psychedelics sector, at least not yet. One of the verticals that gets PharmaTher's retail investors excited is drug delivery systems. PharmaTher developed a microneedle delivery system that uses esketamine via a patch. The company believes ithis innovation could overcome the drawbacks associated with ketamine https://e4njohordzs.exactdn.com/wp-content/uploads/2021/10/tnw8sVO3j-2.pngistration in an intravenous or nasal spray format. PharmaTher calls this bit of tech KETABET. The company believes the technology has the potential to receive FDA approval and Fast Track designation by the FDA for treatment in patients with major depressive disorder. KETABET also allows patients to dose their medication remotely rather than being under supervision by a healthcare provider at a certified medical office.
These delivery systems are used to improve the methods of intake for something like ketamine or psilocybin. Yesterday I wrote about how these companies could be interesting 'pick and shovel' plays. The booming ketamine clinic niche alone brings a decent market size and an opportunity for early revenue, years before recreational legalization.
In February PharmaTher sold its psilocybin assets and IP to Revive (RVV.C) for $10 million CAD. In April the company announced it submitted an Investigational New Drug application with the FDA for the initiation of their Phase 2 clinical trial to evaluate the safety, efficacy and pharmacokinetics of low-dose ketamine in the treatment of levodopa-induced dyskinesia in patients with Parkinson's disease.P harmaTher also built a drug repurposing platform, panaceAI whose current focus is finding effective uses of drugs for rare disorders, infectious diseases, and effective uses of psychedelic-derived medicines.
PharmaTher has had a great year, but the company still has some remaining milestones to hit for 2021, including completing a Phase 2 study with ketamine to treat Parkinson's disease, a Phase 2 study with KETABET for treatment-resistant depression, and the development of our novel microneedle patches for delivering psychedelics such as ketamine, psilocybin, DMT, MDMA, and LSD. There is currently no cure for Parkinson's disease, although some drug combinations are used to treat the disease symptoms. Levodopa is the gold standard for Parkinson's disease treatment but features significant drawbacks, including the major side effect of dyskinesia and a loss of effectiveness over time.
This is a stock to keep an eye on, not necessarily to buy (especially after that run) but rather to see how big the correction will be. With such a sudden and drastic jump in share price, it's impossible to know what the floor is, or if there even is a floor. In the cannabis space we saw this story play out a million times, and almost never ended well.  But a fat correction could represent a nice entry point, but that also means the CEO's dreams of hitting the Nasdaq are moot. Or maybe there is something really cool the company has yet to unvei that's going to shake up the industry. This is a young company so it's difficult to establish any kind of pattern.
But for the bullish Redditors thinking these gains are sustainable?