Sona Nanotech (SONA.C), a developer of rapid, point-care diagnostic tests, announced today that it is discontinuing its previously announced clinical trial for its COVID-19 rapid, antigen saliva test.
"Unfortunately, as is often the case with prototypes, the early laboratory results did not translate well into the clinical environment. While there are many possible reasons for this discrepancy, the favored hypotheses are that either there is insufficient viral concentration in saliva, or there is an interfering substance in the saliva," commented clinical trial principal investigator, Dr. David Jacobs.
In one swift kick to the nuts, every investors who supported Sona is now reeling in pain, their cries echoing from one message board to the next. While some are clenching their fists in a bloody rage, others are calling for the head of Darren Rowles, President and Chief Scientific Officer of Sona. Ultimately, Sona's latest announcement signifies an early grave for the Company's Saliva C-19 Rapid Test, which was intended to provide a better alternative to an anterior nare or nasopharyngeal test. In a series of tweets and retweets, Mr. Rowles himself appeared to be quite hopeful for the success of Sona's saliva based rapid testing. However, Mr. Rowles pinned tweet now serves as a grim reminder that not all dreams come to fruition.
So, why was the clinical trial canceled in the first place? The clinical trial was first announced on April 22, 2021. The trial was to be conducted in partnership with the Humber River Hospital in Toronto, and would seek to test up to 500 emergency room patients suspected of having COVID-19. According to Sona, the decision to cancel the clinical trial was made due to inadequate test sensitivity with clinical saliva samples. Furthermore, the Company encountered challenges with patient recruitment and enrollment into the study, as local prevalence of the virus has diminished significantly.
"We are surprised that our clinical trial did not show a corresponding level of sensitivity to our laboratory studies which showed that our saliva test was able to detect gamma irradiated COVID-19 virus at clinically relevant levels. We were attempting to blaze a new and challenging trail in adding a less invasive, saliva-based rapid test to the arsenal of tests being used to detect the virus, something for which no other company has achieved an FDA EUA or Health Canada approval…," said David Regan, CEO, Sona Nanotech.
With that being said, the real issue here wasn't recruitment or enrollment. Mr. Regan himself addresses the fact that the Company's Saliva C-19 Rapid Test failed to generate positive results throughout the trial. In particular, Sona's saliva tests were unable to demonstrate sufficient ability to detect the virus in saliva from clinical samples.
Although Sona may be in the dog house, the Company now plans to focus its research strategy on continuing with its other rapid test development programs and research on its proprietary gold nanorod production technology. With this in mind, Sona still has its foot in the COVID-19 diagnostics market, which was estimated at USD$84.4 billion in 2020. While the Company's Saliva C-19 Rapid Antigen Test may have failed, Sona still has its functional C-19 Rapid Antigen Test, however, with so many investors jumping ship, can Sona Nanotech really recover?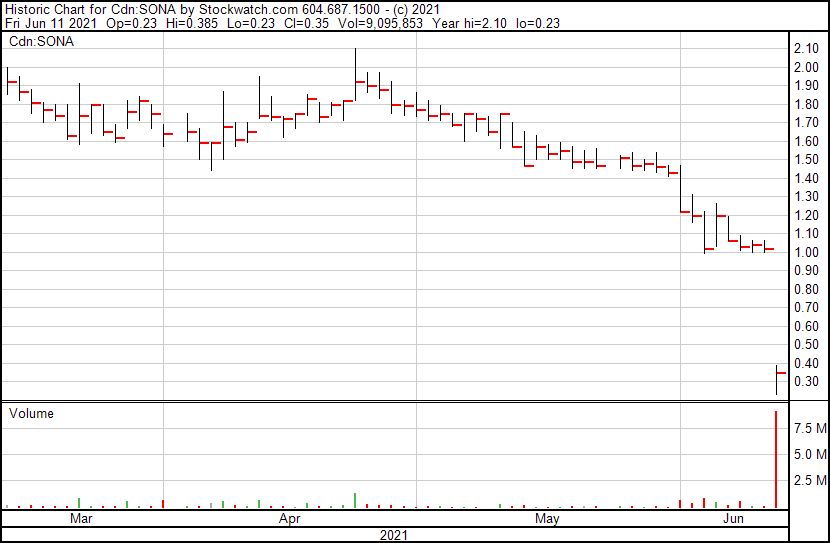 Sona's share price opened at $0.23, down from a previous close of $1.02. The Company's shares are down -66.67% and are currently trading at $0.34. This indicates that there has been substantial change following the news.