Agraflora Organics' (AGRA.C) wholly owned subsidiary, Farmako GmbH, has begun supplying its THC test kits to STADAPHARM GmbH.
"Katrin and everyone at Farmako continue to demonstrate their ingenuity and passion for the cannabis industry in Germany. I am very proud of the team and commend their efforts to develop the THC test kit in-house, obtain patent protection, bring it to market and secure the supply agreement with Stadapharm," said Elise Coppens, chief executive officer and director of Agraflora.
Lately, it feels like I have been writing a lot about the European medical cannabis market, EU GMP-certified companies, and STADA. However, I shouldn't be surprised considering Europe houses Germany and the United Kingdom, two of the fastest growing CBD markets in the EU. With this in mind, cannabis companies looking to weasel their way into Europe's highly lucrative cannabis markets are flocking to STADA, a leading manufacturer of high-quality pharmaceuticals with a global presence.
STADA represents the largest German pharmaceuticals company active in the cannabis market. With this in mind STADAPHARM, is responsible for the Specialty Pharmaceuticals business within STADA. STADAPHARM is planned to enter the medical cannabis market in Q2 of 2021 which is right around the corner. The company also plans to launch its own THC cannabis products and extracts in the future.
Farmako will be supplying STADAPHARM with its THC test kits which are produced in-house by Farmako and are advertised as easy, quick and cost-efficient. Although that advertisement seems cheap and a little too convenient, it looks like Farmako actually has some credibility. Compared to standard detection methods like chromatography ,which can take between 1-5 days for results, Farmako's THC test kits can identify cannabis in just 5 minutes.
"Discussion in the German cannabis market often circles around the high barriers for patients, suppliers, doctors and pharmacists. Therefore, we as Farmako want to facilitate easier access to cannabinoid therapy for patients with a high burden of suffering via fair prices, reliable supply and efficient service for healthcare professionals. For us, cooperation is an important element of competition, only in this way can we develop the market for the benefit of patients. Therefore, we are very happy about this partnership with STADAPHARM, a highly renowned pharma corporation," commented Katrin Eckmans, CEO of Farmako GmbH.
Moreover, Farmako has only been supplying THC test kits to pharmacies since December 2020, yet the company offers superior alternatives for testing compared to other companies. Furthermore, Farmako's test kits are patented and have been validated by DSI-pharm, Quality Service International, a German testing laboratory. Aside from test kits, Farmako has been supplying medical cannabis flowers since the start of 2019 and the company plans to introduce its own THC extracts in the second quarter of 2021.
As a whole, Agraflora performance has been steady but the Company has not seen any significant growth since February 2021. However, Agraflora could potentially see some growth following the release of Farmako's THC extract and STADAPHARM's entry into the medical cannabis market in Q2 2021. As such, Agraflora may be a company worth checking in on as we get closer to Q2 2021.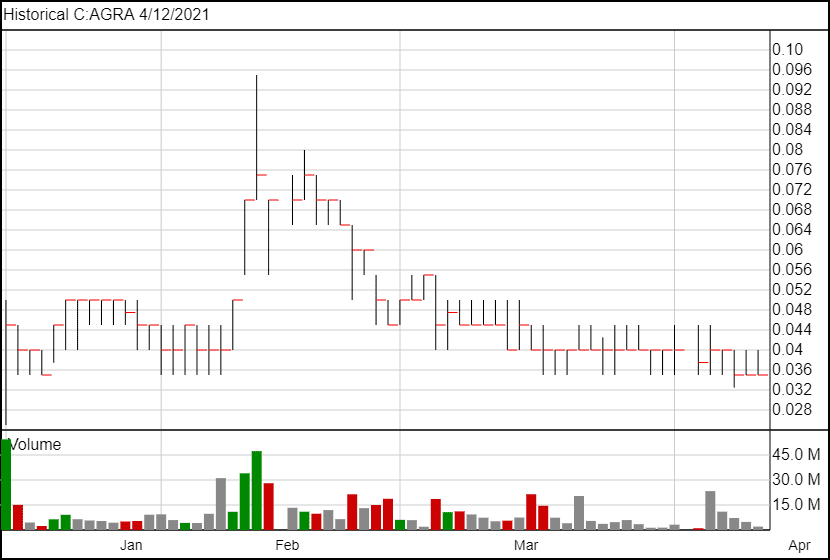 Agraflora's share price opened at $0.035 today and currently remains the same indicating no change following the news.