Hill Street Beverage (BEER.V) has released an investor information package outlining the Company's new direction formalizing monetization plans and innovative business strategies.
"This new direction will position the Company to satisfy accelerating global demand for superior commercial ingredients and consumer products…Lexaria's patented DehydraTECHTM technology is an incredible engine for growth, that allows us to continue to build trusted brands and create a new, robust portfolio of revenue generating businesses," said Lori Senecal, co-interim CEO of Hill Street Beverages Inc.
Hill Street and Lexaria, two companies recently covered by Equity Guru, are now working together to focus on the budding cannabis market. Both companies compliment each other well with Lexaria offering the brainy tech Hill Street needs to cement its position as a leading player in the cannabis market. Hill Street is already an award-winning producer of alcohol-free brands. The Company most recently launched its  (V)ia Regal Pink Grape Sparkler and, interesting name choice aside, the brand performed quite well following its release.
With this in mind, Hill Street plans on leveraging its recently acquired patents and intellectual property owned by Lexaria to create a new business space where craft quality meets bioscience. Now that's a combination I don't think any of us were expecting. However, as the cannabis scene continues to evolve, so too does the industry. One of the major patents Hill Street now has access to is Lexaria's DehydraTECH™ which was recently proven to extend the shelf life of cannabidiol (CBD)-containing beverages. With this revolutionary technology in its hands, Hill Street can now strengthen its portfolio whilst simultaneously commercializing DehydraTECH™ for Lexaria. Sounds like a pretty sweet deal, right?
Hill Street's new products will be brought to the market under the Company's wholly owned subsidiary Hill Avenue Cannabis Company. The subsidiary will be comprised of two units, Hill Avenue Cannabis Brands and Hill Avenue Cannabis Technologies. Hill Avenue Cannabis Brands will focus on business-to-consumer edible products while Hill Avenue Cannabis Technologies will provide DehydraTECH™ enabled business-to-business solutions for manufacturers. Ultimately, this will assist the Company in entering new categories, industries, and geographies.
"These two new units will offer a wide range of expertise covering everything from oil conversion services to help extractors extend shelf life by turning oil into shelf stable powder, to the production and sale of DehydraTECHTM powder to CPG manufacturers for infusion into their products…We anticipate that our Lucknow R&D Labs in Mississauga, Ontario, will play a future role in Cannabinoid product R&D, giving us multiple ways to add significant value in the Cannabis sector," commented Craig Binkley, co-interim CEO of Hill Street Beverages Inc.
Hill Street's new strategy will expand the Company's commercial potential by adding higher margin intellectual property (IP) to its current expertise in consumer packaged goods. Moreover, it will enable the Company to scale its business-to-business capabilities while also extending sales beyond Canada. Hill Street may have a habit of picking incredibly long brand names, but the Company shows promise for growth. Hill Street's stock price costs next to nothing and has an incredibly low market cap of $12.75 million making it a low risk investment. With the latest news in mind, Hill Street may be worth keeping an eye on as the Company executes its new strategy.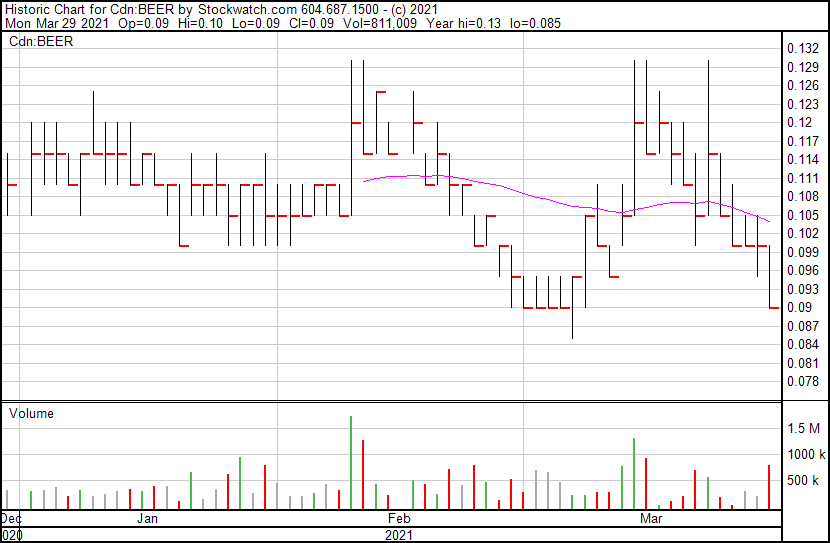 Hill Street's stock price opened at $0.09 today and currently remains the same.