Jushi Holdings (JUSH.C) has debuted a diverse array of cannabis brands across multiple states in order to address a wide variety of consumer and patient needs.
As a company that's founded on innovation and data-driven decision making, our new product suite of brands embraces the idea that one size doesn't fit all…we set out to reinvent, redefine and redesign how cannabis is viewed, and the launch of these new brands is a testament to our team and their ability to bring creative products to market. We look forward to launching more inventive products that position Jushi at the forefront of the cannabis sector and becoming one of the most trusted cannabis portfolios by consumers and patients," said Jim Cacioppo, Chief Executive Officer, Chairman and Founder of Jushi
Until recently, Jushi has been awfully quiet with regards to new products and brands. However, the Company's announcement has revealed a slew of new brands such as The Bank, The Lab, Tasteology, Nira Plus Medicinals and Seche. Jushi has certainly come one step closer in its pursuit of becoming a leading cannabis company in the industry by increasing its portfolio extensively.
"The modern cannabis consumer is evolving with their appetites and preferences changing…through our proprietary research and analytics, we have come to understand some of the specific variables that contribute to a cannabis consumer's buying decisions. People are looking for lifestyle brands and are expecting a level of sophistication. Now is the time to build the brands of the future; brands with a strong story, a sense of purpose and an authenticity tailored to specific groups of buyers," said Andreas (Dre) Neumann, Chief Creative Director of Jushi
Over the past year, Jushi's growth has been both considerable and consistent. When compared to larger cannabis competitors like Curaleaf, Jushi displays similar growth despite only being a fraction of the size. While Curaleaf is a company with roughly 3,000 employees, Jushi consist of only 200 employees. Additionally, Curaleaf's annual revenue is $443.6 million severely overshadowing Jushi's annual revenue of $10.2 million. Keep in mind, Jushi's stock price is only a fraction of Curaleaf's and offers reduced risk in comparison.
Statistics aside, many of the Company's products have performed well in a highly competitive cannabis market. In Nevada, Jushi's The Bank brand has quickly become one of the top selling brands in some of the most popular dispensaries in Las Vegas. With this in mind, the release of a competitive line of new and diverse products may soon have shareholders seeing a 'jushi' return on investment.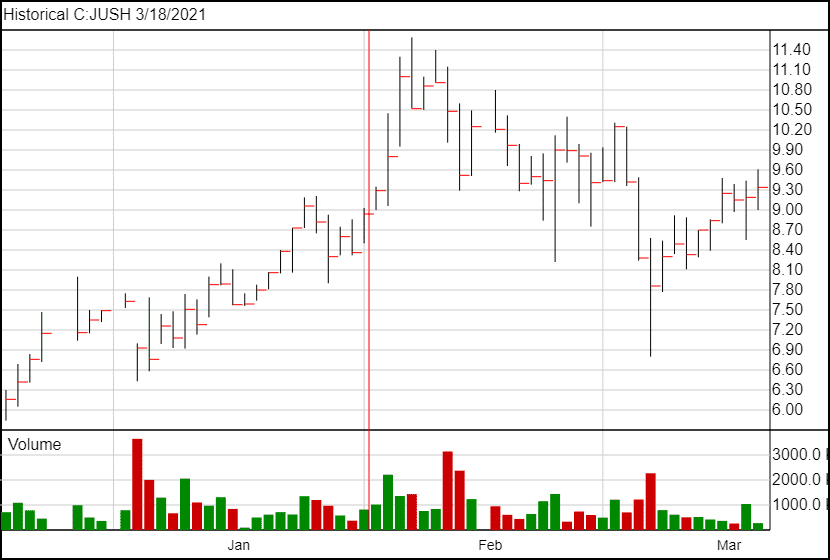 Jushi's stock price reacted positively to the news with an opening price of $9.09 and a consistent high that peaked at $9.61. The stock price currently sits at $9.33.