Kraft Heinz (KHC) is really the value stock which is under most trader's/investor's radar. But not ours.
Recently, all the talk on Wall Street has been the rotation into value stocks. The rotation out of technology and into value.
The Dow made all time record highs yesterday, and made new highs today. The Russell 2000 has followed making new record highs today, with the S&P 500 looking to join by the end of the week. Meanwhile the Nasdaq is struggling to cross over and close above our major 12,800 zone on the daily. We shall see if today is the day.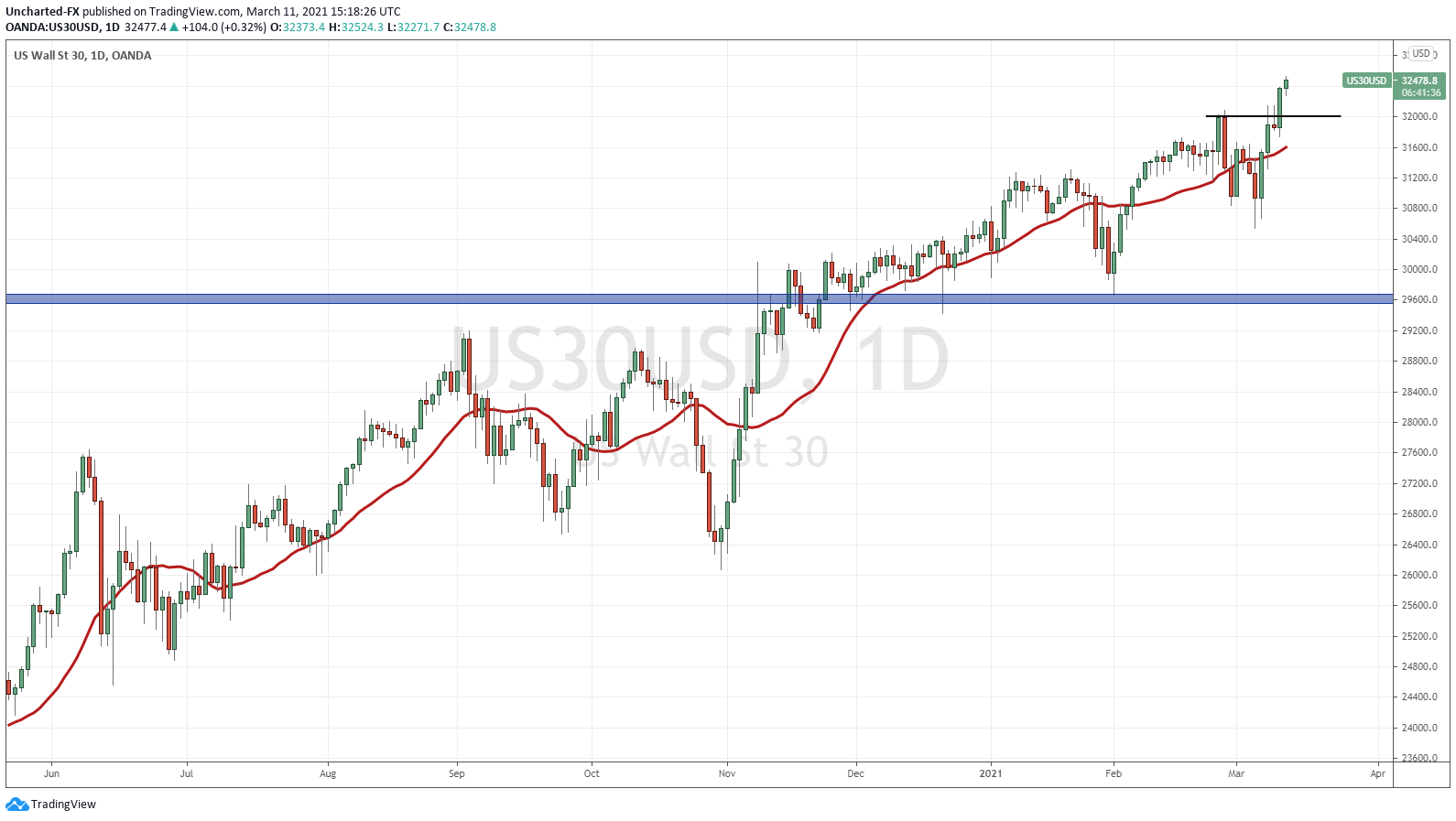 Why this move into value? Well, many financial media pundits were saying it is for 'safety' especially since the tech looks 'bubbly'. But they forget that if there is an overall market dump, we would likely see an everything crash just like February 2020.
The real reason for running into value stocks is pretty much due to carry trade reasons. Essentially making money while doing nothing. The most popular carry trade has been in currencies. Where an investor would borrow in a currency with a lower interest rate (the funding currency), and then use it to hold a currency with a higher interest rate (the recipient currency). There is an arbitrage opportunity with the interest rate differential. The danger to the investor is the possibility that  the recipient currency depreciates. Recently, we have seen this with the US Dollar being the funding currency, and Emerging Markets such as Brazil and Turkey and their Reals and Lira being the recipient currency. Many market watchers have warned about emerging market debt, especially if the US Dollar was to spike higher.
I believe, and even people like Ray Dalio do as well, that the asset allocation model used by many funds has to change. Funds need to adapt to modern macroeconomic themes. The days of holding bonds for interest payments are over. Traders hold bonds now for capital appreciation, betting that central banks will lower rates further. This move into value stocks will only strengthen as the market wakes up to the fact that central banks will have to intervene to drop rates.
Now as I say this, we do have 10 year yields above 1.50%. There was a lot of hype regarding yesterday's bond auction. Foreigners were expected to gobble up new US bonds yielding at these higher rates. Apparently it was a success.
But are value stocks the new bonds? Most of them yield a dividend higher than government bonds. They can be seen as safe as well since most of these companies will probably still be here in the next 10 years. Now of course, some of them can suspend dividends like we have seen with Boeing and Disney recently. But both companies are expected to re-instate them. The key is targeting the right companies.
Companies like Coca Cola, JP Morgan, Wal Mart, and I argue Kraft Heinz.
Out of those companies I mentioned above, Kraft Heinz is not a Dow Jones component. Perhaps this is why it appears to be under the radar.
Looking at its yield, Kraft Heinz pays out a dividend of $0.40 cents per share. I swear I did not time this, but the company is paying out a quarterly dividend today, March.11th/2021. That comes out to be a dividend yield of 4.05% per year. Beats out most western government paper.
Kraft Heinz is also in the right industry, and I do expect grocery sales to increase going forward. In fact, I believe more consumers will buy packaged and frozen foods, as prices for produce increase. I have spoken about my trades on agriculture many times on Market Moment.
When one thinks of value investing, Warren Buffett comes to mind. Many people think his recent trades have not been the best, and he is missing out on major technology trades…he doesn't really have to. His portfolio nets him hundreds millions of dollars per quarter in dividends alone. Or $3,800,719,373.25 in dividend income this year.
By the way, Kraft Heinz is in the top 5 of Buffett's holdings by shares. Buffett owns 325,634,818 shares at a market price of $38.83, which totals $12,644,399,983 and is a 26.6% stake. All these numbers regarding Buffett's holdings can be found here.
Technical Tactics
If the fundamentals haven't sold you on the company, I guarantee you the technicals will. This same market structure and approach is what we have used to bag in major winners.
Long time readers, and members of our Discord Trading Room are probably admiring the beauty of this weekly chart.
One of the best looking bottoming play, and if we do continue to see this run into value stocks because of their dividend yield, more of the market will start paying attention.
Right off the bat, you probably see the reversal pattern. Yes, it is the inverse head and shoulders pattern.
Our neckline came in at $36.00, and we broke above it a few weeks ago. This was mentioned to our Discord members, and some of us have gotten in at even a better price than Warren Buffett! But this is a long term trade. The move is just beginning.
Notice how for one week price pulled back to retest $36.00. This is our normal retest and continuation. As long as price remains above $36.00, we remain bullish.
The next targets to the upside would be the $48.30 zone and then the $57.70 zone if one wants to continue to hold.
So yes I do like the stock. The technical chart is one of the best ones out there. I do not see any risks of the dividend being halted. Furthermore, I see more and more investors heading into value stocks in the future as they become the next bonds in portfolio's.