Charlotte's Web (CWEB.T) has launched its new THC-free 24-miligram CBD oil tinctures. They are available in 10-mililitre or 30-mililitre sizes.
"Our customer care team receives questions every day from people who believe in the benefits of CBD, but they also say their job requires them to use only THC-free products to help with managing their stress and anxiety or to benefit their sleep health…our new THC-free CBD oil tinctures expand access to hemp wellness solutions for everyone. We especially want to provide products to help support the healers on the front lines," said Deanie Elsner, president and chief executive officer of Charlotte's Web
Charlotte's Web THC- free line of products are marketed towards frontline workers such as health care workers, firefighters, police officers, and civil service employees to name just a few. According to a survey of 1,119 health care workers conducted in 2020, COVID-19 has had an adverse effect on their health.
93% were experiencing stress
86% reported experiencing anxiety
76% reported feeling exhausted and burnt out
75% said they were overwhelmed
The Company's THC-free CBD products are intended to provide the benefits of hemp CBD extracts without the inclusion of THC. Additionally, these products will be associated with the B Corporation seal which certifies Charlotte's Web's commitment to the environment, society, and its employees. Additionally, The tinctures are non-GMO, kosher, heat stable and vegan.
Currently, Charlotte's Web THC-free products are only available on the Company's site. However, the Company anticipates their THC-free products will be available in retail stores by April, 2021. The suggested retail prices are $24.99 per 10 milliliters and $59.99 per 30 milliliters.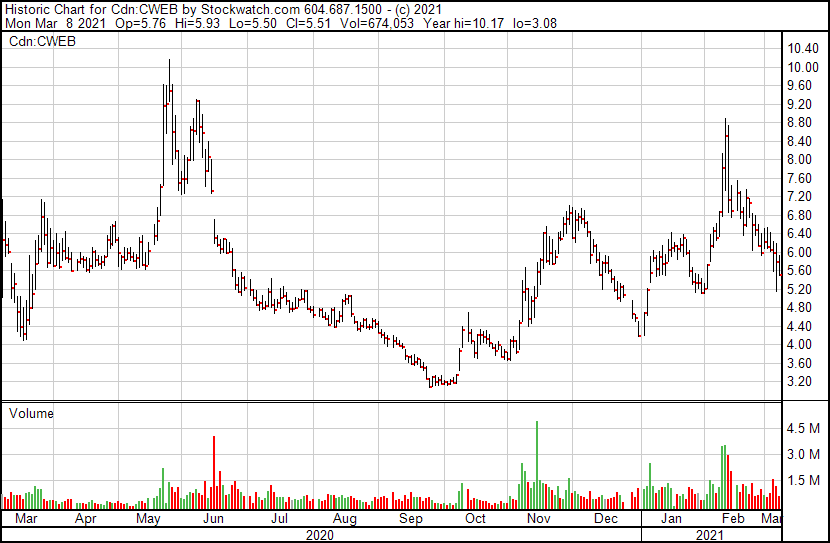 Charlotte's Web's stock opened at $5.76 and currently sits at $5.52.