As I look at market set ups, one cannot help but notice that tons of Cannabis charts are looking GOOD. Over here on Market Moment and our Equity Guru Discord Trading Room, we nailed Village Farms, and also called that breakout in stocks such as Aphria, Isracann, and are keeping tabs on Cronos Group just to name a few. There are a lot more cheaper companies with nice looking patterns over on our Discord group, but do not worry, I will cover a few more in tomorrow's Market Moment post.
The big catalyst is the US House vote on the Marijuana Opportunity, Reinvestment and Expungement (MORE) Act which is to be debated and then voted on either tomorrow or Friday. This act decriminalizes marijuana at the federal level and then allows US states to set their own Cannabis regulation policies.
There are a few traders/investors who believe the voting will turn out to be a sell the news event. That Cannabis stocks will fall rather than pop. The fear is that it will mimic what happened to Canadian pot stocks after legalization.
Possible, but I think there are some major differences. First of all, the US is a much larger market. But more importantly, we need to look at the macro background now compared to a few years back. Equity markets are at all time highs in the US, and tech stocks are quite high. Some would use the term 'bubbly'. My readers are familiar with my take on markets being the only place to go for yield. In this environment, it is highly plausible that sectors and stocks that look cheap and undervalued compared to everything else will get a bid eventually. Been looking at energy, banking, airlines and the cruise ships. But I think Cannabis might be where big money and the retail crowd will look for some cheap deals.
In the past, and over on our weekly Youtube Vishal and Co. show, we spoke about the recently traded US Cannabis ETF MSOS. The first US listed ETF which provides exposure to American Cannabis and Hemp companies.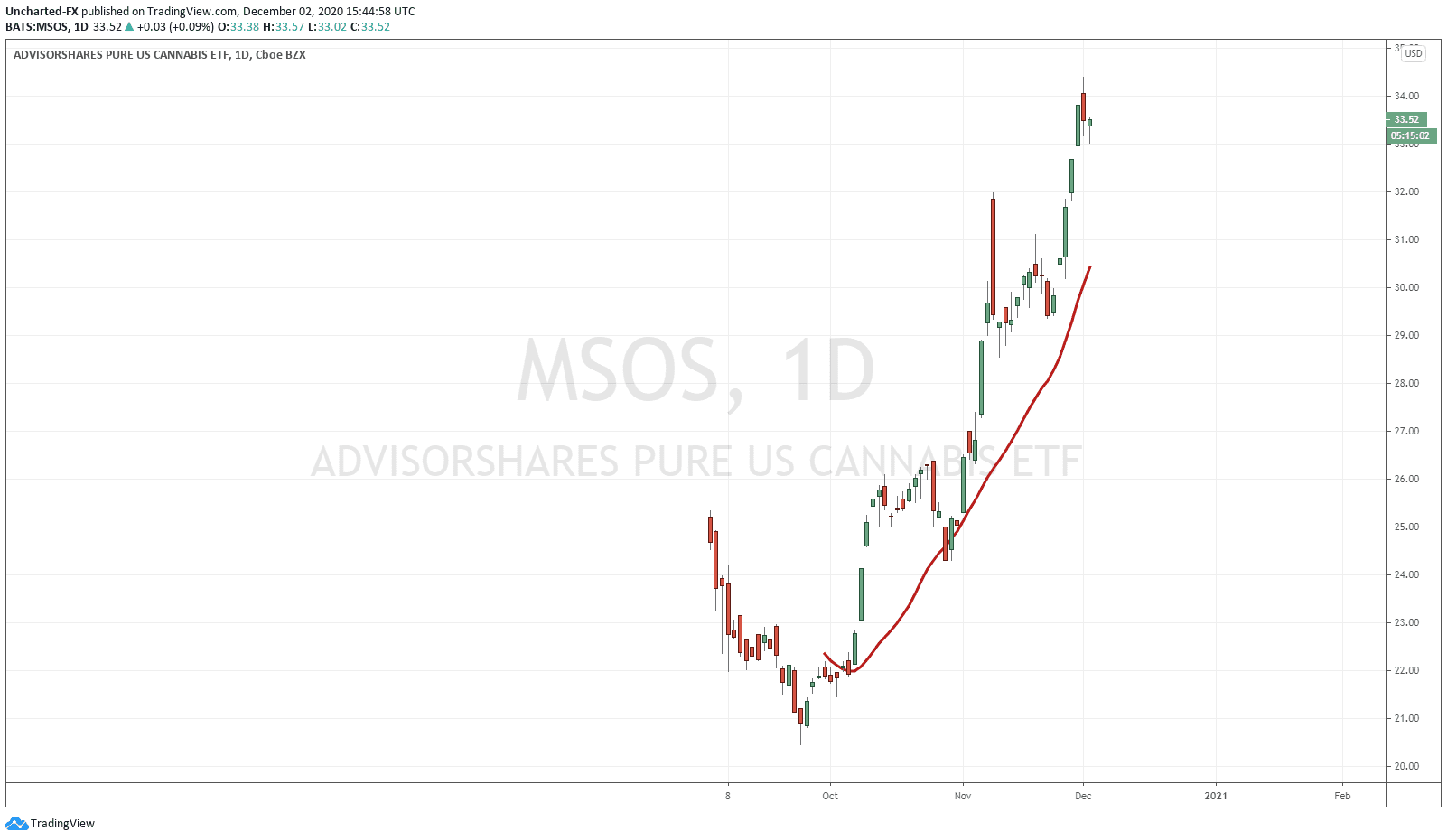 It has continued its higher lows and higher highs uptrend into record territory. It looks very bullish.
The ETF components are:
MUTUAL FUND (OTHER)

53.76%

DERIVATIVE SECURITIES (OTHER)

18.88%

Curaleaf Holdings, Inc.

11.48%

Green Thumb Industries Inc.

10.76%

Trulieve Cannabis Corp. 9.75% 18-JUN-2024

10.50%

Cresco Labs, Inc.

10.34%

TerrAscend Corp.

5.99%

AYR Strategies Inc

4.34%

Columbia Care, Inc.

4.30%

Harvest Health & Recreation, Inc.

4.20%
I have received a lot of questions regarding a Canadian Cannabis ETF to play as a sympathy play on the US sector. And as previously mentioned, the charts are hinting to further upside.
I give you Horizons Marijuana Life Sciences Index ETF.
The ETF states that is seeks to replicate the performance of the North American Marijuana Index net of expenses, and to provide exposure to the performance of a basket of North American publicly listed companies.
Here are the holdings:
| | |
| --- | --- |
| CANOPY GROWTH CORP . | 17.57% |
| APHRIA INC . | 13.86% |
| CRONOS GROUP INC . | 12.71% |
| GW PHARMACEUTICALS PLC . | 11.05% |
| INNOVATIVE INDUSTRIAL PROPERTI . | 10.72% |
| SCOTTS MIRACLE-GRO CO/THE . | 8.29% |
| CHARLOTTES WEB HOLDINGS INC . | 4.6% |
| TILRAY INC . | 4.23% |
| VILLAGE FARMS INTL INC . | 3.58% |
| AURORA CANNABIS INC NEW | 3.06% |
Some big names on the list, and a few of my favorites such as Village Farms and Cronos Group. Another thing to mention is that this ETF does pay out dividends/distributions. They are quarterly, with the last distribution coming in at 0.10749 per unit.
What caught my eye? Yes you guessed it. The chart looks fantastic.
A very important technical trigger which screams new uptrend.
We broke out above the $8.40 zone and have now pulled back to retest. This was a major breakout of a consolidation/range/basing period.
Once again, a pullback is perfectly normal in market structure. What I am excited about is the retest here. If we hold this support, $10.00 is the next big resistance (price ceiling) zone.
Once we break above $10.00, it is nothing but blue skies up to $13.00.
So in summary, a great chart set up with the catalysts backing it, as well as a nice dividend. What's not to like?