Chemesis International (CSI.C) is backing off the vape train and offering a safer, more familiar alternative in these trying times: hemp cigarettes.
Black-market cannabis concentrates have been blamed for the deaths of 15 Americans and the hospitalization of many more since May, offering some insight into Chemesis' pivot towards traditional cigarettes.
Although there has been no confirmed link between the vaping-related illnesses and nicotine, the use of vaporized nicotine products like JUULs has been a common denominator in the deceased.
"Chemesis has been increasing its manufacturing and distribution capabilities steadily," said Chief Executive Officer, Edgar Montero. "The Company will continue to expand its catalogue offerings through unique products that give consumers flexibility and choice."
Seriously, the kids are not alright. The Centers for Disease Control and Prevention found 38% of high school students and 13% percent of middle school students have tried vaping.
I blame the schools.
Public backlash, combined with the absence of scientific vindication for nicotine vape manufacturers, led to the departure of JUUL's CEO in September.
With the vaporizer and concentrate markets under increased scrutiny, Chemesis' plans to offer its hemp cigarette alternatives throughout the U.S. and, eventually, European markets as the company scales production up.
An e-commerce platform is also in the works as Chemesis' retail strategy scales.
Chemesis says it plans to offer white-labelling contracts for its cigarettes, along with its own branded products, which will be distributed via its distribution network of dispensaries.
Hemp cigarettes provide the Company with another product that brings shareholder value through high margins and mass distribution. The product line compliments the previously announced tobacco-free smokeless cannabis chew."
Smoking cessation, or a smokin' sensation?
If you're thinking, 'you can pry my JUUL/Newports from my cold, head hands,' just wait a minute.
There is scientific evidence to support the theory CBD reduces cigarette consumption in tobacco smokers.
"…24 smokers were randomised to receive an inhaler of CBD (n=12) or placebo (n=12) for one week, they were instructed to use the inhaler when they felt the urge to smoke. Over the treatment week, placebo treated smokers showed no differences in number of cigarettes smoked. In contrast, those treated with CBD significantly reduced the number of cigarettes smoked by ~40% during treatment."

–The clinical psychopharmacology unit, University College London
Now, not all hemp cigarettes contain CBD, but we also don't know Chemesis' offerings don't contain CBD. See what I'm getting at here?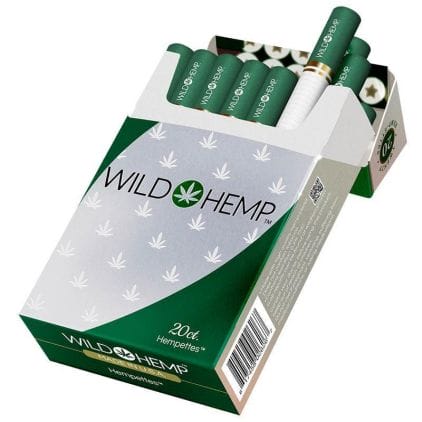 Here's some more data: Smoking causes one in five of all deaths in Canada, and costs the Canadian healthcare system nearly CAD$7B each year, according to the Canadian Cancer Society.
By comparison, the 15 U.S. deaths caused by vaping is a paltry sum, but a 2013 study by the University of New South Wales found adults who only smoked cannabis, including hemp, "report significantly better health outcomes than do those who smoke tobacco or a combination of both substances."
"In addition to the vape market, the global cigarette market was worth $888 billion USD in 2018, and is expected to grow at 4% CAGR during 2019-20241. With recent regulation changes and a shift away from vaping, the Company believes Hemp Cigarettes will become increasingly popular as an alternative."

–Chemesis International
No nicotine, no cancer-causing chemicals like hydrogen cyanide, formaldehyde, lead, arsenic, ammonia and radioactive elements such as uranium. Just hemp. Shall I go on?
Chemesis on the whole
Chemesis has been struggling as of late: The company is down 8.3% on the day and 66% since it's year-high in March.
For comparison, the Horizon's marijuana index, a basket of prominent public cannabis companies, is down roughly 50% on the whole since March.
The company has been increasing revenue quarter-over-quarter though, exceeding losses from operations for the first time in Q2 2019.
Sometimes, companies simply need a catalyst to emerge from unprofitability. Cancer-causing cigarettes led to the rise of vaping. With vaping on the backfoot, it stands to reason Chemesis can capitalize the rapidly cooling vape market.
I'm sure Chemesis shareholders hope so.
–Ethan Reyes
Full disclosure: Chemesis International is an equity.guru marketing client.