Equity.Guru has learned that Canada-listed US dispensary pubco MedMen (MMEN.C) sent notices to multiple members of retail level management this past week informing them that they would be terminated immediately with two weeks severance pay.
No reason for the firings was given to the staff involved which, under California labour law, is permissible legally, if a bit crap ethically.
Staffers were called in individually to be told they would be let go, with some notified by mail. To receive their two week severance, individuals were told they must sign NDAs.
Those firings come on the back of dozens of other staff terminations that MedMen HR reps told Equity.Guru were a part of 'restructuring' efforts at the company.
When contacted, MedMen communications VP Daniel Yi provided this statement: "We are changing our customer experience to more of the hospitality experience. We evaluated our employees and their skill sets for each of the stores and we decided to restructure. Unfortunately, some of the folks had to go."
Equity.Guru talked to several other layers of MedMen executives, management, and employees looking for details of the firings, and whether those related to an earlier story this outlet published months ago, about MedMen clawing back staff tips when it was discovered they had been incorrectly failing to withhold taxes.
Details of that story were shared with EG by staff members from multiple MedMen dispensaries. The company responded to that story with legal threats and the claim they would seek a half billion dollars in damages.
Store management at the West Hollywood dispensary were reportedly placed under a one week suspension this month while an investigation took place, for undisclosed reasons. A week later, four managers were given their marching orders, again for undisclosed reasons.
With the reported axing of 26 lower level staff, that would bring the total of those let go in recent weeks at 30 people, according to information confirmed by the company.
While Equity.Guru's public battles with MedMen aren't a secret and we love a good scandal, a quick perusing of the MedMen page at employee review website Glassdoor indicates there may have been fair reasons to restructure things.
Through three pages of former employee reviews, a common theme emerges:
Disorganized management
Employees feeling disrespected
Empty promises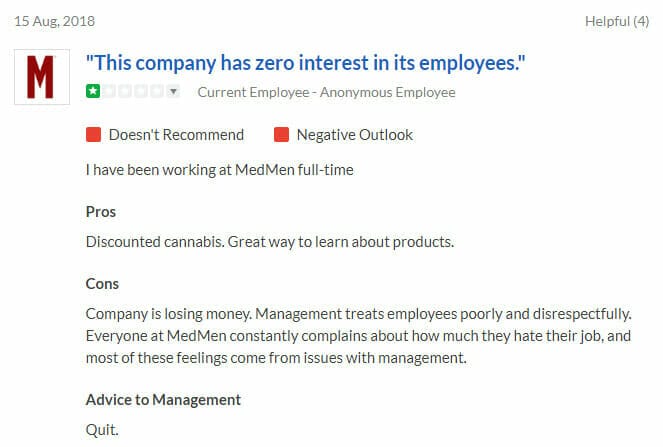 Another post, headlined 'circus of clowns founded on nepotism' says:
"All lies. Smoke and mirrors doesn't even begin to describe this company. 'Challenge everything. Accept what ought to be, not what is.' This is a quotation on one of the walls in a retail establishment. However, at the retail level you don't ask questions. You don't even open your mouth. You are expected to be a mindless drone who is complacent and never expect anything more than minimum wage."
Retail commerce is always challenging, and staffing can be a big enough issue to make or break any establishment, regardless of who runs the head office. But how you treat your people tends to be a fair indicator as to whether those people go the extra yard for you, or kick dirt until the hammer falls.
What we've found with this story, and the ones before it, is MedMen, for all its promises about being the best in the business and hiring the best people in the game and looking after those people as part of its corporate culture, has a lot of work to do to get close to what it portrays itself as.
Look after your people, MedMen. Even when they're headed out the door.
— Chris Parry
FULL DISCLOSURE: We own no MedMen stock, never have, never will.