One more push just before Christmas, eh? Here's some news on DOJA and Aphria.
Woke up this morning with my phone blowing up with news of new deals, mergers, licenses and more.
While Marc and Jodie Emery are running GoFundMe campaigns to cover their costs for pleading guilty to drug trafficking, after court documents showed that just one location in their 20 dispensary illegal chain was making over $300,000 per week (so gross), the legal and legitimate weed business is blowing up in a positive way.
DOJA BUYS TOKYO SMOKE, APHRIA CHIPS IN $10M OF DEAL
I said it before and I'll say it again – dismiss the DOJA Cannabis (DOJA.C) crew at your peril.
Trent Kitsch and his band of Kelowna lifestyle kids not only have a load of cannabis growing in their licensed facility, and a long-time landmark winery out back, but they've just agreed a deal with Canada's most recognizable vape brand, Tokyo Smoke.
Cannabis ​​Company ​​Limited ​​​(CSE: DOJA)​​ and ​​TS ​​Brandco ​​Holdings ​​Inc. are ​​pleased ​​to ​​announce ​​that ​​they ​​have ​​entered ​​into ​​a ​​binding ​​Letter ​​of ​​Intent ​​("LOI​ ​") ​​dated ​​December ​​20, 2017, ​​setting ​​out ​​the ​​terms ​​pursuant ​​to ​​which ​​​DOJA ​​proposes ​​to ​​acquire ​​all ​​of ​​the ​​issued and ​​outstanding ​​shares ​​in ​​the ​​capital ​​of ​​​Tokyo ​​Smoke. ​​The ​​Merger ​​will create ​​a ​​uniquely ​​positioned ​​cannabis ​​company ​​combining ​​a ​​best-in-class ​​craft ​​cannabis ​​producer ​​with ​​an award-winning ​​lifestyle ​​brand ​​and ​​retail-focused ​​cannabis ​​company.
I highlighted that last sentence because it's important.
What the Emery court case and guilty plea demonstrated was the extreme level of revenue that cannabis brings at the storefront level. While currently illegal in Canada, it won't be for long.
And as the Emery clan are removed from the scene that they tried to hijack, and provincial governments across Canada figure out how to allow for retail frontage, this DOJA/Tokyo Smoke deal will be an important one.
Sorry – DOJa/Tokyo Smoke/Aphria deal.
As part of the proposed combination of TS BrandCo. Holdings Inc. (operating as Tokyo Smoke) and Doja Cannabis Company Ltd. announced earlier today, Aphria Inc. (APH.T) has committed to make a $10-million equity investment in the combined company, which is expected to be renamed Hiku Brand Company Ltd. The combination of Tokyo Smoke and British Columbia based DOJA would bring together two premium lifestyle brands to serve the anticipated recreational cannabis market. Aphria's investment represents an advancement of the Company's strategy to be a leader in the recreational market, once legalized in Canada.
Worth noting:
Upon ​​completion ​​of ​​the ​​Merger, ​​the ​​Company ​​will ​​have ​​a ​​robust ​​cash ​​position ​​of ​​approximately ​​$31 million, ​​which ​​it ​​plans ​​to ​​invest ​​in ​​expanding ​​its ​​cannabis ​​production ​​capacity, ​​growing ​​its ​​retail ​​footprint, and ​​adding ​​select ​​brands ​​to ​​its ​​portfolio ​​through ​​highly ​​strategic ​​and ​​complementary ​​acquisitions.
Also worth noting: The massive jump in share price for Namaste (N.C) over the past six weeks, from $0.20 to $2.25, based on their potential to make money online selling the same products Tokyo Smoke sells in retail stores. Namaste now sits on a $400 million market cap, which is 3x the market cap of Cannaroyalty (CRZ.C).
Which is nuts for a company with $2m sales in November, and that just offloaded its US assets.
It's likely that a lot of the Namaste run has had to do with that US asset offloading, as the thinking is they're readying for either a graduation to the Venture exchange (which doesn't allow US weed assets) or an acquisition by a Canadian player.
Let's be clear: At the current valuation, nobody is coming in to take over Namaste.
But the fact that this discussion is a thing tells you that DOJA is jumping into a hot space.
We'll have more on the DOJA deal later today. DOJA is up 23% on the day, putting it at $1.78. That's a nice win for those who got in around the $0.55  mark when we told you insiders were stacking buys on their own stock.
TGIF/BAMM NEVADA MERGER ANNOUNCED
If you like Vegas, and you like the idea of Vegas weed, then the TGIF/BAMM deal just dropped will be of interest.
We'd heard on the grapevine this deal was coming weeks ago, but kept schtum so as not to make the deal impossible to complete. Looking at the share prices of the companies involved, we weren't the only ones clued in, it seems.
Regardless, Friday Night Inc (TGIF.C) has jumped 41% on news they'll be acquiring Body and Mind (BAMM.C) (which is also up 40%) in a $115m value deal.
The arrangement will see 130k sq. ft. of grow space under development. Friend of the site Brayden Sutton will continue as CEO, and BAMM CEO Robert Hasman will jump to President of the new group.
Some folks have had second thoughts about climbing onto TGIF based on some of the folks behind the original deal (seriously Dave, enough with the Affliction t-shirts), but the BAMM guys are running the tightest of tight ships out in Nevada, so this should put some real clarity into the TGIF opportunity going forward.
AURORA (ACB.T) GETS REGULATOR SUPPORT IN BID TO KILL CMED POISON PILL
Things are heating up in the ACB/CMED fight, with news today the Ontario Securities Commission (OSC) and their Saskatchewan equivalent have supported ACB's move to quash Cannimed's (CMED.T) poison pill takeover defense strategy.
If Aurora is being truthful that it has nearly 40% of CMED stockholders on side (so far), and gets its way that the takeover period be shortened to 35 days instead of the planned 105 days, CMED could be counting its last days as a standalone entity.
We can argue about whether ACB is buying CMED because it's a good move, or perhaps because it'll support ACB's recent stock run (and the shortened bid period would support that suspicion, as any ACB stock drop over the coming 105 days would radically reduce the value of their bid) but one thing is certain – the old former government weed growers at CMED won't know what hit them when ACB CEO Terry Booth starts telling them what's up.
My thoughts: CMED is waiting for a better offer. If no other LP makes one, considering how much free cash is floating around the treasuries of each LP right now, it tells me the deal is less about potential than it is about maintaining market cap.
I wouldn't want to be on either side of the fight.
WHATEVER HAPPENED TO FINORE MINING?
Remember the deal from a year back that was going to become Kushtown USA weed sodas, but never got through due diligence and then sat for months and everyone yelled at me about it?
Well I never sold my stock. And it became Micron Waste Technologies (MWM.C).
And then we noted Aurora exec Cam Battley joined the board.
And, yesterday, this happened:
Aurora Cannabis Inc. (TSX: ACB) and Micron Waste Technologies Inc.  (CSE: MWM, OTC: MICWF, Frankfurt: 7FM2), a developer of proprietary digester solutions for the treatment of organic waste, today announced that the companies have signed a non-binding term sheet for Aurora to make a strategic investment in Micron, and for both companies to collaborate on the optimization of Micron's technology for the treatment of organic waste generated in the cultivation and production of cannabis products.
Anyone who held long is now back above water.
As for Kushtown, they appear to have all but disappeared. Well played, DD crew.
MYM NEUTRACEUTICALS (MYM.C) AND PUF VENTURES (PUF.C) JUMP ON NEWS OF POST OFFICE DELIVERING THE MAIL
In what can only be described as a news release announcing that a document was put in a mail box with correct postage, MYM Neutraceuticals (MYM.C) and PUF Ventures (PUF.C) rocketed this morning on news that their license application in Australia has been…
…accepted by the Office of Drug Control (ODC).
Also accepted by the Office of Drug Control:
2 real estate flyers
1 coupon for a discount on carpet cleaning
A leaflet advertising 2 for 1 pizza at Uncle Ricos Pizza and Steak Hut
An America Online disk.
Says the company:
The applications have now progressed to the assessment phase, all associated fees have been paid. The company will continue to provide updates as appropriate while it progresses through the process.
In other words, nothing has happened. At all. .
This market is so hot that news a company sent a document in and didn't have it marked 'return to sender' is apparently enough to jump the share price 29% (PUF) and 18% (MYM).
That may have something to do with the clever news release headline, "MYM Australia Project Announces Application Acceptance and Name Change", which initially had me thinking they'd scored a license, a mistake I'm sure others have made since.
Well played, Horsfall. Well played.
The combined unit will change its name from PUF Ventures Australia to Solaris Neutraceuticals.
TINLEY BEVERAGE (TNY.C) UP BECAUSE, WELL, IT'S ALWAYS UP
There was no news on Tinley Beverage Company (TNY.C) today. So, of course, if was up again, this time up 16.5%.
Tinley stock has been on a damn streak for two months now, since we noted that the Canopy/Constellation Brands deal gave notice that weed/booze combos were in play.
That increase has been consistent for weeks but really moving of late as California gets closer to opening up its pot laws to recreational use, and Tinley gets closer to releasing its de-alcoholized THC-heavy cocktail line.
We love the lift it has been getting, and double love that our readers have been benefiting from it in such a big way (we told you back when it was in the $0.24 range, guys), but a word of caution: When a company has expected news, like Tinley does, and people are buying with a view to benefiting from that news, quite often the actual news dropping sees a share price dip.
Tinley's big launch day is baked into its share price right now. It may well keep going up, but if you're on a multiple today, be smart and take your original stake out. A four-bagger is a gift worth claiming.
LIFESTYLE DELIVERY SYSTEMS (LDS.C) TURNS A FROWN UPSIDE DOWN
Regular readers will recall Lifestyle Delivery Systems (LDS.C) had an embarrassing turn last week when county sheriffs raided their Adelanto, California extraction facility, claiming their city permits to extract weren't valid at the county level.
Local newspapers framed it as a 'drug raid', as if the incident came with guns drawn and a posse dragging a noose, but in reality it was a situation in which, with Adelanto city government embroiled in a weird drama in which the temporary mayor allegedly asked an undercover fed to burn down his business, the county was likely looking to show it was running a cleaner ship.
In response, LDS has done a deal that tamps down the situation and moves it forward.
Lifestyle Delivery Systems Inc. (CSE: LDS) announced today that it has signed agreements with a California corporation that holds a Permit and CUP for volatile extraction and manufacturing in Adelanto, California. Under the terms of the agreements, R2T Manufacturing Inc. will license both proprietary and patent pending technologies from LDS and contract for consulting services from LDS Scientific Inc. The Company intends to build a new 20,000 square foot facility for the Licensee's operations. This facility will have more than three times the production capability of the current CSPA Group Inc.'s facility. The Company anticipates construction to begin in the first quarter 2018.
That's how you handle a bad day. LDS stock is back to where it was pre-Rambo.
HYDROPOTHECARY (THCX.V) DILUTES LIKE IT'S WORKING A LEMONADE STAND
What do you do when you've borrowed nearly $70 million to build a growhouse, and you're losing $1.9 million per quarter, and you owe interest that you haven't been able to pay til now?
Why, you convert that debt into shares and flood your existing shareholders, of course.
By my count, that'll increase the share base by 31 million shares beyond the 107m already outstanding.
At the same time, the company has engaged a market making firm to trade its stock and provide an 'orderly market'. The cost of that, for one year? $300,000.
They can apparently afford that, because the company also plans to build a new 1 million sq. ft. growhouse by the end of 2018, and says it can do that for $80 million, which it won't need to finance… presumably because it just turned $70 million of debt into shares.
QUADRON CANNATECH SELLING NEW 'BOSS' CO2 EXTRACTORS TO GROWERS
The good folks at Quadron Cannatech (QCC.C) took their time being recognized by weed investors, but that recognition appears to be kicking in now, in part because of their new BOSS weed extraction system.
Not only does the BOSS look great (a factor that shouldn't be ignored), but it's faster, cheaper, plug and play, with software that runs analytics, has programmable cycles, has an integrated heat exchanger, and takes up far less space than the usual 'Home Depot Aisle 4' look of competitor systems.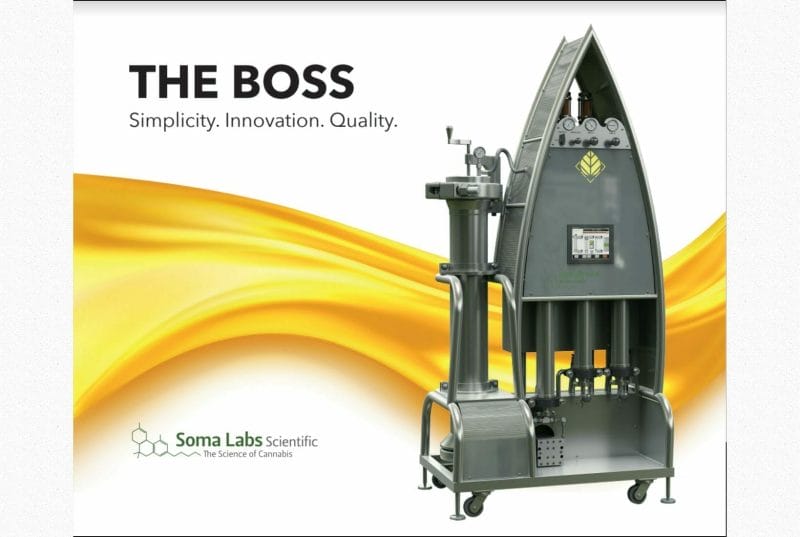 The system runs on two electrical outlets and takes an hour to set up.
QCC is ramping up production to meet demand. As for what that means revenue-wise? We understand the systems run at around $300k.
Quadron stock launched upwards 25% on the day.
NEW RECORD HOLDER COMING WITH CANNABIS WHEATON (CBW.V) CASH
FV Pharma is a private licensed producer of weed in Canada, that has 620k sq. ft. of grow space currently in a former KRAFT food processing plant.
Well, they'd like to blow that out to 3.8m sq. ft, and Cannabis Wheaton (CBW.V) has agreed to finance the buildout, in return for 49% of the ensuing product – forever.
The Facility rests on 70 acres of land, 32 of which have been utilized for the current building with the remaining 40 acres available for the staged-phased Facility Development. Upon completion of the Facility Development, FV expects to achieve a total of approximately 3,800,000 square feet dedicated to cannabis cultivation and related ancillary businesses all under one roof making it the largest indoor cannabis cultivation facility in the world. The Facility has an electrical substation on site, natural gas lines, multiple water intakes, rail lines directly into the Facility and 26 loading docks thereby providing the robust infrastructure necessary to accommodate FV Pharma's expansion plans.

Wheaton and FV plan to utilize the Facility to supply Canada's current medical and future recreational market for cannabis with a vision to offer mass quantities of dried cannabis, cannabis oils and, when legally permitted, food-grade cannabis edibles all subject to FV Pharma receiving the necessary licenses.
Let's be very clear: This deal makes CBW one of Canada's largest cannabis owners. Not cannabis facility owners, not cannabis stock owners, but actual cannabis owners. They will end up with about 200 million grams of cannabis per annum out of this deal.
The question now becomes, what will it cost?
And what are they going to do with all that weed?
Tapping out. Too much news. Peace.
— Chris Parry
FULL DISCLOSURE: Tinley, DOJA, Quadron, and Lifestyle Delivery Systems are Equity.Guru marketing clients. We own stock in Micron Waste Technology, DOJA, Quadron. We have previously discussed commercial arrangements with TGIF, BAMM, PUF, MWM, and THCX but no active deals exist.