Ten years ago the organic consumables sector in North America was generating $20 billion in sales.  Total 2016 sales were $47 billion. Companies like ABCN.V are the beneficiaries.
That is explosive sales growth.
Faster than yoga-wear or lithium-ion batteries.
But slower than this red-headed woman sprinting though the streets of Berlin.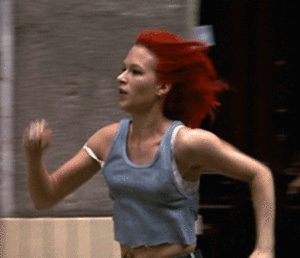 The organic food movement is tied to a desire for control (of your body, your health, the way you interact with the planet).
ABcann (ABCN.V) is an advanced organic marijuana-grower capitalizing on this macro trend.
In March 2014, ABCN received a production license under the Marijuana for Medical Purposes Regulations.  A few months later it obtained a license to sell organic marijuana.
Sad but true: modern organic farmers don't look like this anymore:
They look like this: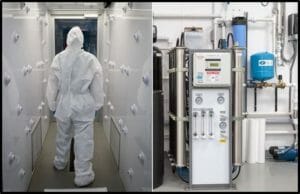 The flagship facility in Napanee, Ontario is a high-tech science lab with environmentally-controlled chambers.
ABcann is able to produce pesticide-free, high-yield plants, which are completely consistent from batch to batch.
That takes some of the romanticism out of organic farming, but it allows ABCN to create a pure high quality product – using systems that can be custom-designed to achieve a particular strain of cannabis.
ABcann uses a modular approach which makes it easier to "scale-up" or build more facilities in new locations.
On June 29, 2017 ABcann retained the services of Dr. Michael Shannon as its Chief Medical Consultant.  Shannon is the former President of the Canadian Foundation for Global Health.
"We plan to participate in a number of clinical trials involving different modes of delivery," stated says Aaron Keay, CEO of ABcann. "Dr. Shannon's experience and expertise will help us through this process."
ABcann has invested $1.5 million in a partnership with the University of Guelph to build controlled environmental systems capable of producing pharmaceutical-grade cannabis without pesticides.
ABcann is expanding capacity in its current facility to approximately 30,000 sq ft while building a new 150,000 sq ft facility.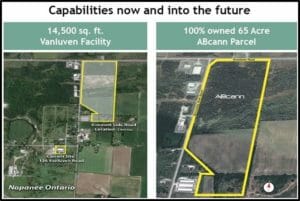 ABcann and Cannabis Wheaton (CBW.V) have entered into a binding interim agreement to fund the construction of this mammoth cultivation space with will promote revenue growth.
Cannabis Wheaton will invest $30 million in ABcann in return for 50% of the proceeds from the Expansion Production Area.
It's a beautiful marriage between growers and money.
The reason that ABCN and CBW are bouncing on the beds and giggling is because they have an opportunity to sell 8 million grams of cannabis per year into an under-supplied market.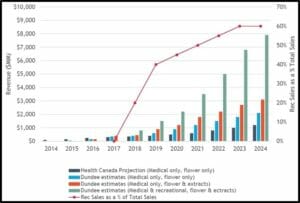 "This Partnership is a great opportunity for both ABcann and Cannabis Wheaton," confirmed Keay, "providing ABcann with the capital to construct up to 180,000 square feet of fully funded capacity."
In 2016, sales of certified organic products in Canada was $3.5 billion, 40% of which is from fresh fruit and vegetables.
Customers who buy organic food are searching for reliable supply lines of organic marijuana.
ABcann is a clay pot of premium soil fertilized with old-fashion money.
A little rain, a little sun, let's watch it grow.
FULL DISCLOSURE:  Abcann is an Equity Guru marketing client.   We believe they are going to be important players in this rapidly growing industry.