VIVO Cannabis (VIVO.V) bought the farm.
The company recently announced the complete acquisition of Canna Farms, British Columbia's first cannabis company licensed under ACMPR/MMPR guidelines.
The acquisition cost Vivo Cannabis $133 million, consisting of $22.5 million in cash and the issuance of 92.5 million common shares priced at $1.20 each.
Additionally, the VIVO Cannabis appointed the co-founded and president of Canna Farms, Daniel Laflamme, to its board of directors.
Transaction highlights
When VIVO Cannabis first announced it was to acquire Canna Farms, the move was well received here at Equity Guru.
There's a lot to like about this deal, and the limited information that we have on Canna Farms makes them look unique in a good way. The ACMPR licensed company cultivates marijuana out of a 20,000 square foot facility in Hope, BC, and sells it online in a way that we haven't yet seen in this medical market. It's an online e-retail store that appears to be available to clients with Canadian addresses and a valid prescription for medical cannabis who have registered with the company. The deck describes the combined company as having 15,000 patients, and our model lists ABCann at 2,000 patients, so Canna Farms implicitly showed up with 13,000 patients.

-Braden Maccke
The acquisition of Canna Farms will be immediately accretive to VIVO Cannabis. For the fiscal year ended June 30, 2018, Canna Farms' unaudited revenue and earnings before interest, taxes, depreciation and amortization (EBITDA) totaled  $9.4 million and $4.3 million, respectively. 
Additionally, Canna Farms earned unaudited revenue of $5.8 million and adjusted EBITDA of $2.8 million for the fiscal year ended September 30, 2017.
Additional highlights: 

Enhanced Financial and Capital Markets Profile: VIVO's enhanced market capitalization and strong cash position of $110 million, combined with Canna Farms' positive operating cash flow and trailing adjusted EBITDA margins of 46%, are expected to result in a more robust capital markets profile.

Increased Capacity and Scale: Annual fully funded production capacity of 57,000 kilograms(2), with multiple provincial supply agreements already secured.
International Leverage: Canna Farms' Dealers License, combined with VIVO's international partnerships and expertise, are expected to expedite the Company's expansion strategy in international markets, with a focus on Germany and Australia.
VIVO on the rise
Late last month, the company was one of 26 LPs selected to supply cannabis to Ontario, Canada's largest province.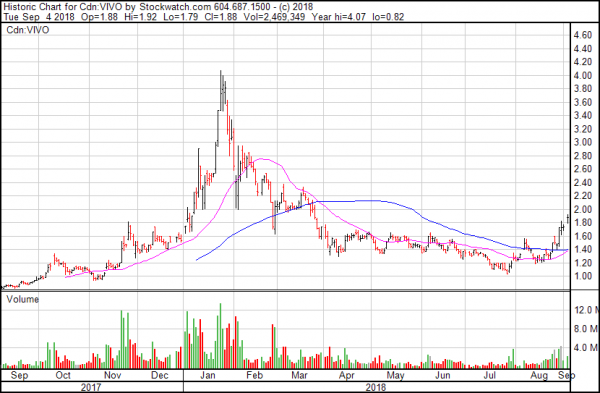 In our coverage, we noted that the company's dedication towards developing viable medical technologies and its cash holdings made it an interesting value proposition.
When the American Food and Drug Administration (FDA) approved its first cannabis-based pharmaceutical in June, we reiterated what a big deal this was for VIVO Cannabis.
 ABcann's study identified that 73% of adult Canadians who are not currently using cannabis, but have a treatable condition, say they lack the appropriate knowledge of how to use medical cannabis, and 67% say they are unfamiliar with how to obtain medical cannabis. With so many Canadians not clear about how to obtain and use medical cannabis, ABcann believes the market is ready for a brand that makes the process easier to navigate.
That's where VIVO Cannabis comes in. Making a product accessible is just as important as growing high-grade cannabis, and the company has set out to achieve both.
Furthermore, two of the company's product lines, Beacon Medical and Lumina, are designed to improve users' health and wellness. The Lumina line was born out of the belief that the wellness of mind and body are intrinsically linked and seek to provide total-body relaxation. The Beacon Medical product line consists of "pharma-grade" cannabis expressly designed for use by physicians and patients.
VIVO Cannabis has a healthy balance sheet of roughly $110 million in cash, a new wholly-owned subsidiary and a significantly larger client base.
Take into consideration its commitment to treating a wide-assortment of ailments without the use of harmful painkillers, and you'll find another reason to feel good about investing in this company.
https://equity.guru/2018/05/24/abcann-abcn-v-adds-branding-muscle-medical-marijuana-division/
Full Disclosure: Vivo Cannabis is an Equity Guru marketing client, and we own stock