The Yield Growth Corp
CSE: BOSS
The Yield Growth Corp – CSE: BOSS
Overview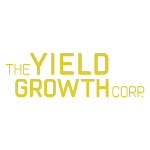 The Yield Growth Corp. develops and acquires cannabis wellness products and sells them to consumers and licenses them to businesses. They also leverage their market by providing an e-commerce component to support retail and licensee partners.
Highlights
Highlights of their most recent developments are:
The Yield Growth Corp has two focused business segments:

Urban Juve offers a line of cosmetic and therapeutic products with proprietary formulations made from essential oils and cannabis sativa hemp oil, all of which have been designed to be infused with CBD and THC.
The other segment, Thrive is structured to develop technology assets and proven executive services to businesses and their licensee partners.

The Yield Growth Corp is targetting two high-growth markets:

The global wellness market, valued in 2015 at 3.7 trillion dollars (Global Wellness Institute)
The global cannabis market, which is expected to surpass $31 billion by 2021. (Delloite)

Yield Growth Corp has limited direct competition in these markets because their area of focus is purely high-end natural wellness products.
Last updated: January, 2019

Corporate Information
Executive Team



Why We Love it
We love The Yield Growth because it's bypassing cannabis flower and is instead targeting the cannabis-derived product market. Instead of being just another licensed producer, The Yield Growth is after the market segment which uses lip balms, moisturizer and deodorants.

The company has filed 11 provisional patents in the US to protect their IP. Additionally, The Yield Growth has recently announced a partnership which grants them access to 400 stores in Oregon through which it can distribute its product.

With the IP and the means of getting it to the customer, TYG is a threat.

Contact Information
The Yield Growth Corp

200 – 1238 Homer St.

Vancouver, BC, V6B 2Y5

T: 1-833-515-2677

Kristina Pillon (Investor Relations):

invest@yieldgrowth.com