Quadron Cannatech
CSE: QCC | US OTC: QUDCF
Quadron Cannatech – CSE: QCC | US OTC: QUDCF
Overview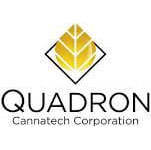 Quadron Cannatech Corporation is an automated extraction and processing solutions company. Through its subsidiaries, Quadron offers fractional distillation and refining, soft gelatin encapsulation, formulation and other related cannabis processing equipment.
Highlights
Highlights of their most recent developments are:
Edible cannabis, concentrates and topicals are the fastest growing sector of the legal cannabis industry. As cannabis extracts provide the base ingredient for all cannabis-derivative products, it is not surprising that the market is moving toward extracts. Mackie Research estimates that cannabis oil consumption in Canada alone will rise from 284 litres in 2015, to 562,613 litres by 2020 -which equates to roughly a C$2.8 billion market segment.
As the industry matures there is a need for industrial-scale innovation and efficient extraction and processing equipment. Quadron focusses on providing a value-added service to growers and processors of varying sizes through the establishment of turn-key extraction and processing solutions for the cannabis which include proprietary industrial equipment, custom-built processing ancillary products (such as vape-pens) and scientific services.
On October 24, 2018, the Company entered into a binding letter of intent with Genetic Properties Inc. ("GPI") and its shareholders, pursuant to which the Company will acquire up to a one-third equity interest in GPI (the "LOI"). GPI, a private company based in Toronto, Ontario, is applying for a non- cultivation processing license with Health Canada under the Cannabis Act (the "License"). GPI currently owns a free-standing 25,000 square foot state of the art facility, previously used for pharmaceuticals manufacturing. As part of the build-out of the facility, GPI will acquire from Quadron, all equipment required for the deployment of an extraction and processing facility within the GPI building, capable of handling up to one hundred thousand kilograms of cannabis per year. Once GPI is in receipt of the License, its activities will focus on the commercial production and supply of cannabis-derived products such as gel caps, tinctures, oils, vapour oils, edibles, and other permitted consumables as they become legal.
Last updated: December, 2018

Corporate Information
Executive Team
Leo Chamberland
President
Why We Love it
We love Quadron because it isn't just another cultivator. The company provides LPs with the expertise and equipment they need to develop their own in-house cannabis extraction capabilities for producing concentrates.

Quadron is the oil refinery of the cannabis market. Instead of deciding to pump oil, Quadron has decided to refine it instead. With an experienced management team, Quadron is well positioned to capitalize on the value-added side of the cannabis market.

Its CEO, Rosy Mondin, was described by Equity Guru's Chris Parry as the "Energizer Lawyer." because she never stops moving, an argument supported by her other leadership role as the executive director of the Cannabis Trade Alliance of Canada. As both an advocate and a participant, Mondin doesn't just get cannabis, she gets the industry.

Contact Information
Quadron Cannatech

308 – 9080 University Crescent

Burnaby, British Columbia

Canada, V5A 0B7

Caleb Jeffries – Investor Relations

1-866-684-6730

T: +1 407-936-1190 x340