Crop Infrastructure Corp
CSE: CROP | US OTC: CRXPF | FWB: 2FR
Crop Infrastructure Corp – CSE: CROP | US OTC: CRXPF | FWB: 2FR
Overview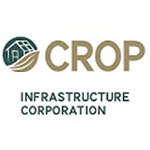 CROP Infrastructure Corp. provides financing for land expansion, turnkey state-of-the-art greenhouse facilities, brand positioning opportunities, specialized equipment, and access to approved nutrients for select licensed cannabis producers in legal growing regions.
Highlights
Highlights of their most recent developments are:
As an investment vehicle, modern greenhouse canopies offer the highest quality production environment at the lowest potential cost to growers. By providing modern canopies and related infrastructure, CROP aids cannabis producers to maintain a competitive edge in one of the most extraordinary opportunities of our generation.
CROP is structured similarly to a Real Estate Investment Trust, in that it owns, operates and finances income producing real estate.
CROP's portfolio currently consists of 176,000 square feet covered or under construction, with an additional 134,000 square feet scheduled, and interests in over 325 acres of outdoor production, and has built the blueprint and framework for a continued expansion in 2018.
Last updated: January, 2019

Corporate Information
Executive Team
Michael Yorke
CEO & Director
Why We Love it
We love Crop because they're the equivalent of a portfolio manager in the weed business. They own, operate, and finance real estate that is used to grow marijuana.

With an instinct to stay ahead of the curve, Crop has developed a state-of-the-art genetics and micropropagation laboratory in Nevada to grow hemp CBD for the 2019 season. By using lab propagation over 2100 acres, they will save about $3.0 million in seed and planting costs.

The international presence of Crop in Canada, the US, and Europe allows them to resist immediately changing political tides or legislation. As a result, they are able to clearly focus on their main skill – CBD production – without the worries of changing legislation.
Contact Information
Crop Infrastructure

600-535 Howe Street

Vancouver, BC

Canada V6C 2Z4

T: 604-484-4206

info@cropcorp.com www.cropcorp.com