In the past two weeks, I have notified readers in my weekly uranium sector round ups that the uranium price was displaying bearish reversal patterns. This has played out with not just uranium taking a dump, but energy as a whole.
Uranium is now at an important technical zone.
The Sprott Uranium Physical Trust confirmed a head and shoulders reversal pattern with a breakdown below $16.40. We are seeing a bounce, but I suspect this will lead to a lower high taking us down one more leg to the support at the $14.50 zone.
However the Global X Uranium ETF, URA, might have some positives for uranium bulls. This ETF sold off hard and has hit its support target at the $18.00 zone. In the past two trading days, we have seen daily candles with large wicks. This indicates that there are buyers here.
Major support zones tend to be the targets where shorts take profits. Subsequently, it is also an area where a new uptrend can begin.
I would be watching for a few days of range here. It would indicate the exhaustion of the selling pressure, and a battle between the bulls and the bears where the bulls are putting up a decent fight. From a technical perspective, we would really need to climb back above $21.50 to turn bullish. If we do not, then any bounce could just lead to a lower high and a move lower, breaking below $18.00 support.
Now this move lower provides uranium bulls with an opportunity to add to their positions or initiate new longs at cheaper prices. A sale in uranium stocks. Remember: the long term fundamentals are still intact. This move is largely due to technicals and fear in markets.
With the Global X Uranium ETF possibly finding support here, I am more inclined to look for uranium stocks that are at their support zones. When you run through charts, you will see that many are at support. Which makes sense since they follow and are leveraged to the price of uranium. Therefore, bottom pickers should scope for charts of a uranium company that will have a near term catalyst which could move the stock.
Azincourt Energy (AAZ.V) fits the bill.
Azincourt Energy is a Canadian-based resource exploration and development company focused on the alternative fuels/alternative energy sector. Their core projects are in the clean energy space, with uranium exploration projects in the prolific Athabasca Basin, Saskatchewan, Canada, and lithium/uranium projects on the Picotani Plateau, Peru.
Currently Azincourt is developing the East Preston uranium project, located in the prolific Athabasca Basin, with partners Skyharbour Resources (TSX.V: SYH) and Clean Commodities Corp (TSX.V: CLE) , and the Escalera Group lithium/uranium project in Peru.
In January 2023, Azincourt Energy (AAZ.V) announced it was mobilizing its crew for an extensive Winter 2023 drill program at the East Preston uranium project in the Athabasca Basin. The program is planned for approximately 3,000 metres of drilling in 12 plus diamond drill holes. The focus will be on evaluating the alteration zones and elevated uranium identified from the previous Winter 2022 drill program.
The company provided an update on its 2023 Winter Drill Program at the end of February 2023. Drilling commenced at the East Preston Project on February 2nd 2023, and so far 1,686 metres has been completed in 8 drill holes. Two rigs are operational on the project after extreme weather delayed the initial startup. Six dill holes are complete and two are in progress. Currently, drills are turning on both the K and H zones (shown below).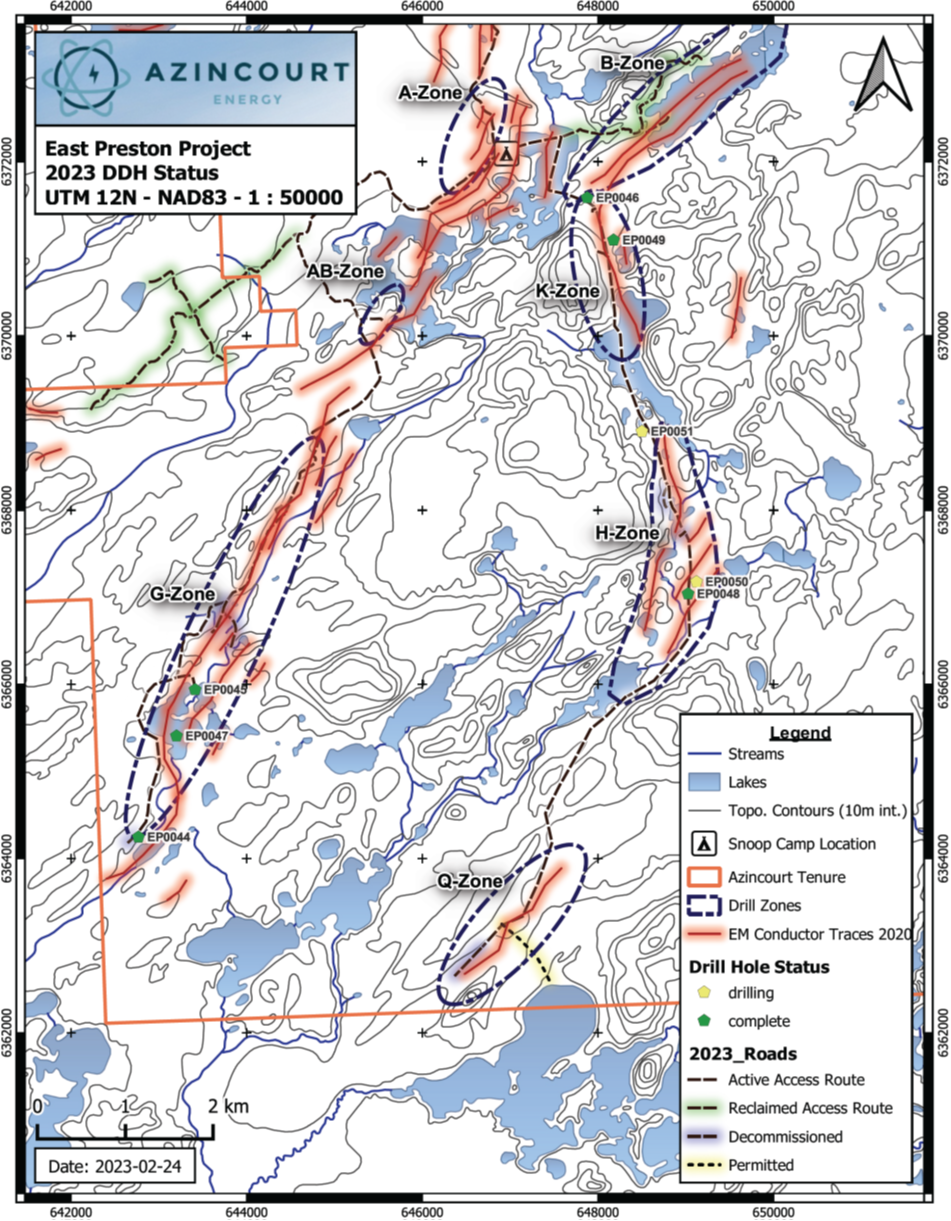 The company considers the drilling results to date to be significant, as major uranium discoveries in the Athabasca Basin such as McArthur River, Key Lake, and Millennium were primarily the result of drill testing of strong alteration zones related to conductor features.
"We are excited to be continuing where our 2022 program left off. The previous program has shown that we have a significant alteration system present on the property" said VP, Exploration, Trevor Perkins. "Finding the extents of this system and identifying where within that system the alteration fluids are focusing is very important. We need to focus in on the most responsive areas, and confirm what these anomalous areas have to offer," continued Mr. Perkins.

"We continue to be encouraged by the response we are seeing in the K and H Zones" said VP, Exploration, Trevor Perkins. "The extensive alteration we are encountering is very encouraging. As we continue to drill and intersect stronger clay alteration, this allows us to begin narrowing our focus on the most prospective areas on these trends" continued Mr. Perkins.
On the north end of the K-Zone  two holes have been completed. Drilling has intersected extensive structure and hydrothermal alteration, increasing the length of this alteration zone by 300 meters to 1500 meters long. Extensive clay alteration within the structural zone is an indication of upgraded prospectivity and vectoring towards potential mineralization. 
The decision to increase drilling in this area has been made and will be completed once pads have been prepared. Samples of intersected clay will be analyzed to confirm the clay species and significance with respect to the alteration model and potential proximity to mineralization.
One hole has been completed in the H-Zone where a bend occurs naturally. Additional drilling will continue to evaluate this bend, but so far the first hole has intersected an intense graphitic fault zone with hydrothermal alteration.
The stock reacted positively on this news release on February 28th 2023, with the stock at one point being up over 9% for the day. But since then, it has given up its rally gains. Largely due to the fall we have seen in uranium.
Azincourt Energy is now testing our key support level at $0.045. A support zone which was held throughout 2022, and has seen the stock pop providing double digit gains! The support bounce from mid July 2022 to the highs in early September 2022 saw an over 80% return. Recently, the support bounce from early January 2023 to the yearly highs in early February 2023 also provided an 80% return!
Will we see recent history repeat itself? We do have the catalyst of upcoming drill results, and a potential uranium bounce at support. From a technical perspective, Azincourt Energy is sitting not far away from all time record lows ($0.04) and is at a major support zone which has seen buyers step in.
I would be watching for volume to pick up at support, and ideally, a strong large bodied green candle, or a green candle with a large wick like we had on March 13th 2023, indicating strong buying presence.