I love to look for beat up sectors. From a fundamental perspective, perhaps there are deals out there waiting to be made. From a technical perspective, all markets move in cycles. Nothing moves in an uptrend forever or a downtrend forever. When I find beat up sectors that meet my technical criteria, I get excited.
For a cannabis bull, there probably hasn't been much excitement. However, perhaps my findings on the charts can raise your optimism.
The fundamental catalyst for cannabis was from the US. The US cannabis legalization was the big play with politicians such as Chuck Schumer leading the line. Now when you Google "Cannabis US", you get articles titled, "US Cannabis Legalization doesn't look likely in the coming months". Federal legislation to legalize cannabis has been delayed once again. You can understand why. The US has other pressing matters such as inflation, a slowing economy, Ukraine, a Chinese spy balloon and the debt ceiling just to name a few.
You also see articles discussing a once billion dollar cannabis company going through financial collapse. Which company is this? MedMen, once known as the "Apple store of weed", is near financial collapse. MedMen said that it has only $15.6 million in cash remaining versus $137.4 million in debt. MedMen, based near Los Angeles, operates 23 stores including in California, New York, and Illinois. In an effort to cut costs, it sold its stores in Florida last year, is trying to sell its New York stores, and is also attempting to renegotiate leases for the stores that remain. The company has already defaulted on some of its debt.
But how about some good news? The Virginian Senate on Tuesday approved bills to start adult-use marijuana sales and establish a state wide psilocybin advisory board. The adult-use cannabis sales legislation from Sen. Adam Ebbin (D) cleared the full Democratic-controlled chamber in a 24-16 vote. The psilocybin measure, sponsored by Sen. Ghazala Hashmi (D), passed 25-15. They both now head to the GOP-run House of Delegates for consideration.
Ebbin's measure would allow recreational cannabis sales to begin on January 1, 2024. The legislature approved a bill to legalize possession and home cultivation of marijuana by adults 21 and older in 2021, and this new measure would create a regulatory framework for a commercial market.
Sales would take place through existing medical cannabis dispensaries as well as at new businesses run by people who live in "historically economically disadvantaged communities." Those operators would receive training and support from current cannabis companies.
Marijuana products would be subject to a 21 percent excise tax. Localities could impose an additional three percent tax. Tax revenue from cannabis sales would support reinvestment programs for historically economically disadvantaged communities, pre-k education for at-risk youth and addiction prevention services. The recreational marijuana market would be regulated by the independent Cannabis Control Authority.
Using this backdrop, let's take a look at the charts. And what we are seeing is potential bottoming.
The POTX ETF made new all time record lows hitting just above $10.00 to end 2022. 2023 has so far seen a gain of 11% year to date.
Now what I want to highlight is this (and this applies to the other charts I will cover!): we have had a long downtrend, we are now basing, and a reversal pattern is forming with a breakout triggering a reversal!
POTX is forming a cup and handle reversal pattern, and it must remain above $11.60 to keep this intact. One key word I mentioned in my above bold statement is "trigger". These reversal patterns are not triggered until we have a breakout. Too many times have I seen traders and investors jump in a position just because they see the structure of a reversal pattern only to see the stock head lower.
In fact, the same happened with cannabis. Note the blue boxes I have highlighted. All of these were times recently when it looked like the downtrend was over and POTX was ranging. The key? There was no breakout trigger to confirm the reversal.
For our cup and handle pattern to trigger, we would need a candle close above $13.50.
Knowing all of this, take a look at other popular Cannabis ETFs:
US based MSOS is also in a bottoming pattern. It is in a range and a potential inverse head and shoulders may form. But no trigger yet. We get one with the breakout above $7.30.
Canadian based ETF HMMJ is also forming a cup and handle pattern. Actually, it did trigger a breakout above $13.00 on February 2nd 2023. But I would not count it as one as the breakout was weak. We want to see a strong green candle accompany our breakouts. HMMJ just printed a doji candle, which actually is more of an indecisive candlestick.
Going forward, you would now want to see a close above $13.00 but also above recent highs of $13.38.
You will see that other cannabis charts look very similar, which means the sector as a whole could be ready to reverse. One could trade these charts, but for a better risk vs reward perspective, it would be prudent to play an up and comer cannabis stock, doing things differently, backed by winners and with a small market cap with a lot of room to the upside.
There just so happens to be a company like this.
BC BUD CORP (BCBC.CN)
As any of you know Chris Parry is the man who called the cannabis boom and bust. He told investors when it was time to take their profits. He was correct. Chris hasn't been too bullish on the cannabis space, so when he brings up a cannabis company that he likes in 2023, it really should get your attention.
Chris Parry has his fist weed client in five years: BC Bud Corporation.
The BC Bud Corporation manufactures, licenses, and sells recreational cannabis products in Canada. It offers cannabis based flower products; edibles, including chocolate-covered coffee beans under the Canna Beans brand name; concentrates under the Solventless Solutions brand; beer-like cannabis infused beverages under the Buds brand name; and lifestyle apparel.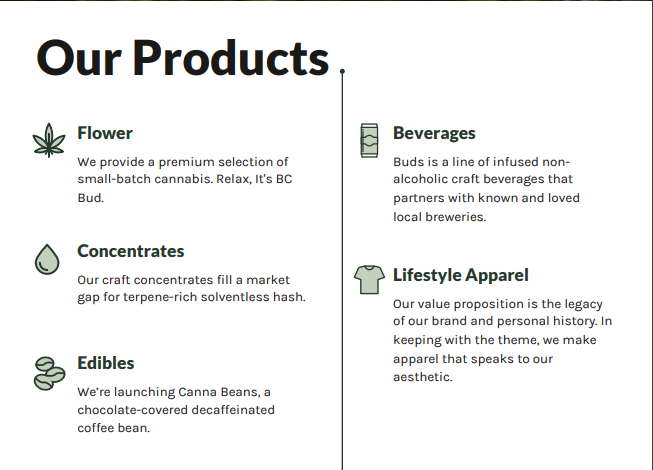 Do not underestimate the BC branding for brand awareness and quality. If you are looking for weed to smoke anywhere in the world, BC has the reputation of having the best. Most people would choose BC over anything else (or so I am told by weed smokers!).
BC bud has been a mark of quality. The best of the best in cannabis. Now, BC Bud corporation will carry that energy, and spirit and bring products to consumers that deserve to be associated with BC's legacy.
The competitive advantage BC Bud has are its thorough business plan with realistic financials, strategic alliances and distribution models, technological advantages, low overhead and cap ex operations, well defined growth plans, an attractive portfolio of products, and perhaps most importantly, founders with top level management experience in both the Canadian and US markets.
The management team is what really got Chris Parry excited.
The CEO is Brayden Sutton who is a distinguished figure in the cannabis industry with over 20 years of experience with the plant. Brayden launched CannabisHealth.com in 2008 and served as the Executive Vice President for Supreme Cannabis and the Director of Business Development for Aurora Cannabis. He has raised over $100 million for the sector. And this last part is key if the cannabis sector continues to be beat up. Management won't have a problem raising funds if needed in bad times, and also in good times to initiate catalysts for the stock while growing the business.
Josh Taylor is the President who has over 15 years of experience in the cannabis industry. In 2016, he joined The Rosin Factory which was awarded two High Times Cannabis Cup Awards for solventless flower rosin products. He was also the director of business development at 1933 industries.
It should also be noted that Marc Lustig is an advisor. He founded Cannabis Royalties and Holdings (Origin House) in early 2015. This was sold to Cresco Labs for approximately CAD $1.1 billion in January 2020. This was the largest ever public company acquisition in the US Cannabis sector.
A winning team, and just like other sectors, you want to invest with winners.
All of this is setting up for a very exciting play in the cannabis space. And guess what? The current market cap is just under $5 million CAD!
As I mentioned above, the cannabis sector has a high probability of confirming a reversal. All that is missing are our trigger breakouts. If we do see a breakout and new uptrends, then a company like BC Bud with what it brings and its market cap, will provide great gains for investors.
The chart is showing bullish signs. We do have an inverse head and shoulders pattern setting up which is missing the breakout trigger above $0.10. We attempted to breakout on February 3rd 2023, but no luck just yet. We are battling at this zone currently so the next few days could be exciting.
Another bullish confluence is the fact the stock has broken out of a downtrend line that I have drawn out. A downtrend line connects the lows and shows that every high comes in lower and lower. This means the asset is in a downtrend. When we break above this downtrend line, the pattern is broken. It usually means we stop making lower highs and a new uptrend is beginning. What gets me as a technical analyst even more exciting is the fact that buyers stepped in on the retest of the trendline break. Retests are normal, and I would say, is when prudent technical analysts attack.
Going forward, we would want to see BC Bud hold above $0.075 to maintain the probability of a reversal. Watch for that close above $0.10!